Balayage and highlights are both great options for adding some extra color and dimension to your hair, but what's the difference between the two, and which option is right for you? In this article, we'll look at both hair coloring techniques and what differentiates them from one another. Let's get right into it!
Key Takeaways
Balayage is hand-painted, and highlights are foiled.
Balayage is understated, and highlights are impactful.
Balayage is very expensive, while highlights are more affordable.
Balayage is harder on your hair; highlights might not be so harsh.
Balayage lasts several months, while highlights only last for weeks.
What is Balayage?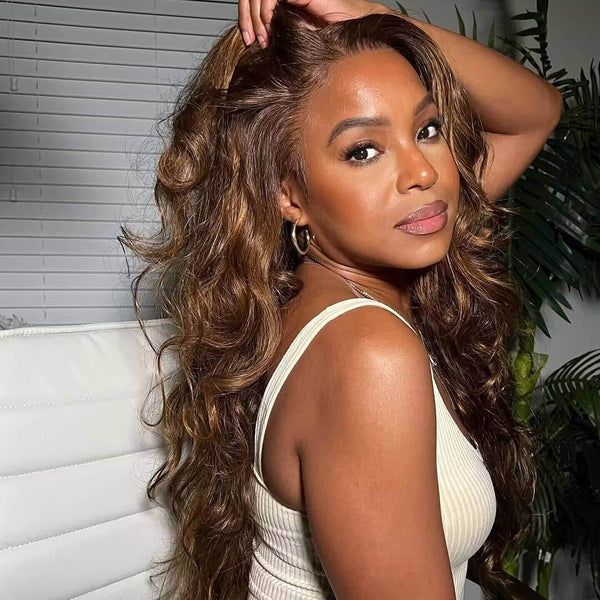 Balayage refers to a hair painting technique in which the color is applied by hand in a sweeping motion. With balayage, the roots are not the focus of the dyeing session - it's more concentrated on the ends. The color, bleach, or lightener is always painted on in a smooth gradient.
This technique can be used to create both subtle and dramatic looks, depending on your desired result. Though, it's best suited to understated, sun-kissed looks. Balayage is a great option for those who want to add some interest and dimension to their hair without a ton of maintenance.
This hair-highlighting technique is usually done by a professional colorist in a salon, though some might try experimenting with it at home.
Millions love balayage because it grows out nicely without a harsh line of demarcation between your new growth and highlighted hair.
What are Highlights?
Highlights are a great way to add dimension and interest to your hair. They usually involve applying lightener or hair color to sections of hair and then applying foil to speed up and intensify the reaction. This makes for an impactful result, rather than a seamless, blended one.
Highlights can be done at home or at the salon, but we recommend getting them done professionally, as highlight kits can be tricky to use on your own.
Looking for a way to brighten up your hair? Shop our Highlight Wigs Collection.
Babylights
Babylights are a newer hair coloring technique that is similar to highlights but with much finer, smaller sections of hair being colored. This results in a more natural look, as if you've spent time in the sun.
Lowlights
Lowlights are the opposite of highlights and involve adding darker hair color to your base color. This can help blend grays, make thinning hair appear fuller, or simply add some dimension to your overall hair color.
Like highlights, lowlights are usually applied in foils at the salon.
Balayage vs Highlights: The Similarities
Balayage and highlights have several similarities that keep people confused. Here, we'll go over some of the fundamental similarities between these two hair coloring techniques.
Both techniques can add color and dimension to hair.
They're both best done by professionals in the salon.
Both need to be touched up after some time, as the results aren't permanent.
Balayage vs Highlights: The Differences
Balayage and highlights are more different than they're alike. Their differences lie in the application technique, damage risk, results, and much more. Keep reading for in-depth information about these differentiators.
The Technique
As we said before, balayage is a hair painting technique, while highlights use foils. This difference in application leads to different results. Every head of balayage will look a bit different because the color is hand-painted on in a sweeping motion, while highlights will have a more uniform look since the hair is sectioned off in foils.
The Damage Risk
When it comes to damage, balayage is the most damaging. To achieve that perfectly sun-kissed look, dark hair will often need to go through multiple rounds of bleach or lightener with a high-volume developer. This makes balayage a relatively high-damage hair coloring technique.
But that doesn't mean that highlights are low-damage. Highlights can also be damaging to your hair, especially since they often need to be done with bleach and foils. But the upside is that you can control the amount of damage by choosing low-lighting options or opting for highlights that are on the darker side.
The Result
The result is the most significant difference between balayage and highlights. Balayage is meant to look natural, as if you've been spending time in the sun. The result is usually much more subtle than highlights.
Highlights, on the other hand, are meant to give your hair a more noticeable, and sometimes dramatic, look. The result is usually more impactful than balayage.
The Maintenance
Balayage is low-maintenance, as the color can grow out without looking too noticeable. Highlights often require more touch-ups since the line of demarcation between the colored hair and the roots is much more noticeable. It's for this reason that many opt for balayage over highlights.
The Price
Balayage is known to be a lot more expensive than highlights since it's a more technical hair coloring technique. You could end up paying anywhere from $100 to $400+ for balayage, depending on the length of your hair and the experience level of your stylist. Highlights, on the other hand, are typically a lot cheaper, with prices ranging from $50 to $150.
Which lasts longer?
On average, balayage highlights last up to 4 months before needing a touchup. And that's a long time when compared to traditional highlights, which only last for a few weeks at a time. So, if you opt for balayage, you might be able to save money in the long run since you won't need to go in for touchups as often.
Which One is for You: How to Choose Between Balayage and Highlights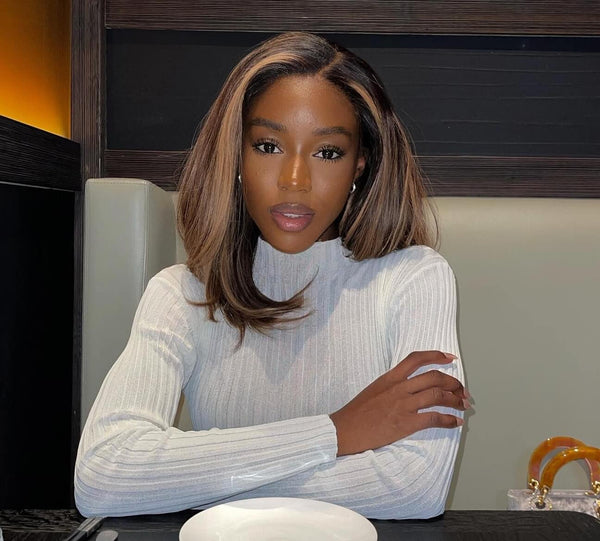 Now that you know the main differences between balayage and highlights, it's time to decide which one is right for you.
Here are a few things to consider:
Do you want a more natural look or a dramatic one? - For a natural look, opt for balayage. For dramatic looks, go for highlights.
Are you willing to pay more for longer-lasting hair color? - If yes, then balayage is the way to go. If money is tight, then highlights might be a better option.
Do you have damaged hair? - If your hair is damaged, we recommend avoiding bleach and high-volume developers altogether. But if you want to go for it anyway, highlights will be your safest bet - and try not to go too light.
Your answers to these questions should give you a better idea of which hair coloring technique is right for you. If you're still not sure, we recommend booking a consultation with a professional hair stylist to get their opinion. They will assess your hair's condition and advise you.
Wigs May Be Your Better Option
We'd be remiss if we didn't mention that wigs are always an option - and they're a great one, at that. Wigs offer the best of both worlds: you can have any hair color you want without having to damage your own hair. And you can switch up your look as often as you'd like without damaging your hair in the process.
If you're looking for a damage-free, high-impact hair dyeing/bleaching option, then wigs are definitely worth considering. And we just so happen to have a great selection of wigs for you to choose from! Browse our collection of top-quality human hair wigs today and find the perfect highlighted or balayage unit for you.
---