8 Best Natural Wigs and How to Choose the Most Natural Looking Wig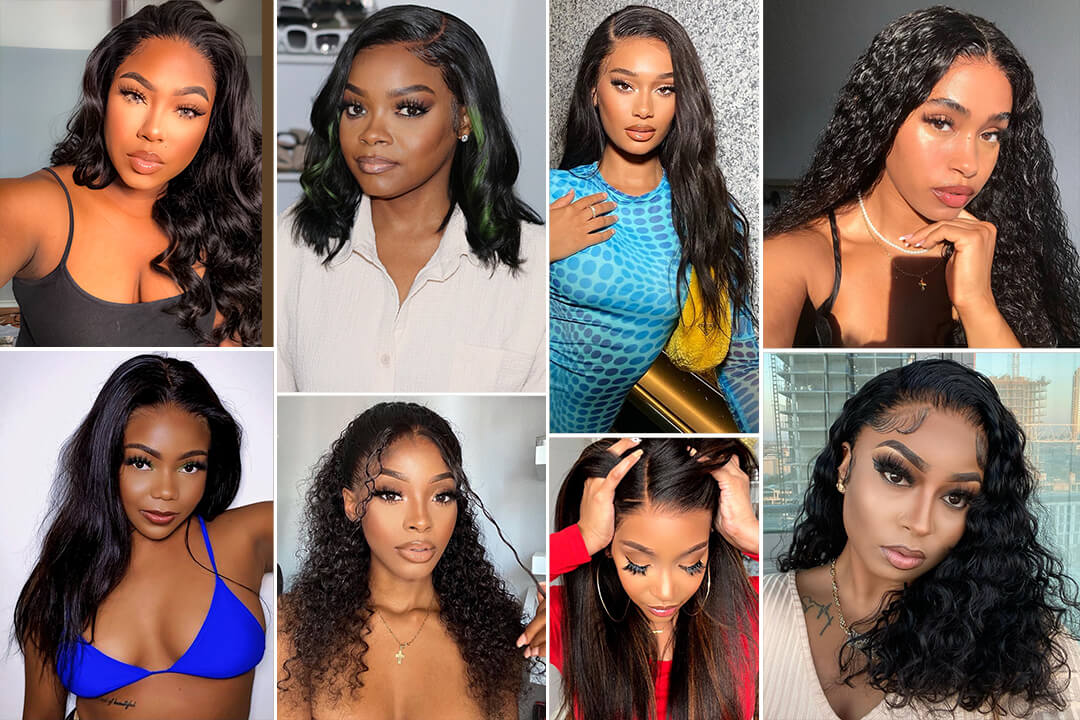 Nothing hurts worse than finding what you think is the perfect natural-looking wigs online, only to be crushed when you receive a thin unit lacking authenticity! While photos are promising, the product descriptions are where you will find the real truth about wig quality. Need help figuring out how to choose a convincing, natural look with outstanding quality - this blog has you covered! Take a look at how to choose the most natural look for your needs, as well as a list of the best head turning, show stopping human hair wigs that will have your friends asking "What wig?"
What Kind of Wig Looks Most Natural?
The Wig Made of Virgin Human Hair
Ever wonder how celebrities are able to switch up their hair so often, but the looks remain convincing? If you want a wig that will have everyone fooled that you are wearing your natural tresses, you definitely want to choose a wig that uses virgin human hair.
Natural hair wigs provide a realistic look full of shine and body. Virgin human hair is great for blending, each strand flowing in a believable fashion. Pair it with the right lace, and you'll have a hard time making others believe that it isn't growing from your scalp!
With 100% virgin human hair, you can style your look everyday however you please. You can even dye your wig, but keep in mind that chemicals weaken the hair.
The Wig Built with High Quality Lace
The real secret to flawless, natural looking wigs is the melted hairline. When you melt your wig lace, it blends effectively for a seamless, realistic look. In other words, you won't be able to tell where the wig begins, giving that "growing from the scalp" look.
To achieve this look, you need a lace wig with thin, see-through lace that blends well with your hairline. The best wigs use either Clear Lace or HD lace for a professional finish.
While both lace types are of great quality and blend well, Clear Lace is the best option. Not only does its melt technology give your wig an even more natural look, it is also stronger. Clear Lace is easier to handle, ripping and tearing less than HD Lace for unmatched longevity. For a long-lasting, truly realistic look, Clear Lace is the way to go.
Wigs with Pre-Bleached Knots
Wig knots are small black knots that can be found where each of the hair strands is tied onto the lace cap. Wig knots assist with keeping your hair attached to the lace, as well as keeping the hair from falling out or shedding.
When your lace wig arrives with pre-bleached knots, you will enjoy a natural finish as soon as you remove it from the packaging. With bleached knots, you will notice that your knots have a color that is similar to your flesh tone. This is also responsible for giving your wig that growing "straight from the scalp" look. Paired with a seamless hairline, you'll be happy that you chose the option with a natural look throughout the entire unit.
Pre-Plucked Hairline Wigs
Ready for another secret that takes natural wigs to the next level? Ever wonder why some wigs have a helmet-like appearance at the front? To avoid a bad case of "helmet head," choose a lace wig that has a pre-plucked hairline!
If you select a wig that has a thick, unplucked hairline, onlookers will notice easily that your wig looks fake. With a pre-plucked wig, the hairline is plucked to look just like a real head of human hair. With lower density at the edge of your wig, the hairline will appear natural. Simply look for the words "clean" or "pre-plucked" in the hairline description.
Best Natural Looking Wigs
Clear Lace Clean Melted Hairline Wigs
Looking for a lace wig that has the most natural looking hairline you will find on the shelf? Most wigs that look natural offer undetectable lace with a clean melted hairline.
Clear Lace, the upgraded version of HD lace, uses melt lace technology that makes it 100% undetectable. Regardless of your skin tone, you'll enjoy professional quality lace that melts easily into your skin for a flawless hairline. Clear Lace looks real from near or far, and it is strong enough to hold your hair underneath for a secure, comfortable fit. Style your hair time and time again with no fear of extra shedding thanks to this high quality lace.
Clean melted hairline wigs are even more natural than a pre-plucked hairline. Extra hair is added at the edge of the lace wig to simulate a real human hairline for the ultimate finish. You should choose a 13x6 ear-to-ear hand tied lace wig with Virgin human hair for that professional, "fresh out the salon" look.
Here are a few premium quality, clear lace and clean melted hairline lace wigs with virgin hair that will leave you amazed with their soft and lustrous natural appeal:
1. Silky Straight Clear Lace Clean Melted Hairline 13x6 Human Hair Lace Front Wig
If you are looking for a natural look with silky, bone straight tresses, top quality clear lace, and a clean hairline to match, the XRSBeauty Silky Straight Lace Front Human Hair Wig certainly won't disappoint!
Available with a variety of density selections, your wig will arrive full and voluminous for a truly realistic look. Even the carefully selected hues are convincing, with a natural finish, a cool-toned dark brown #2, or a dark golden brown #4 each at your disposal.
Showcasing a clean melted hairline and pre-bleached knots, you can enjoy a natural look straight from the packaging with no extra work involved. You'll fall in love with the hairline, which melts easily for an undetectable finish.
2. Body Wave Clear Lace Clean Melted Hairline 13x6 Human Hair Lace Front Wig
Want a luxurious pizzazz to come along with your new natural look? With beautifully loose, wavy tresses, the XRSBeauty Body Wave Human Hair Lace Front Wig will leave you wondering why you didn't try it sooner! If you are looking for an undetectable finish, its clear lace and clean melted hairline will blend right in with ease.
Giving tons of volume and bounce with each soft set of waves, this lace wig provides 3 density selections for a full, realistic look. Also available with 3 dark-toned shades, you can sport your new gorgeous waves confidently with an authentic hue.
3. Yaki Straight Clear Lace Clean Melted Hairline 13x6 Human Hair Lace Front Wig
If you prefer a look with tresses that are similar to flat-ironed 4b or 4c textured, natural hair the XRS Beauty Yaki Straight Lace Front is perfect for you. The clean melted hairline will blend with such a transparent finish that it will be impossible to tell where the edge of your wig begins. This lace wig has 100% virgin, straight Italian Yaki human hair, offering a convincing blow-out textured finish with plenty of luster. Complete your head turning look by customizing the fullness of your unit with 3 believable, natural-looking density options.
Natural Layered Edge Wigs
This special kind of wig is just what the name indicates - a wig that has a natural edge or hairline. With a layered edge, the hairline of this wig type is placed so that the hair has a thin to thick appearance. As one of the most natural looking wigs on the market, this is done to mimic a real human hairline.
To complete the perfect finish, the hairline also includes baby hair so that no leave out is necessary. With 100% virgin human hair and What Lace technology - 13"x5" and ear-to-ear with 5-inch deep, hand-tied, truly undetectable lace - you'll be thankful for such an authentic look without having to put in the effort to achieve it.
Here are 3 beautiful natural layered edge wigs to add to your collection:
4. Layered Edge Bob Wig with Peekaboo Highlights Human Hair Lace Wig
Do you like natural looks with a pop of color for personality? Look no further - the XRSBeauty Magic Ball Straight Clip-In Bob Lace Front Human Hair Wig will serve your hair fashion needs nicely.
Made with naturally layered edges, you'll be thrilled by the realistic hairline on this unit. Also including 4 vibrant color clip-ins, you can add a different accent color to your wig whenever you see fit. The clip-ins should be applied at the base, not the top, of your unit. This is a plus because unlike normal hair clip-ins, there is no tension applied to your scalp directly. Designed for a flawless meltdown, women of all skin tones can show off this 100% human hair wig in a believable fashion.
5. Natural Layered Water Wave 13X5 Human Hair Lace Front Wig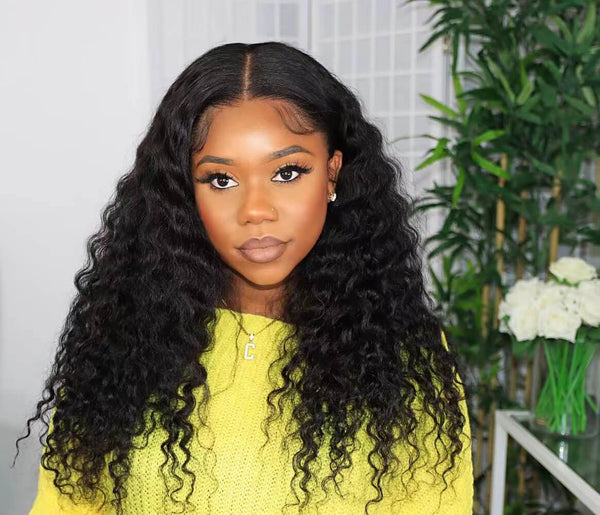 Do you prefer a natural look with deep, plentiful waves? Longing for tons of volume without the fear of having that "fake wig" look?  The XRS Beauty Water Wave Human Hair Lace Front Wig  provides beautiful voluminous tresses with natural layered edges for the ultimate fool-proof finish.
With 100% human virgin hair, you can style your glamourous new unit to fit your fashion needs. Also equipped with Swiss lace and Clean Hairline technology, prepare for a flawless meltdown after install! With 3 natural hues and densities to choose from, no one will even notice that you are wearing a wig. Enjoy a soft, highly convincing look with a beautiful curl pattern that will always turn heads.
HD Lace Wigs
HD lace wigs are made using a special kind of Swiss lace, but they are NOT the same as Swiss lace. HD Lace is thinner and finer than normal Swiss lace, carefully made and expensive to ensure top quality. This lace type is great for blending in well with your skin. Take a look at this lovely HD Lace Wig option:
6. Wet & Wavy Bob 2-in-1 Human Hair Lace Front Wig
Short, sassy styles have a way of easily pulling off an authentic appearance when applied correctly. Looking for a bob that you can switch up to keep your new hairdo unpredictable? The XRSBeauty Wet & Wavy Bob Lace Front Human Hair Wig gives you two stunning looks to choose from.
Right from the package, you can install your unit and wear the soft, full, 100% virgin Italian Yaki tresses bone straight. Change up your look at any time by adding water and watch in amazement as your hair turns into a gorgeous wet and wavy look. You'll fall in love with the undetectable HD lace, giving you a professional quality melted hairline that others will swear is all your own.
Natural Headband Wigs
As you style your lace wigs, would you rather use your own hairline to create a natural look rather than worrying about the melting process? Headband wigs are a wonderful selection for this very reason. While you might be left with limited styling options, this style of wig blends with your natural hairline for an even more realistic look.
Simply leave out your hairline and install the unit slightly behind, leaving your lace worries behind. When secured properly, you'll be amazed at how natural looking your unit turns out to be. Here are a couple of headband wig options that are sure to satisfy your inner fashionista:
7. Tight Curly Headband Scarf Human Hair Wig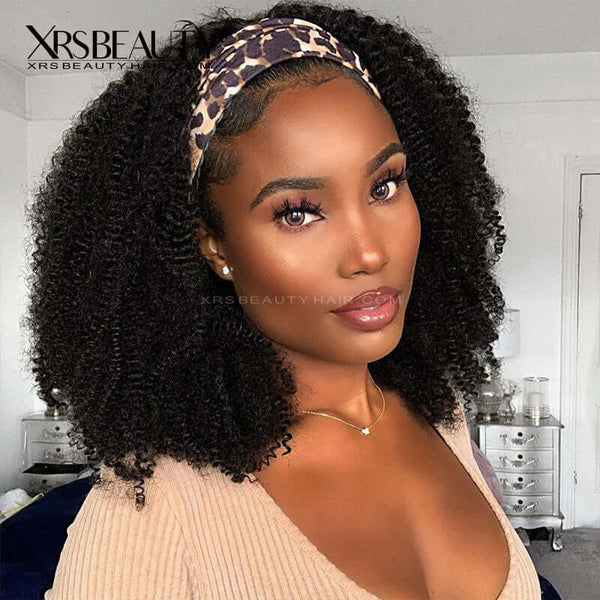 If you want a lace front wig that closely resembles a natural 4c texture, the XRS Beauty Tight Curly Headband Scarf Human Hair Wig will deliver the look you are searching for. With soft, defined tight curls, this 100% virgin human hair unit is sure to satisfy.
Install the headband behind your hairline with little tension using our 5 inside clips. Enjoy a seamless blend with your new naturally dark, free flowing tresses. Available from 12-24 inches, customize the length of your crown for a believable finish.
8. Jerry Curly Headband Glueless Human Hair Wig (Black With Brown Highlight)
If you want to try out highlights that look real, but cringe at the thought of applying chemicals to your own hair, the XRS Beauty Jerry Curly Headband Scarf Human Hair Wig is a great place to start!
Not only does this lace wig have a glueless cap with adjustable straps to ensure your comfort, it also showcases 100% human virgin hair for the realistic look you are after. With a natural hue, believable density, and several length options for a customizable experience, this lace front presents an authentic style you will appreciate.
Where to Buy Natural Looking Wigs
As the top-rated, luxury quality human hair wig brand, XRS Beauty has all of your natural looking wig needs covered! Our wigs feature 100% virgin human hair with no scent and minimal shedding, ensuring a realistic look with each unit.
We use unprocessed Virgin human hair on each of our units, delivering gorgeous tresses that arrive soft and lustrous with each delivery. Expertly crafted, our wigs are guaranteed durable, as well as to be true to length and density. The unbeatable quality of our wigs ensure that we remain at the forefront of the hair industry.
How to Choose a Natural Looking Wig
Keep the following in mind to choose a wig that looks natural from the hairline all the way throughout the entire unit:
Density
If you are wondering how to tell how full a wig will be before it arrives, the term 'density' refers to the thickness of your unit. Listed as a number percentage, wig density lets you know how much volume to expect from your hair.
For a truly natural look, you want to be sure that your lace wig is not too thin. To avoid this issue, choosing a high density wig is the best bet. Listed with a density between 180-250%, high density wigs deliver a voluminous look from the front to the back of your unit.
Keep in mind that the density of your hairline will be lighter for a truly natural finish. While the hairline density refers to how thick the edges of your wig will be, it looks best around 130-150% to resemble a real hairline.
Wig Cap Size
The size of your wig cap is just as important as its style. With a wig cap that is too large, people will be able to tell that your wig is fake because of its loose fit. If the cap is too small, your natural hair might not fit and you will be uncomfortable. With the perfect wig cap size, your wig will fit securely with realistic placement.
Most wigs arrive in either a Small, Average, or Large size. By measuring your head with a flexible measuring tape, you can determine which size is best for a natural fit. Here are the 6 areas to measure for a perfect fit:
Circumference
Front to Back
Forehead
Ear to Ear Over Top
Temple to Temple Round Back
Nape of Neck
Hair Length
While the length of the hair on your unit does not have much effect on whether the wig has a natural look or not, keep in mind that a style looks the best when the facial structure and confidence level of the wig wearer matches. Choose a hair length that you are comfortable managing and wearing day to day. After all, all that matters is if your new look is suitable for your styling needs.
Wig Cap Type
While there are dozens of wig cap types, lace front wigs provide the most natural looking finish regardless of skin tone or head size. Not only will you love the convincing ear-to-ear-hairline, but the added bonus of advanced, see-through lace for the perfect meltdown. You'll also enjoy the versatility of having several styling options at your disposal with each unit.
Of course, advanced wig users might opt for a full lace wig for full coverage. Keep in mind that while effective, full lace wigs require more skill and finesse to achieve a natural finish. Also, crafting a full lace wig with premium quality lace is more expensive, making them harder to find. Wig beginners should stick with the lace front option for the same beautifully natural finish without all the guesswork.
Face Shape
While your face is not a determining factor in whether your wig will look real or not, choosing a wig that compliments your face shape will take your style's believability to the next level. Here are the common face shapes and the styles that are best suited for them:
Oval: Any Style
Round: Waves, Shoulder Length Styles or longer
Heart: Inward-Facing Layers, Chin Length or Short Styles, or a Side-Sweeping Fringe
Square: Long Styles or Tapered Bangs
Diamond: Short or Long Bobs
Oblong: Layered Voluminous Styles, Thick Bangs, or Past Chin Length
Reviews
What better way to predetermine the quality of wig than to listen to others who have already made the purchase? YouTube reviews are a goldmine, and provide helpful insight on how good a wig will look, how to style it, and whether the look is actually fitting for you or not. Read comments for extra tidbits. Try to view videos from real, actual users and not people who are paid for their commentary.
Reviews on the company's website are also a great place to find out how real customers feel about the hair's quality. You can also see up close and personal how the unit appears on real people with submitted pictures.
Color
While people of all shades can enjoy any wig color they wish, when trying to achieve a natural look, you should choose a wig color that is best suited for your skin tone. Darker units provide a more believable finish. If you must have color in your unit, try to choose an ombre unit with dark roots. This will also help convince others that the hair is truly growing from the scalp.
Your Lifestyle
Make sure you consider your own personal habits while trying to choose a wig that looks natural. For example, does your workplace require a certain hair length or color for a professional look? Also, keep in mind if you are highly active, longer hairstyles tend to snag or tangle if not worn up and out of the way.
Ask An Expert
What better way than to receive sound advice than asking for a second opinion from someone who knows all about hair fashion? If you are still unsure of which natural look will look best on you, ask your favorite professional stylist.
Wrap Up
In all, the main keys to achieving the natural look you desire lie in the hair, lace, and hairline quality. Aim for 100% virgin human tresses for a silky, convincing look with longevity. Want a meltdown that will have others wondering for days where your unit begins and ends - use either HD or Clean Lace.
Choose a look with a pre-plucked hairline and believable density for a lace wig that looks natural from top to bottom. With hundreds of satisfied customers, wonderful reviews from elite fashion authorities, and the best quality premium hair on the market, you are sure to find a natural wig you'll fall in love with time and time again with XRS Beauty. Browse our selection of natural looking wigs - we certainly will not disappoint!
---