Wig Essentials - Everything You Need to Upgrade Your Wig Life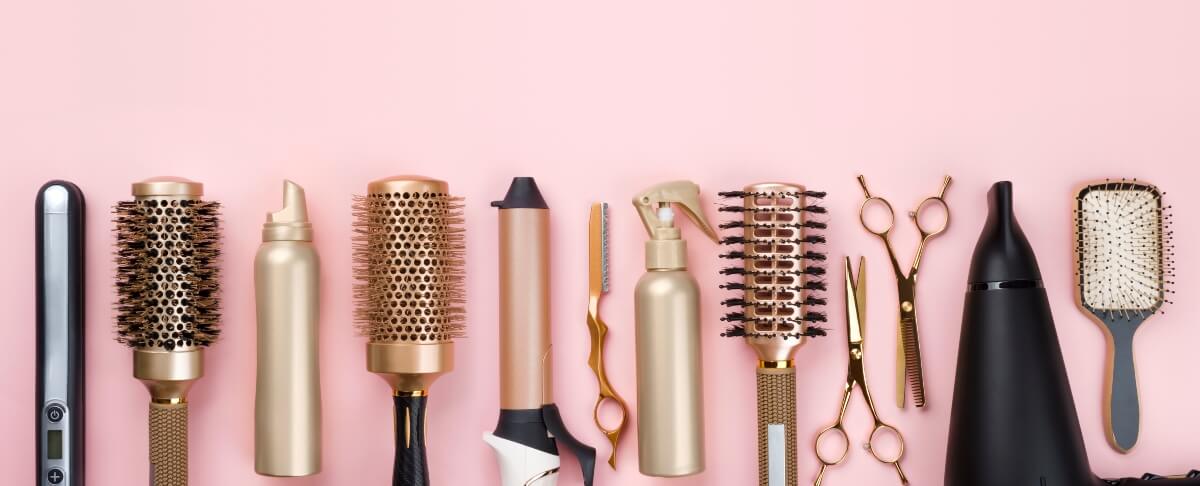 There's an art to caring for, installing, and removing a wig, and practice often leads to improvement. But without the right products and tools, you'll never achieve flawless styles or a bomb lace melt. Now the question is, "What items do you need for your human hair wig?" In this article, we're going to reveal everything you need to upgrade your wig life. By the end of this article, you'll have a winning list of wig essential items to explore.
Get Your Wash Day Supplies
A wig that isn't washed regularly will get greasy and stringy - no one wants that. But what many don't know is that not washing your unit can even affect its longevity. Unwashed wigs tend to accumulate buildup that can make them difficult to style and prone to breakage. That means that you may need to buy a new wig sooner if you neglect to wash it. Therefore, you need to prioritize shampoo sessions for your wig whenever it begins to look oily, tangle often, or show signs of buildup.
Conditioning your wig is just as important as washing it. After a wash, your wig becomes more vulnerable than usual to dryness, which could jumpstart other issues. So, you'll want to make sure you give your wig the love it needs post-shampoo with a good conditioning session.
Your shampoo and conditioner can make or break your wig. Some shampoos can cause your wig to dry out, and unsuitable conditioners can leave behind buildup that results in long-term damage. The worst ones lift up your unit's hair cuticles, leaving them prone to tangling and breakage. So, it goes without saying that you need to get the right wash day products for your wig.
Pick Up a Low pH Shampoo
In order to prevent dryness, damage, tangling, and unruliness in your human hair wig, it's best to use a shampoo that has a low pH. These shampoos help to flatten the hair's cuticles to make them smoother and less likely to tangle on top of each other. Regular shampoos, or those with a high pH, tend to strip the cuticles and make them stand on end, encouraging tangles.
So, in order for your wig to last as long as possible and look its best, you need a gentle, hydrating, low pH shampoo for your wig wash days.
Here are some other benefits of low pH shampoos:
They not only smooth the hair cuticles, but they also seal them for long-term smoothing.
They increase the hair's moisture levels.
They make the hair appear shinier.
They provide a gentle clean that'll help extend the life of your wig.
Ph balanced shampoos provide similar benefits, but they're not as substantial as those of low ph shampoos.
Now, let's get into some of the leading low pH shampoos for human hair wigs:
Design Essentials Natural Almond & Avocado Moisturizing & Detangling Sulfate-Free Shampo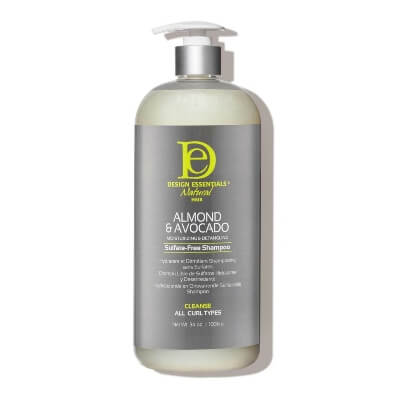 This is a low-ph shampoo that's enriched with fatty alcohols and oils to preserve and protect your hair's cuticles and help your wig last longer. It is also super gentle yet effective - it'll leave your wig free of excess oils and debris without drying it out.
Herbal Essences White Grapefruit & Mosa Mint Shampoo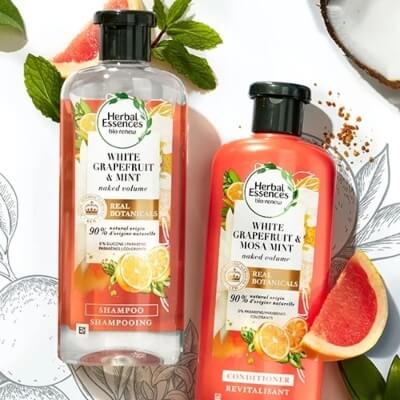 This low-ph shampoo is great for wigs that need a bit more height and movement - its ingredients increase your wig's volume. It's got a ton of cleaning power without the harshness. Use it whenever your wig looks dull, greasy, or flat - it'll bring it right back to life. With regular use, your wig will stay fluffier and shinier for longer.
Joico Moisture Recovery Shampoo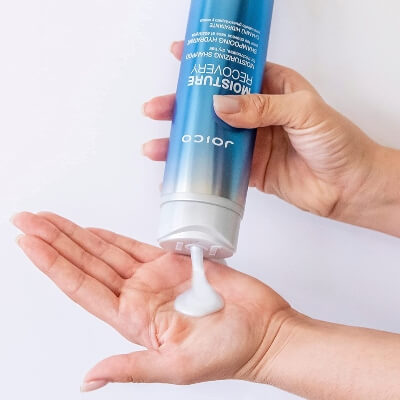 This shampoo is a godsend for wigs that can't seem to hold onto moisture. It's got sea kelp and jojoba seed oil, and both of these ingredients foster serious hydration to reduce breakage and leave your wig soft and shiny. Within just one wash, you'll be a believer.
Choose a Lightweight Conditioner
The most suitable conditioner for a wig is one that's deeply moisturizing and won't leave your unit caked in buildup. Unfortunately, many conditioners are way too heavy to be used on wigs, and you'll want to avoid conditioners like that. Go for one that has lightweight, yet effective moisturizers to coat your unit's strands in nourishment. You'll also want to stay away from any conditioners that are full of heavy, non-water-soluble silicones; these are known for kickstarting difficult-to-remove buildup.
To help you out, we've listed several of the best conditioners for human hair wigs:
Shea Moisture 2 in 1 Conditioner for Wigs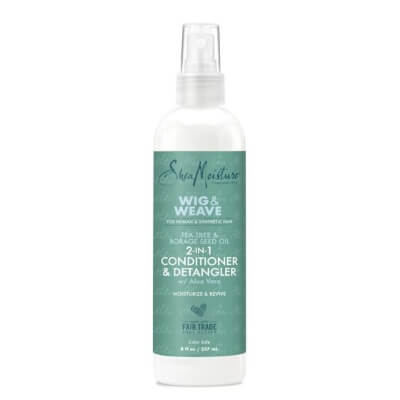 This wig conditioner serves two purposes - it both conditions and detangles. The aloe vera and emollients in the conditioner make the hair slippery, which can shave time off of your detangling sessions. It'll feel soft and hydrated, and you'll also see a reduction in frizz. It's also lightweight and sold in a convenient spray bottle. All you need to do is spray the product onto the wig, detangle, air-dry, and then style. After using this conditioner, you'll notice a big difference in your wig.
Herbal Essences Hello Hydration Conditioner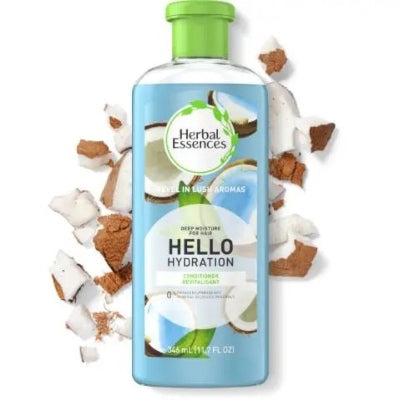 People all over are reaching for this hydrating conditioner as an affordable alternative to more expensive wig conditioners. It's full of fatty alcohols, fruit extracts, and more to give your wig some serious nourishment. On top of that, this conditioner has a delightful scent that'll hook you instantly.
Tresemme Conditioner for Dry Hair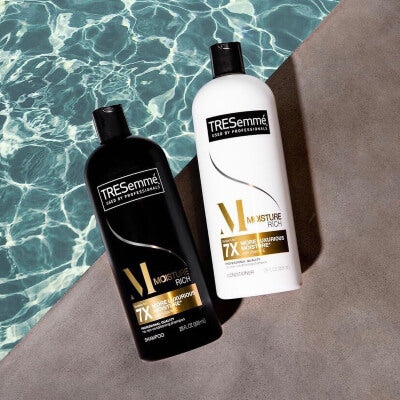 Whether your wig is in good shape or needs a pick-me-up, this conditioner is an excellent pick. This conditioner contains hair hydrating and softening ingredients that can transform even the most unruly, rough-looking wigs. It gives you 7 times the moisture of comparable conditioners, and that's why it's so popular.
There will be times when your conditioner doesn't give your wig enough moisture - that's when a quality leave-in conditioner spray can help. Leave-in conditioner sprays are lightweight hydrators that you can spritz on at a moment's notice for an extra dose of moisture. Choose a water-based leave-in to prevent buildup and stiffness.
Stock Up on Wig Maintenance Items
Wig maintenance directly affects how long your wig will ultimately last. Without adequate maintenance, your wig may shed, tangle, and break like crazy. And since wigs don't grow back, you should take precautions to prevent wig damage at every turn. Once your wig is severely damaged, you'll have no choice but to purchase a new one.
Therefore, it's wise to take wig maintenance seriously and use the right products. Don't abuse your unit with a hard bristle brush or throw it in a corner after taking it off - these two things will shorten your wig's lifespan. Take a few minutes after removing your wig to give it its best chance at longevity.

Here are a couple of essential products and tools you'll need for wig maintenance:
Wig Brush
Every wig should be detangled regularly, and it should be done with a proper brush to minimize shedding and breakage. Wig brushes have wide bristles that gently pull apart tangles. Don't forget to brush from ends to roots!
Wig Holder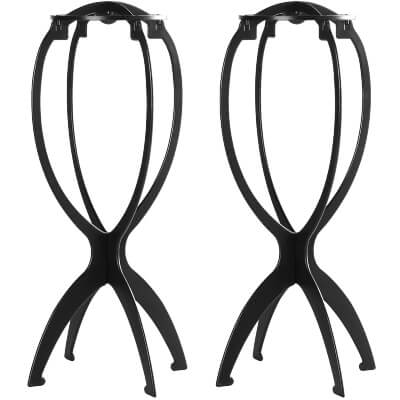 A wig holder is often much cheaper than a canvas mannequin head, and that's because it's only meant to hold your wig when it's not in use. Place your wig on a wig holder to minimize unnecessary tangling and help the unit retain its shape.
Pick Up Wig Installation Products
Wig installation encompasses several different functions, including natural hair preparation, knot bleaching, wig application and more. It is a huge endeavor with lots of steps that should be completed with a fair amount of precision and specialized products. So, when installing a wig, you'll want to have all the information and products you need at your disposal.
Preparing Your Natural Hair
When wig newbies, and even wig veterans, wear wigs, they often forget something really important - the hair under their wig. If your natural hair is not adequately prepped before putting on a wig, you'll realize it later on after you take the wig off. Your strands may be extremely dry, brittle, and can even start to break.
So, washing, conditioning, moisturizing, and braiding your hair down before you put your wig on is critical. Doing so will ensure that your natural hair gets the moisture and nourishment it needs and that your wig has a flat surface to sit upon.
Here are some products you'll definitely need when preparing your natural hair for a wig:
Sulfate-free Hydrating Shampoo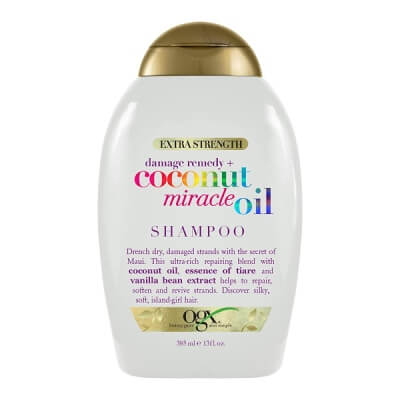 Since your hair will be tucked up under a wig (likely for an extended amount of time), you won't be able to fully moisturize it as often as you need to. Regular shampoos cleanse your hair too well and dry it out beyond belief. So, you'll need a hydrating shampoo that can cleanse your hair without depleting its moisture levels.
Hydrating shampoos contain a high concentration of emollients and creams that envelope your strands in moisture and prevent dryness during the shampooing process. The top hydrating shampoos don't contain sulfates, which can cause your hair to become dry and damaged. A couple of excellent hydrating shampoos for natural hair include OGX Coconut Miracle Oil Shampoo and Shea Moisture Hydrate and Repair Shampoo.
Silicone-free Moisturizing Conditioner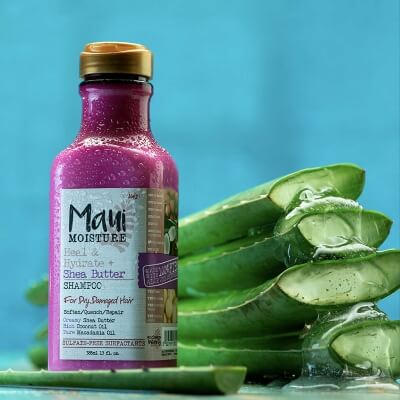 Moisturizing conditioners give your natural hair the strength and hydration it needs to stay healthy under your wigs. We recommend avoiding silicones in your natural hair conditioner, since these tend to build up and reduce your hair's ability to accept moisture. Maui Moisture Shea Butter Conditioner and Carol's Daughter Black Vanilla Luscious Moisture Conditioner are some great conditioner options to explore.
Cream or spray moisturizer
As you may have gathered, prepping your natural hair for wigs is all about loading it up with moisture before braiding it up and tucking it away. A cream or spray moisturizer is very helpful in this regard. It'll coat your hair in a thin layer of protective moisture and help prevent water loss while you rock your wigs. It'll also make your hair smoother and more manageable, which makes the braiding process easier. If you already have a moisturizer that you love, feel free to use it. If you don't, the tgin Butter Cream Daily Moisturizer is a great one to consider.
Combs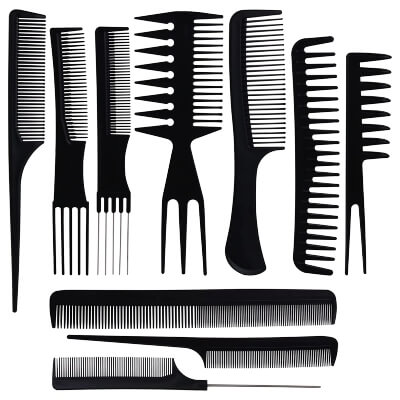 In addition to the above products, you'll need a typical wide tooth comb for detangling and a rat-tail comb for parting. Braiding down tangled hair will lead to unnecessary friction and possibly broken strands.
Scalp Oil or butter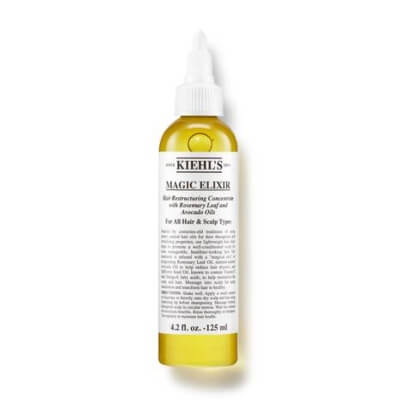 A nourished scalp is better able to grow healthy hair than a dry, irritated scalp. So, prevent dryness with a scalp oil or butter. You've got a lot of options to choose from, including almond oil, olive oil, and shea butter.
Edge Control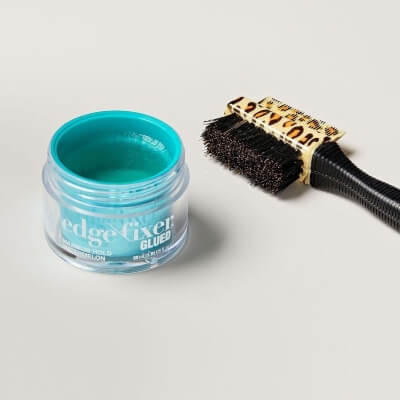 While you braid your hair down, you may find that you end up with fluffiness or loose hairs that can add height to the braids. The braids should be as flat as possible to ensure a believable lace melt result, so it's important to use an edge control to tame frizz and flyaways. Most edge controls will work fine, but it's best to choose one that's water-based to keep your hair moisturized as you wear your wig.
Double Sided Edge Brush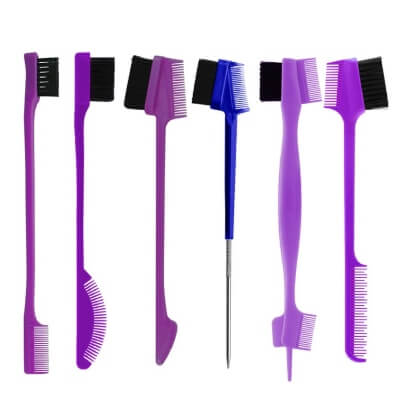 A double sided edge brush can be a lifesaver when you go to style your baby hairs or lay your edges down for a wig install. It's a specialized tool with a tiny brush on one side and a mini fine tooth comb on the other side. Use the brush side to groom the hair and the comb side to shape and define. You'd be surprised at how easy styling your edges and baby hairs will be with this tool.
For Bleaching Knots
If your wig comes with pre-bleached knots, you may not need to do any knot bleaching. But if it has noticeable black dots at the roots, it should be bleached. If you wear your wig with obvious black knots, your hairline and part will not look natural and the wig melting process will be much more difficult to complete.
The knot bleaching process will require you to mix up some bleach and developer and then apply it to the underside of the wig's lace. The process is relatively straightforward, but could take some practice to master.
Just be aware that after you bleach the knots, any hair attached to the lace will be more likely to shed, which could translate to diminished wig longevity. This adverse effect is even more likely to occur when you over-bleach your knots or use products that are too strong for the job. So, it's vital to use products that are effective without being too aggressive.
Here are some product options to consider when bleaching your knots:
Clairol Professional Bleaching Powder
This is a very popular dedusted bleach powder that can lighten the hair several levels in one session. Many wig wearers use this bleach to bleach their wig knots. To use it for this purpose, you'll mix it with a 10 or 20 volume developer and then apply it to the underside of the lace.
Clairol Professional Pure White Developer 20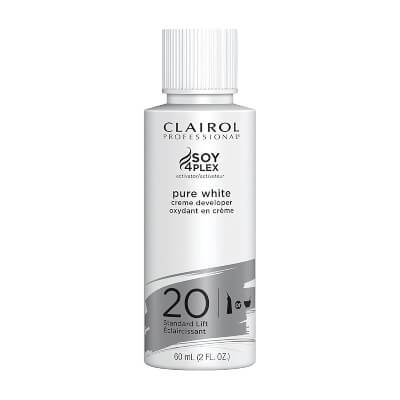 This is a 20-volume developer by the same company that manufactured the bleaching powder mentioned previously. It's a cream developer that's easy to mix and apply to the lace. We recommend cream developers over liquid developers because cream developers make for a relatively stiff bleach mixture that's hard to spill and easy to work with. If you're in a time crunch, you can also use the 30 volume developer from the same line.
Note: The bleach and developer must be used together according to the instructions on the bleach's packaging. So, you'll need to pick up both of them.
Shimmer Lights Purple Shampoo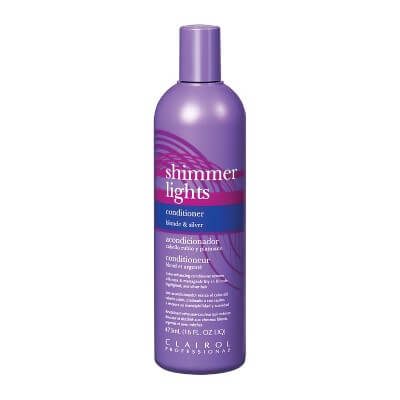 To combat brassy tones that come through following a knot bleaching session, tone your lace with purple shampoo. The pigments in the shampoo will neutralize the color of the knots for a more natural result. This Shimmer Lights purple shampoo is intended to be used on hair with unwanted yellow tones, but it is highly effective for toning down orange bleached knots. Within just a few applications of this shampoo, your knots will be toned down to a much more natural brown.
Gloves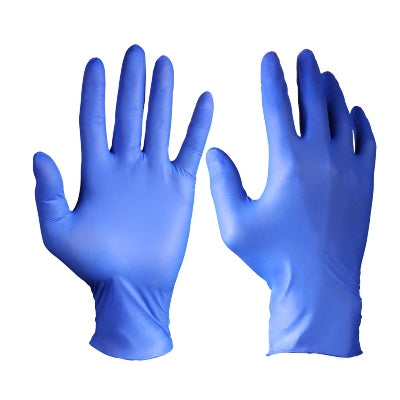 You'll need gloves to protect your hands from any adverse effects from the bleach or developer. If you handle these chemicals without gloves, your hands may burn, itch, or become otherwise irritated.
For Wig Application
When applying a lace wig, you need a lace adhesive, foundation, a good set of tweezers, and more. If you're caught without the items you need, you could end up with a result that's unnatural or overdone.
The most important aspect of wig installation is a secure fit, which is usually achieved with some combination of lace adhesive, gel, straps, and clips. Let's take a look at some products that'll get you through your wig installation with ease:
Got2b Glued Freeze Spray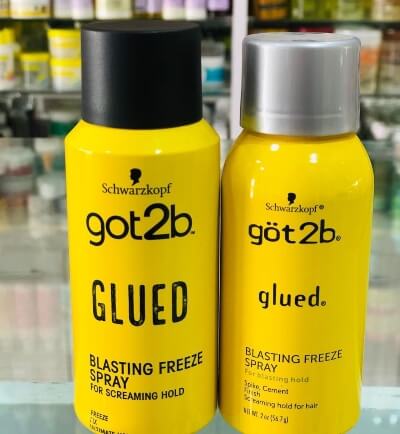 For up to one week of hold, use Got2b glued spray. It was not created to secure lace wigs; it was manufactured for people who want to create messy styles on their natural hair. However, over time, wig wearers noticed that the spray keeps their lace in place for days and is super easy to remove. Many find that this spray is much gentler and more user-friendly than traditional lace adhesive sprays.
Ghost Bond XL Adhesive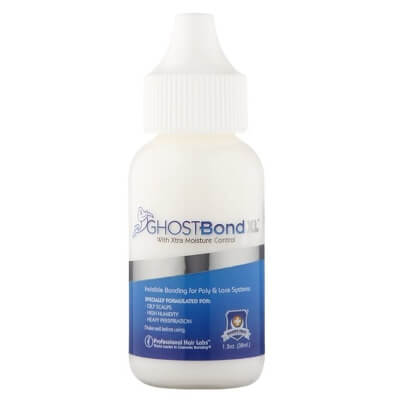 Ghost Bond is a well-known and loved lace adhesive that can keep your lace in place for weeks. The formula is waterproof and oil-proof, so even if you sweat profusely or have naturally oily skin, you won't have to worry about your lace lifting or shifting. The adhesive's strength can be increased by layering. We recommend choosing this adhesive over the got2b Glued Freeze Spray if you're an active person.
Got2b Invincible Styling Gel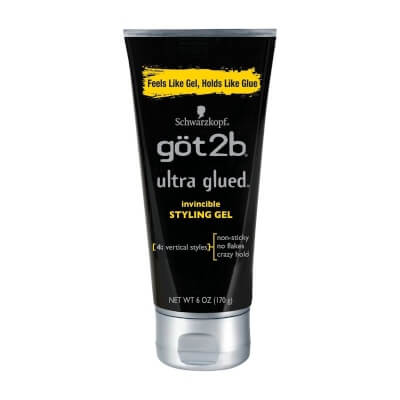 Perfection is in the tiniest details. That's why well-styled baby hairs take any wig to the next level. To lay your baby hairs, you need a gel that can smooth your baby hairs down without irritating your skin or flaking. Got2b Invincible Styling gel is especially popular with wig wearers, perhaps because it's flake-free and produces an incredibly strong hold. Many use this gel for laying down baby hairs, but you can also use it as a lace adhesive. Try it both ways to see how it works for you.
Elastic Strap and wig clips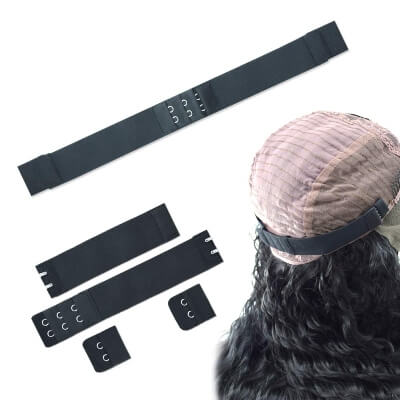 For anyone who cringes at the thought of using adhesives, there's an alternative - you can skip them entirely. Use the elastic strap and wig clips that come with the majority of wigs - you can secure the unit that way. If your wig didn't come with these attachment mechanisms and you know your way around needle and thread, you can sew them onto your unit in minutes.
 
If you thought the above items were all you need to install your wig, think again. In addition to the adhesive and straps, there are many other items you may need during your wig installation. Be sure to read through the entire section below to ensure you're well-stocked:
Eyebrow razor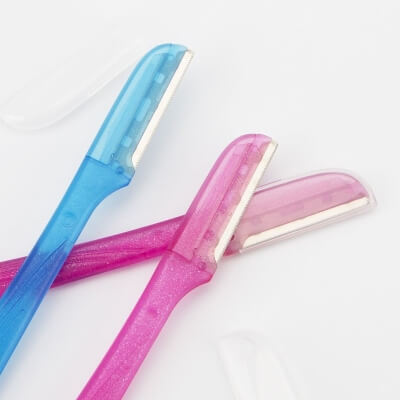 The tool you use to cut the lace along your wig's hairline will have a major impact on how melted your lace looks. You don't want to go for any dull or large scissors - and even hair-grade scissors can be tough to handle when cutting material as delicate as lace. For this step in the process, you need an eyebrow razor. It's small enough to allow you sufficient control, and it's jagged enough to make an imperfect cut that ends up looking natural in the end.
Alcohol and cotton balls
Before gluing or otherwise adhering your lace down to your hairline, you'll need to make sure your skin is 100% free of oils and debris. Otherwise, the wig will shift to and fro as you go about your day. So, do yourself a favor and wipe your forehead clean with a cotton ball soaked in alcohol. Once that dries, your skin will be ready. You may also use alcohol and a Q-tip to clean off any excess glue after securing the lace to your hairline.
Tweezers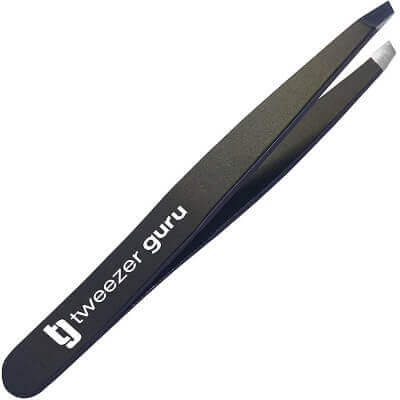 How natural a hairline looks has a lot to do with its density. If your wig is looking a little too thick along the hairline, you'll need to pluck it with some tweezers. But not just any tweezers will do - get some tweezers with a pronounced edge and make sure they're sharp.
Foundation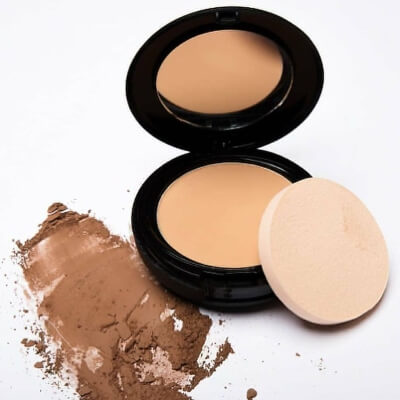 One of the easiest ways to make your wig's hairline blend into your skin is to dust the hairline with a foundation in the same shade as your skin. Powder foundation, along with a big fluffy makeup brush, works great for blending the hairline. You can also apply some foundation to your part to make it look like your scalp, but you'll need a small angled brush for the job.
Rat Tail Comb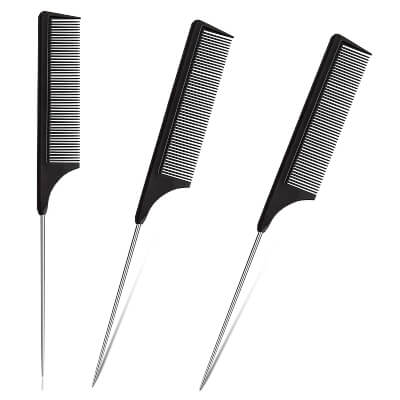 Rattail combs come in handy in several instances throughout the wig application process. But, a rat tail comb really comes in handy when pressing the lace to your hairline during installation. With the straight end of a rat tail comb, you can press the lace into the skin more firmly than you can with your fingers. You can use any rat tail comb you can find. These combs can also be used to style your hair.
Nylon Wig Cap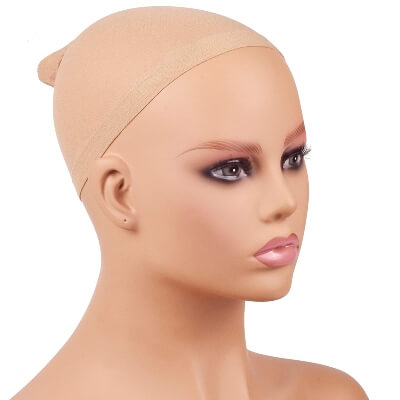 We all want our wigs to lay flat and look natural. To achieve that, your hair should be as flat as possible before putting the unit on. To get your hair super flat, you'll braid it down and then put on a nylon wig cap. Most wig caps will work, but it's a good idea to get one that's as close to your skin color as possible. You can shop around in person or online to find the one that works best for you.
Style Your Wigs With The Right Tools
Wearing wigs allows you to experiment with a ton of different hairstyles. Yet, improper styling can shorten your wig's life or even ruin it in minutes. So, if you want to take full advantage of your unit's styling versatility, you'll need to first obtain the right supplies. Below are some products you need to make wig styling a breeze:
Pressing Comb/Hot Comb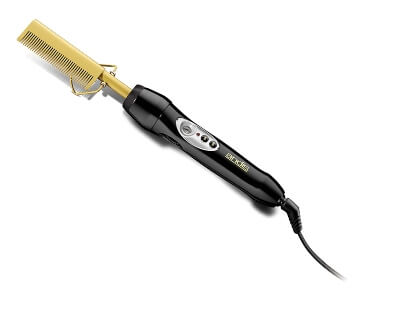 Pressing combs, also called hot combs, are perfect for flattening the top portion of a human hair wig. The flatter your hair is at the crown, the more natural your wig will lay. Pressing combs come in electric and non-electric varieties. Electric ones require only a power outlet, whereas non-electric ones require an oven or open fire as a heat source. Therefore, electric pressing combs are the most beginner-friendly.
The Andis 38300 Professional Hot Comb performs much better than the average hot comb. It gets as hot as 450 degrees, has 20 heat settings, and comes with an auto-shut-off function.
Curling Wand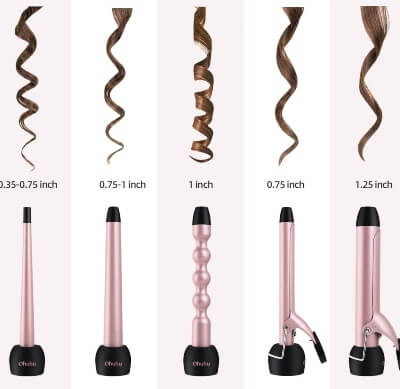 For any beauty who likes curls, a curling wand is a must. You could go with a standard curling wand, but you don't have to settle for one with a single barrel. Instead, choose a curling wand with interchangeable barrels. In this particular curling wand set by Ohuhu, you get 5 different barrels that you can switch out in seconds. These curling wands allow you to experiment with several different styles without having to buy a curling wand for each.
Hair Straightener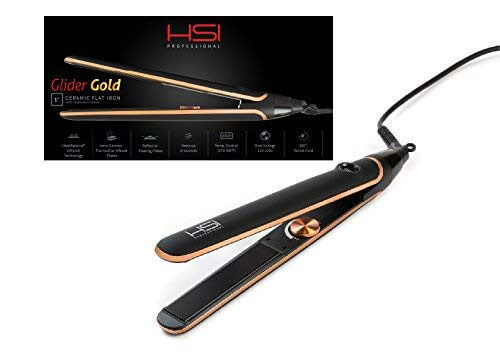 Even a straight wig can get frizzy and poofy at times - that's just the nature of hair in general. So, if you like to wear your hair in sleek styles, you'll need a straightener to keep those hairs bone-straight and behaving. Choose one with temperature controls, floating plates, and a swivel cord, like the HSI Professional Glider.
Note: Even when you buy a human hair wig, you should limit the amount of heat you use on it. And always use a heat protectant spray beforehand to prevent the dryness, brittleness, and breakage that heat can bring.
Mannequin Head, Stand, and T-Pins
Wigs can be styled while they're on your head, but if you're a newbie, you'll benefit from being able to see the wig in a 360-degree view. That's why we recommend that all new wig wearers, and even veteran wig users, get themselves a canvas or styrofoam mannequin head, stand, and T-pins. Then you can simply place your wig on the stand and style it as you please - without blind spots.
Butterfly Clips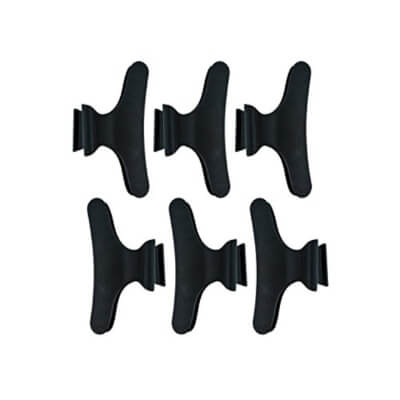 Butterfly clips can save you quite a bit of time while styling your unit. While you work on one part of the wig, you can use them to keep certain sections of hair out of the way.
Blow Dryer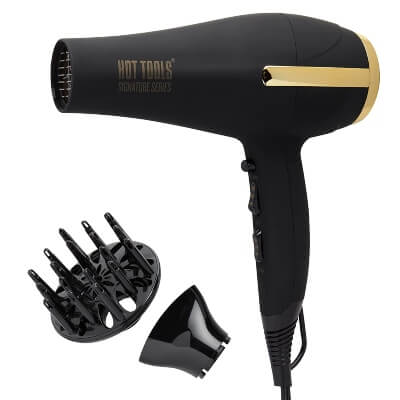 A quality blow dryer is essential for every wig wearer. In the ideal scenario, you'll have one with multiple heat settings, a concentrator nozzle, and ionic technology to fight frizz. Hot Tools sells a fantastic ionic blow dryer that wig wearers are obsessed with. For less than $50, you get 6 heat settings, ionic technology, and 1875 watts of power. The dryer also has a cold shot button to help set your styles fast.
Wax Stick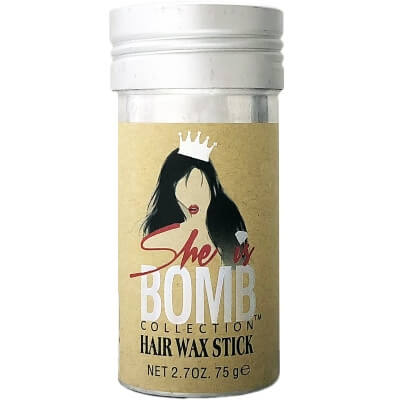 You can use wax sticks to get your wig to lay sleek and straight. They are applied directly to the hair and smoothed down for some serious de-frizzing. Many brands have come out with their own version of the wax stick, but one that's been getting a lot of attention lately is the She is Bomb Collection Wax Stick. This wax stick is praised by many who have tried it - they say it's the best they've ever used.
Styling Mousse

Styling mousse is a foam that helps to set hair in a particular shape. It's often used to flatten the crown of a wig post-install, but you can also use it to set your wig in curls or waves. Lotta Body Coconut Oil and Shea Mousse will work overtime to keep your wig looking smooth and tame. It also contains loads of moisturizers for lasting hydration. Feel free to use it for curl and wave definition, roller sets, and Flexi rod sets.
Products and Tools for Wig Removal
Improper wig removal can create a plethora of problems for wig wearers, from hair loss to skin irritation. That's why we never recommend peeling your wig off haphazardly. Use the below items to make the process easier and safer:
Spray bottle of water
For wigs installed with gel or Got2b Glued Freeze spray, simply spritz the hairline with water to loosen up the product. Without a spray bottle, removing your wig in this manner can get very messy.
Adhesive removal spray

Water won't be enough to loosen up a proper wig adhesive. Instead, you need an adhesive removal spray to loosen the bond. In this case, you should be very selective when choosing which adhesive remover you should use - it's wise to choose one from the same brand as the adhesive (if it's available). If you used Ghost Bond adhesive, you should use Ghostbuster Adhesive. It'll contain ingredients tailored specifically to your adhesive.
There you have it, everything you need to up your wig-wearing game! These wig essentials should help you improve how your wigs turn out and make it easier to achieve the looks you've always wanted to try. Now, let's hear from you: What are your favorite wig care and styling products? Is there any products you want to suggest to the list? We would love to hear your thoughts.
---
2 comments
---
---