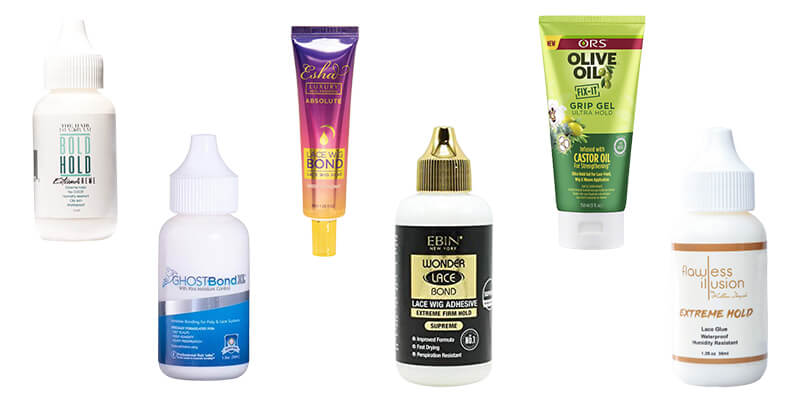 If you've learned a thing or two about lace front wigs over the years, you know that the secret to hours of windproof, hair-whipping wear is a strong wig glue with tons of staying power. After all, if you've ever had to deal with the embarrassment of lifting lace and an exposed hairline, you know how important a good quality wig glue really is! This helpful guide will give you insight on what to look for when choosing the best wig glue, as well as a list of some of the best options on the market.
How to Choose the Best Wig Glue
Even wig beginners realize that application isn't as easy as "glue and go." For a firm hold strong enough to support even the most intense workout sessions, you need a wig glue melts down your lace with a truly secure, flakeless hold. Also, choosing a gentle, non-abrasive glue will keep your skin and hairline safe from damage:
1. A Secure Hold On Your Wig
Ever wonder how celebrities like Beyonce and Nicki Minaj are able to perform under hot stage lights for hours without the slightest hint of lifted lace? A good quality wig glue ensures that your wig will stay put even through the most extreme climate and activity scenarios. Here are a few phrases that should catch your eye the next time you read the wig glue product description:
Moisture Protection: If you tend to sweat a lot or live in an area with high humidity, look for a wig glue that combats moisture. This is great for keeping your wig firmly in place if you are an athlete or have an active lifestyle.
High Melting Point: Similar to moisture protection, with a higher melting point you can wear your hair in high heat situations without fear of sweating your wig glue off.
Oil Resistant: If your scalp produces excessive oil, be sure to choose a wig glue that is designed to hold through the extra lubrication from your pores.
2. A Flawless Meltdown
Even with the best quality Clear Lace or HD Lace at your fingertips, without a good quality hair glue, you will still be left with a noticeable hairline after application. Be sure that the wig glue forms an invisible bond once your wig is sealed. When the glue dries, you want to be sure that you are not left with flakes or a filmy residue afterwards. With the best hair glue, you'll enjoy a hidden hairline with a clean, realistic finish.
3. Gentle On Your Skin
What's the point of wearing a new, beautiful unit if you're left with discomfort from reddened, blotchy, and irritated skin? To avoid skin or hairline damage, choose a glue that is void of any harsh solvents or potential irritants. Be sure that the wig glue has a formula created especially for sensitive skin. For a skin-friendly wig glue experience, here are a few chemicals that you should watch out for:
Latex: Most wig glues have latex in them, which might cause adverse reactions. If you are unsure of how your skin will react to latex, try patch testing the glue on your forearm or near your ear before full application.
Fragrance: Wig glues tend to have fragrance added as well to help cover up the scent of other chemicals for your comfort. As the leading cause of contact dermatitis, you should certainly avoid added fragrances if you deal with acne issues, eczema, or any other skin condition. Once again, patch testing the glue or using a smaller quantity will give you a chance to observe how your skin reacts.
Certain Skincare Products: Wig application and removal usually involves cleaning the skin with alcohol. If your skincare products have strong active ingredients like steroids or hyaluronic acid, these chemicals sometimes have adverse effects when combined with alcohol.
6 Best Wig Glues On the Market
1. Ghost Bond XL Hair Replacement Invisible Bonding Wig Glue

(Top Choice)

One of the most popular wig glue brands across a plethora of haircare sites, Ghost Bond XL features flawless, flakeless bonding with a hold that even works well with the oiliest of scalps. Not only will you love its slip proof grip, but your hairline will definitely appreciate its non-toxic chemicals!
Created especially for wig wearers with sensitive skin, all you need is a small application of Ghost Bond XL for invisible, long-term wear. The budget-friendly price is yet another reason why this glue is at the top of our list.
This wig glue is white when applied, but dries clear for an undetectable hairline and professional quality melt each time. Ghost Bond XL even has an oil-resistant formula, making it perfect for keeping your wig in place through heavy sweating and hot temperatures. Even if you have oily pores, this wig glue has you covered!
Pros:
Highly recommended by customers & trustworthy sources
Non-toxic
Budget-friendly
Clear application
Oil-resistant
Cons:
Will not hold firmly if too much is applied
2. Flawless Illusion Extreme Hold Wig Glue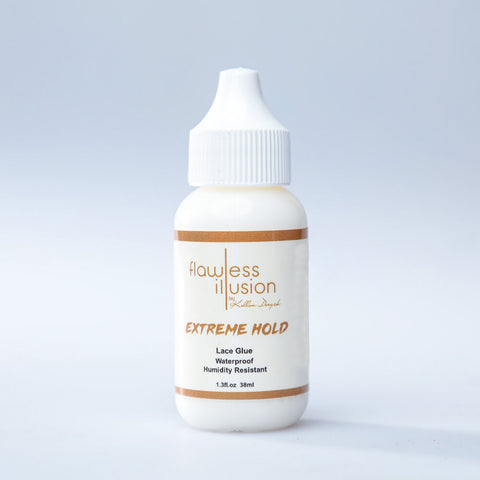 We've found the wig glue that is the holy grail for the stylist of popular hip-hop celebrities like Megan Thee Stallion and the City Girls. Created by well-known celebrity stylist Kellon Deryck, Flawless Illusion Lace Glue is specifically designed to withstand 5 hour performances and lengthy sporting events. The price point is the only reason why this glue isn't number one on our list. If you need a wig glue that holds through fierce hair tosses and tons of sweating, this choice is worth the extra bucks.
With a hold that will keep your unit from shifting through perspiration and humidity, this wig adhesive has fool-proof moisture protection. This glue takes the term "slip-proof" to another level, even withstanding daily sauna sessions with ease. Featuring truly invisible applications, Flawless Illusion lives up to its name with flawless meltdown capabilities. This adhesive is undetectable even through the view of HD cameras!
Pros:
Created by veteran celebrity hairstylist for professional finish
Moisture proof
Invisible application
Perfect for long-term wear
Cons:
3. The Hair Diagram Bold Hold Extreme Creme Wig Glue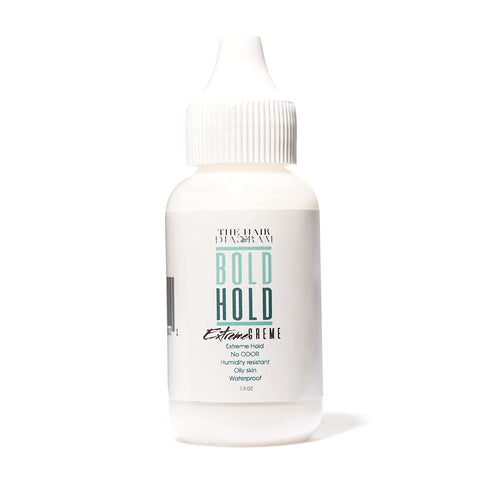 When a wig glue has the seal of approval from celebrity stylists, it has to have a no nonsense hold with a blending quality fit for royalty. Professional stylists like Alonzo Arnold and Kahh Spence - hair stylist for superstars Ella Mai and Kehlani - swear by the magical grip of Bold Hold Extreme Creme. After all, if it can withstand hot multi-hour performances with tons of motion, it can certainly work well for the everyday active person. That's why this wig adhesive is yet another amazing choice for your new go-to wig glue.
Made with a lightweight, long-lasting hold, Bold Hold provides a non-slip grip without causing any damage to your edges, scalp, or wig lace. Unlike most wig adhesives, this wig glue is water-based and non-toxic for a skin-friendly experience.
Bold Hold combats moisture with its waterproof and humidity resistant ingredients, making sweat and hot weather ineffective. You can go for a swim or a workout at the gym with no worries of an embarrassing wig slide. This wig glue holds firm through a good night's sleep as well. Even oily skin is no match for this fool-proof formula. This wig adhesive goes on white but dries clear, leaving you with a strong, invisible bond that will have your wig firmly in place for up to 3 weeks at a time!
Also odorless, backed by extensive lab testing, and 100% latex-free, Bold Hold is also free of irritants making it perfect for you if you have sensitive skin. The only issue you will come across with this glue is that the hold is almost too good! To remove your wig, you will need a good lace glue remover on hand. Of course, you could always use the old faithful method of applying oil or alcohol, but keep in mind you could possibly damage your unit with excessive rubbing. With a premium quality lace glue remover, your wig will slide right off with no hesitation.
Pros:
Approved by celebrity stylists
Moisture & waterproof
Long lasting & very sturdy
Non-toxic
Cons:
Pricy when compared to wig glues of a similar size
Requires lace glue remover
4. Esha Absolute Lace Wig Adhesive Glue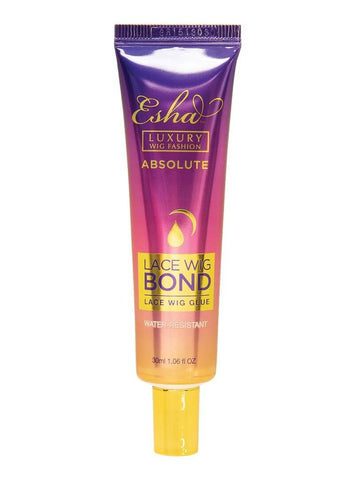 Yet another heavy hitter in the wig realm, Esha Absolute Wig Glue is tailor-made for swimmers and athletes with its professional quality, slide-proof hold. If you love an authentic look, this wig glue will have your hair unit appearing to grow right from the scalp. Of course, with an expert cosmetic chemist behind its creation, how could you expect anything less?
Esha Absolute is free of irritants, allowing you to wear your wig comfortably without fear of breakout. Because this adhesive is water resistant, it is perfect for summertime pool parties and other water related activities. Any type of moisture simply doesn't stand a chance against this wig glue's solid grip, making humidity and sweat totally ineffective. If you have sensitive skin, made with gentle chemicals and free of irritants, this wig glue is easily one of the best choices.
Another benefit to Esha Absolute is its gentle, yet firm hold. While most water-resistant hair glues tend to tug on your hairline with a grip-like feel, this glue holds well without the extra tension.
Pros:
Water-resistant: works great for heavy sweating and swimming
Great for sensitive skin
Gentle, but firm hold
Humidity friendly
Cons:
Sometimes creates a thin white film while sweating, but dries back clear
5. EBIN NEW YORK Wonder Lace Bond Lace Wig Adhesive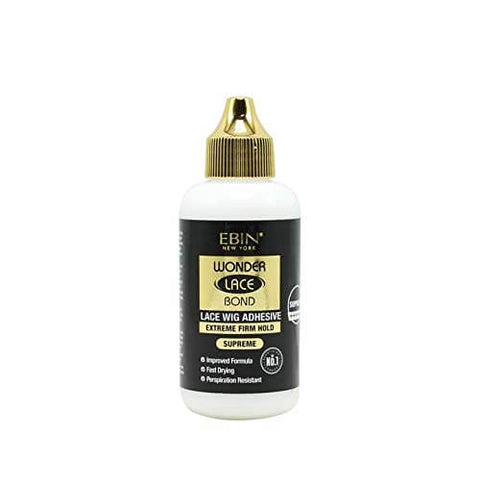 Featuring an easy-to-apply, quick drying formula, the EBIN NEW YORK Wonder Lace Bond Lace Wig Adhesive will have your lace wig firmly in place and ready for wear in a matter of minutes. With quick, simple application, it is perfect for wig beginners and professionals alike.
Fading from white to clear when dry, enjoy no residue left behind with this lightweight wig glue. The invisible bonding will leave you with a natural looking hairline that's hard for anyone to detect. Completely free of latex, EBIN's Wig Adhesive is also great for those with sensitive skin. You'll fall in love with the slight cooling effect you feel while applying this glue, another soothing feature that is non-abrasive.
Both waterproof and perspiration resistant, this lace wig glue remains unphased by excessive moisture. Heavy sweaters and oily scalps rejoice - even the most humid of areas are unable to compete with this wig glue's firm hold! For a product that is removed as easily as it is applied  and provides a well secured, natural finish, EBIN'S Wig Adhesive certainly will not disappoint.
Pros:
Waterproof
Moisture resistant
Cool soothing effect when applied
Quick & easy application
Cons:
Requires multiple layers for a very firm hold
6. ORS Olive Oil FIX-IT Grip Gel Ultra Hold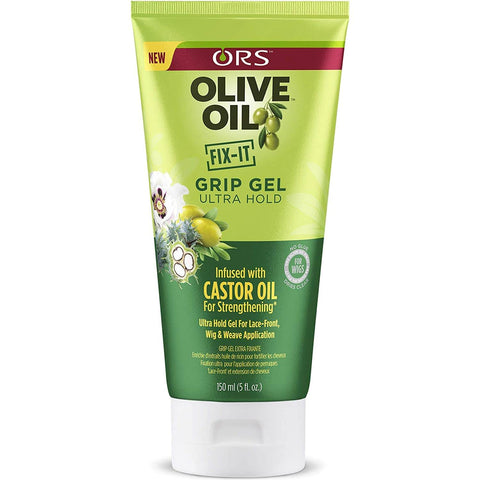 If you are worried about damaging your edges with abrasive chemicals, look no further. ORS Olive Oil Grip Gel will provide your wig with a sturdy hold while replenishing your scalp and edges with much-needed vitamins and minerals. If you suffer from dry scalp, this wig glue is just for you!
As its name suggests, this wig glue uses nourishing olive oil for a hold that protects hair health as it works. Also including Burdock Root Extract as well as Castor Oil, this adhesive is also made to strengthen your natural hair follicles while it keeps your wig secure. For a healthy scalp even through wig wear, ORS Olive Oil Grip Gel also has White Peony and a unique Keratin complex.
Your edges will rejoice for this skin-friendly formula! The substance itself is thin, so you will need to apply two to three layers before melting. Be sure that it has a tacky-like texture before securing. your wig and you'll be good to go. This sweat and humidity-friendly adhesive also doubles as an edge control, so you'll be thankful for the flawless meltdown.
Pros:
Made with vitamins and minerals
Promotes healthy edges
Doubles as edge control
Humidity & sweat resistant formula
Cons:
Needs to be paired with ORS Super Hold Spray for long-lasting hold
The Key Takeaway
For hours of hair-tossing fun with a salon inspired, professional quality finish, you need a wig glue that is built to last. Be sure that it has moisture protection for a firm hold through sweat and humidity. With oil resistant properties, even an oily scalp will be no match for your wig glue!
Keep in mind the finish is just as important as the application. Your wig glue should dry clear for an invisible hairline, making your hair unit appear to be growing right from the scalp. Be sure that it is void of toxins as well to avoid breakouts and inflammation.
After you've selected the perfect wig glue, you'll need a long-lasting, top-notch quality lace wig to match to seal the deal! For well reviewed lace front wigs featuring 100% Virgin human hair tresses and Clear or HD lace paired with a 'Clean Hairline' for true undetectability, be sure to browse the unmatched lace wig selection here at XRS Beauty!
---
2 comments
---
---