10 Best Conditioners for Human Hair Wigs
Nothing turns heads like a fresh lace wig install - thick, bouncy hair full of life makes you feel invincible! Unfortunately, if you don't take care of that gorgeous unit, the hair will quickly fall flat, lose shine and become dull. Of course, the hair isn't attached to a human scalp, which means it doesn't receive the nutrients and moisture it needs without a little help. A good quality conditioner will keep your hair healthy and hydrated, restoring the original shine and bounce. To keep your tresses looking like new, here are the 10 best conditioners for human hair wigs.
The Top 10 Conditioners for Human Hair Wigs
1. 2 Benefits Instant Healthy Hair Treatment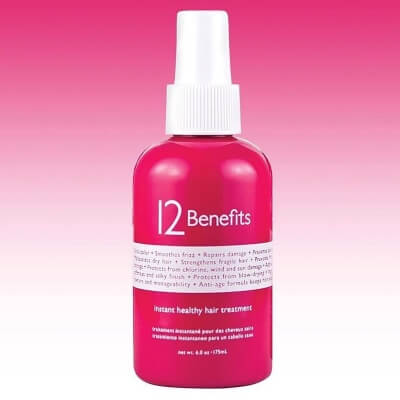 Highly reviewed across numerous trusted hair resources, with thousands of positive reviews to confirm, the 12 Benefits Healthy Hair Treatment offers a host of benefits for your lace front wig.
Unlike the other conditioners, this treatment is sprayed onto towel-dried tresses and left alone to work wonders. Made with 95% protein, 2% natural liquids, and 3% moisture, each active ingredient works together to improve elasticity and strengthen hair follicles.
With the following 12 impressive benefits delivered at a budget-friendly price, you simply can't go wrong with this selection:
Locks in vibrant hair color
Smoothes frizzy strands
Repairs damaged tresses
Treats & prevents split ends
Restores moisture to dry hair
Strengthens weak, fragile hair
Prevents hot styling tool damage
Prevents damage from chlorine, wind & sun exposure
Gives lustrous shine and softness
Provides protection from blow-drying
Improves manageability & removes tangles
Ingredients designed for long-lasting, youthful hair
2. Aveeno Pure Renewal Conditioner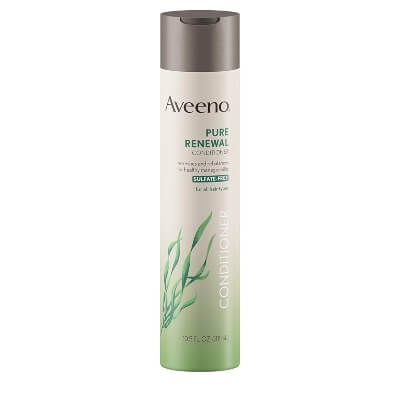 For a simple, budget-friendly product that keeps your human hair wig healthy and lively, the Aveeno Pure Renewal Conditioner delivers by keeping the moisture of your tresses balanced. This formula uses a special seaweed extract to replenish proteins, vitamins, and minerals for optimal moisturization.
Completely void of alcohol and sulfates, it works well with colored hair and is also easy to use. The lightweight texture does not weigh your hair down, leaving you with a silky lace front wig that is as good as new. If you are looking for tons of moisture, softness, and hair that is easy to manage, this conditioner is a great choice.
3. OGX 5-in-1 Frizz-Free + Keratin Smoothing Oil Conditioner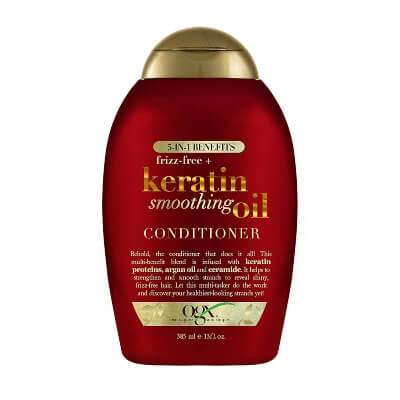 When it comes to healthy, strong tresses, the ingredient keratin is the holy grail. Keratin is a protein that protects the hair, leaving it silky, soft, and smooth. The hair experts at OGX were smart enough to infuse one of their conditioners with this powerhouse, saving you money and time by making the formula multi-beneficial.
The OGX Keratin Smoothing Oil Conditioner has 5 main benefits - frizz control, stronger strands, improved flexibility, humidity protection, and added shine. Saturate your 100% Virgin human hair with ceramides and argan oil while avoiding a greasy texture. Best of all, the scent of golden amber mixed with tropical orange and island pineapple will leave your hair smelling heavenly!
4. Maui Moisture Nourish & Moisture + Coconut Milk Conditioner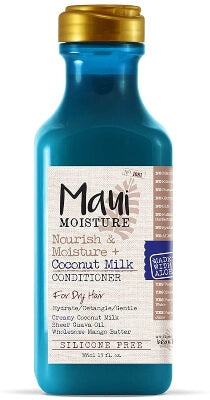 Looking to bring your favorite glamorously curly or luxurious deep wave human wig back to life without breaking the bank? Maui Moisture Coconut Milk Conditioner is made to keep your hair bouncy and full of volume.
The formula is virtually weightless, adding no build-up. Instead, this conditioner works to nourish your entire hair shaft leaving your human hair wig with a shiny natural glow. This cruelty free, vegan-friendly product keeps your 100% Virgin human hair healthy with no synthetic dyes, silicone, parabens, or mineral oil. The gentle blend leaves your hair soft-to-touch through the use of guava extracts, coconut milk, and mango butter for extra nourishment. Now, go detangle those tresses with no worries of messing up your lace wig's curl pattern!
5. The Big Kizzy F.A.T.T Biotin Conditioner
Since protein is highly responsible for building healthy, durable hair, if you find a great conditioner that includes biotin, you'll never stop using it. Biotin is a part of the Vitamin B family, Which is derived from protein. This is why the Big Kizzy F.A.T.T. Biotin Conditioner works so well on human hair wigs.
F.A.T.T. stands for "Full and Thickening Treatment." With professional hairdressers behind the creation of this volumizing formula, your human hair tresses will rejoice as they are rejuvenated by B5 vitamins, herbal extracts and amino acids for long-lasting durability and luster. This amazing, cruelty free conditioner uses no silicone, sulfates or parabens and also works well with damaged, dyed hair.
6. Jon Renau Argan Smooth Luxury Conditioner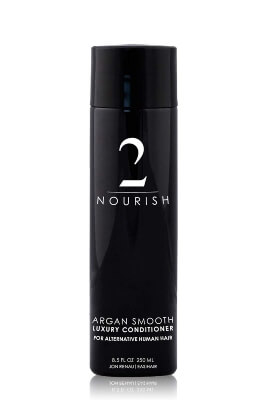 Speaking of argan oil, Jon Renau Smooth Conditioner is jam-packed with this hydrating gem. Made with rare French Argan Oil, you will have a free radical neutralizer right at your disposal. For silky smooth, healthy and voluminous tresses, you need to be sure to have this product on your shelf.
This thick, creamy formula uses absolutely no sulfate, sodium, or.paraben, so your 100% Virgin human hair is never stripped of its organic essential oils.  Using new hair technology, the texture is lightweight and filled with vitamins and antioxidants to strengthen and rejuvenate your human hair wig while taming frizzy, fly-away pieces of hair. For a salon calibur finish, this conditioner gets the job done.
7. Shea Moisture Raw Shea Butter Restorative Conditioner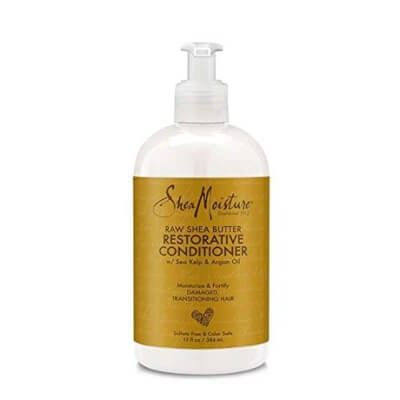 Shea butter has a host of benefits for hair, nails, and skin. Not only does it have Vitamins A and E, which are known for adding moisture and shine, it also stores the hair without the greasy texture.
If your human hair wig has dry, brittle hair or split ends, Shea Moisture's Raw Shea Butter Restorative Conditioner will do exactly as it says – restore! This product repairs damaged dresses while keeping them shiny, and strengthens your hair extensions naturally.
Made with sea kelp, which helps with detoxifying residue, you have the option of leaving this conditioner in or rinsing it out. Argan oil packs on the shine while rebuilding elasticity. Best of all, it only has organic ingredients and is made cruelty free.
With its sulfate-free and color safe formula, expect all the nourishment and healing your human hair wig needs with this quality product. Don't let the price shy you away - it delivers!
8. Bumble and Bumble Super Rich Conditioner
Effectively locking in moisture with tons of frizz control, the Bumble and Bumble Super Rich Conditioner is wonderful for keeping the tresses on your human hair wig soft and tangle-free. This luxury conditioner works to restore elasticity, luster, and original shine.
While it is more expensive than other conditioners, it has a creamy, thick texture that gives your wig extra gloss and voluminous bounce without the heavy weigh down. The scent - slightly sweet, yet very mild = is perfect if you have a sensitive nose. This conditioner gets the job done without the overbearing smell.
If you need to bring a well-worn, tumbleweed dry, and damaged virgin human hair unit back to life, Bumble and Bumble will deliver the moisture you need!
9. Guy Tang Color Securing Conditioner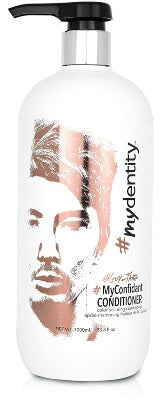 Looking for a conditioner that has the same color-boosting properties  for a fraction of the price? The Guy Tang #mydentity #MyConfidant Color Securing Conditioner increases color reflection while strengthening the tresses on your colored human wig.
This conditioner restores slip and hydration to help you nourish and detangle color treated hair. The thick, rich formula provides extra moisture to combat frizzy flyaways. If you want your colors to remain vibrant and vivid without fear of damage from sodium chloride, sulfates, or parabens, then this is the perfect product for you.
10. Kerastase Reflection Fondant Chromatique Conditioner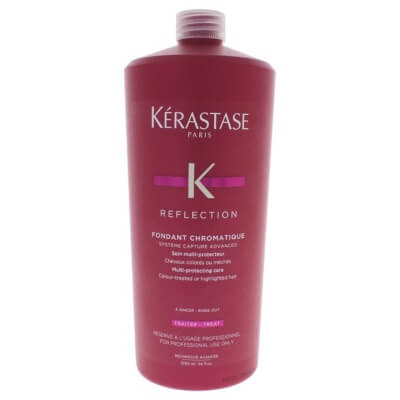 Let's face it - colored hair is THE "it" trend these days. Colored human hair wigs are fierce, but hard to maintain. Here's where Kerastase Chromatique Conditioner comes to the rescue - it is made specifically for hair units with color. While this conditioner is the most expensive on this list, there's a good reason for the price point!
If you want the colors in your human hair wig to remain vibrant and lively, this conditioner boosts radiance and makes color last longer. Kerastase uses vitamin E and UV fillers to protect your tresses while giving a realistic shine. A little goes a long way, so you'll be enjoying this premium=quality conditioner for months.
The Key Takeaway
With the best conditioner at your fingertips, your human hair wig will remain lustrous and durable. Conditioner keeps your hair hydrated so it will not dry out, allowing it to hold onto that same beautiful "day one" bounce and silky shine. If your lace wig becomes tangled or simply needs a little pick-me-up, the right conditioner restores tresses to their original softness.
Choose XRS Beauty for Your Human Hair Wig Needs
Even the best conditioner is no match for a bad quality wig. For 100% Virgin human hair tresses, true to length and density, paired with professional quality Clear and HD Lace, have a look at the unmatched wig collection here at XRS Beauty!
---