Best Budget-friendly Headband Wigs 2022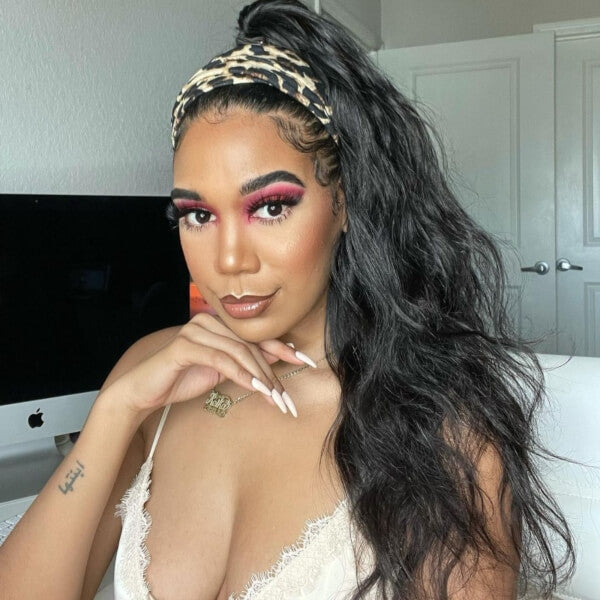 Perfect for the wig beginner and as equally fierce as its lace counterpart, the headband wig has made its way from household name to a staple in haute couture. After all, who can resist switching up styles on a moment's notice with little to no preparation?
Headband wigs are truly 'throw and go' with an added bonus of being stylishly chic all the while. Appropriate for the office, gym, and for evenings out on the town, this wig style is the definition of 'all-purpose.' Find out why you need a few headband wigs in your wig wardrobe, as well as our top 5 headband wig choices.
5 Best Headband Wigs
1. Water Wave Human Hair Headband Wig
(The Customer Favorite)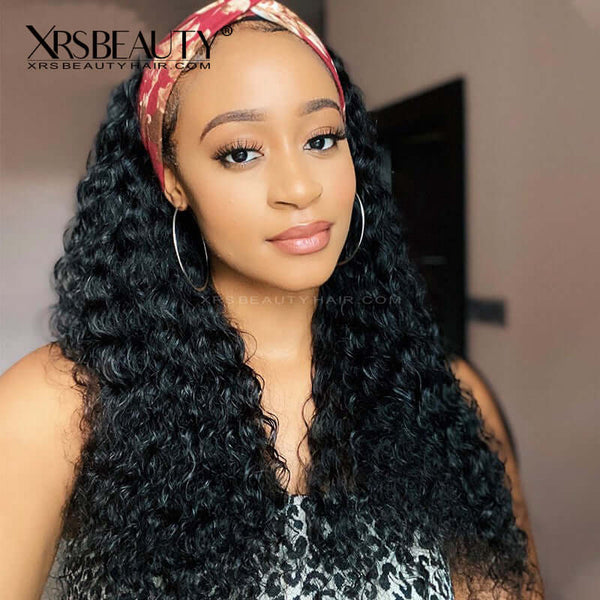 With dozens of reviews raving about the top-notch quality and gorgeousness of this hair unit, the XRS Beauty Water Wave Curly Headband Wig will leave you stunned by its pillow-soft soft texture and realistic appearance.
Whether you want short or long, with 7 options available for length, you'll be sure to find the perfect fit for your lifestyle. You'll be pleased when this headband wig arrives true to length and density, full and voluminous. Comb through this unit with very minimal shedding, enjoying tons of volume throughout its entire lifespan. You'll appreciate the convenience of this tangle-free wig, its texture remaining soft even after wash day.
This unit even comes with a headband included inside the packaging for your convenience. With stunningly fluid wavy hair strands, you'll have others asking if your unit is your natural hair! For a headband wig with a highly convincing, natural look and tresses with beautiful, soft waves, this is certainly the option for you.
2. Natural Black Straight Human Hair Headband Wig
(The Budget-Friendly Option)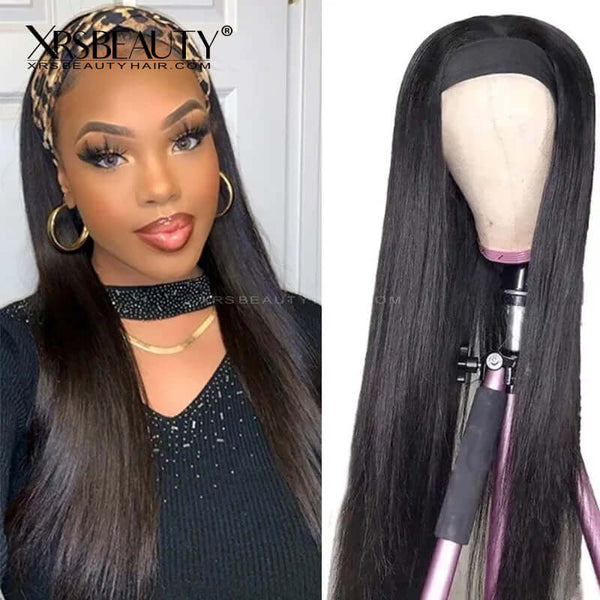 Who said that an affordable headband wig has to lack in quality? The XRS Beauty Straight Headband Wig presents premium, 100% Virgin human hair without the hefty price tag.
True to density throughout the entire unit, there is just enough thickness for a convincing, super natural look. The silky straight, free-flowing tresses are soft to touch and full of volume. Enjoy tangle-proof styling as you part your wig however you see fit. Also available from 12-24 inches, you'll have no issues finding the length that goes along with your business and personal styling needs.
Expect a hair unit free of smells and shedding with a natural-hued tint that blends well with your hair. With no glue required and combs placed inside the unit for a comfortable fit, enjoy a quick, worry-free install with a luxurious look to match
3. Kinky Curly 180% Density Human Hair Headband Wig
(The Volume Option)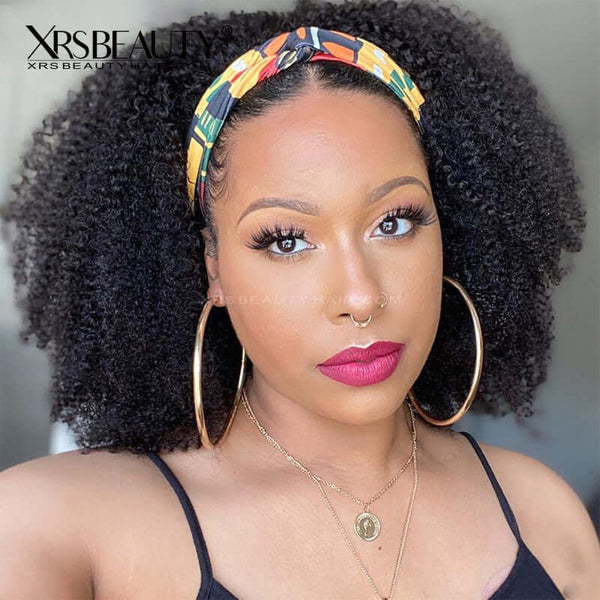 Looking for a headband wig that will have others convinced that it is growing from your scalp? With the XRS Beauty Tight Curly Headband Wig, the endless compliments you receive will have you ditching the salon for good!
This hair unit consists of silky, soft, well-defined curls full of bounce and luster. Your new headband wig will arrive true to density, delivering tons of believable volume. This versatile, easy-to-wash unit can be styled in a number of ways with no detection. With 12-24 inches to choose from, you'll be happy with a selection that is true to length no matter your decision.
Complete with a natural dark brown hue, enjoy a flawless blend with your edges and hairline. You'll love the 100% Virgin human hair tresses, leaving you with a finish that would normally take hours to achieve. With no glue required and easy application, you'll be on the go in no time!
4. Ombre Blonde Straight Human Hair Headband Wig
(The Colorful Option)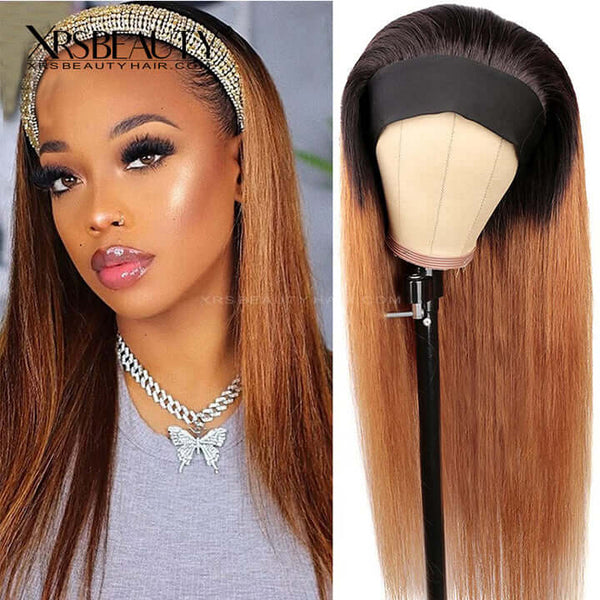 If you want to achieve a celebrity-inspired look as you rock a hue that's often spotted on superstars like Beyonce, Ciara, and J. Lo, you'll be thankful you decided to try the XRS Beauty Dark Brown/Blonde Ombre Straight Headband Wig.
This gorgeous look transforms from a cool, natural black, to a vibrant honey blonde for a natural look that blends well with the roots of your hairline. With human hair that has never been processed, you'll fall in love with its soft, silky straight tresses. Switch up your look by adding a few elegant loose curls, or leave it bone straight for a classic finish.
Not only is this hair unit easy to apply with no glue or adhesives needed, with combs inside for a secure fit, you'll enjoy comfort along with convenience. True to length and density, you'll be satisfied whether you opt for a sassy, shoulder-length style or a longer, edgy look.
5. Brown Highlight Human Hair Headband Bob Wig
(The Short Option)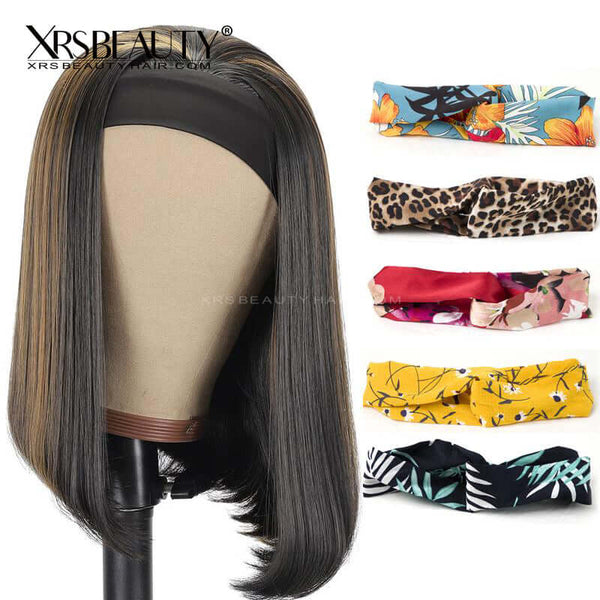 Need a look showcasing tons of class and pizazz without all the inches in the way? The XRS Beauty Black/Brown Highlight Straight Headband Wig is short, sassy, and functional - the trendy professional's dream!
This hair unit features carefully-placed, soft chestnut brown highlights throughout for a pop of color that maintains a natural feel. With human hair that is 100% Virgin, you'll see why each strand is so soft and silky. Expect nothing less than a headband wig that is true to density for a realistic finish. Available from 12-16 inches, you'll love your refined new look that arrives true to length. Best of all, this affordable unit requires no glue and still fits like a glove!
Shop with XRS Beauty for the Best Headband Wigs Available
While these hair units are typically budget-friendly, you want to be sure that you choose from a selection of long-lasting, human hair wigs. With top-notch, 100% Virgin hair provided by human donors, you'll impress others with a natural finish that will leave them clueless.
XRS Beauty will always provide lustrous, soft-to-touch units that excel in craftsmanship. We use only the best materials for voluminous, supple tresses provided with each delivery. Even with our premium quality components, our competitive pricing is fitting for the smallest of budgets. With a little love and care, you'll enjoy your new headband wig for a year or more as you style, dye, and even bleach your tresses. Enjoy the versatility and have fun - that's what it's all about! Take a look at our selection of a few of the best human hair headband wigs available on the market.
---