22 Blonde Hairstyles for Black Women
Once seen as a hair color option only reserved for people with fairer skin tones, Black girls with blonde hair are taking the fashion scene by storm. From Beyonce with her huge, honey hued crown to Nicki Minaj with strawberry kissed platinum locks, blonde looks amazing on any shade of skin! Here are 22 blonde hairstyles that are literally "black girl magic":
The Best Blonde Hairstyles of 2022
1. Dark Roots 'n' Loose Blonde Curls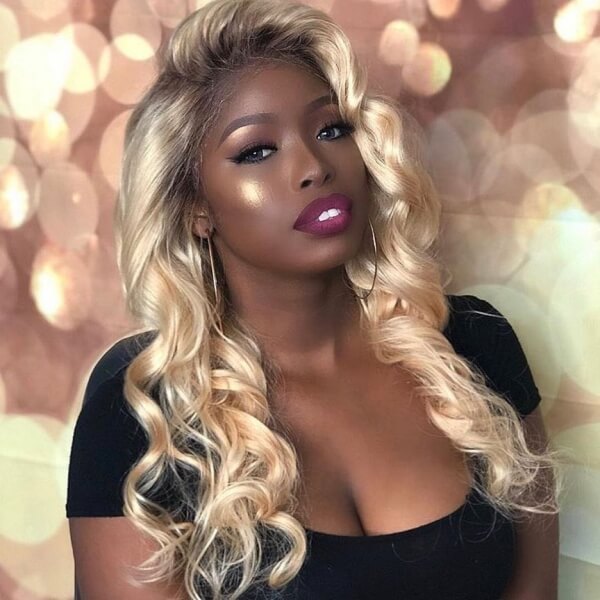 Ready to go platinum, but want to gradually transition over to a full head of light locks? Try starting out with deep brown roots at the base for a more natural look. Paired with loose curls to playfully frame your face, this look is the epitome of elegance and class. Your new voluminous waves will definitely rock the boat!
2. Bone Golden Bob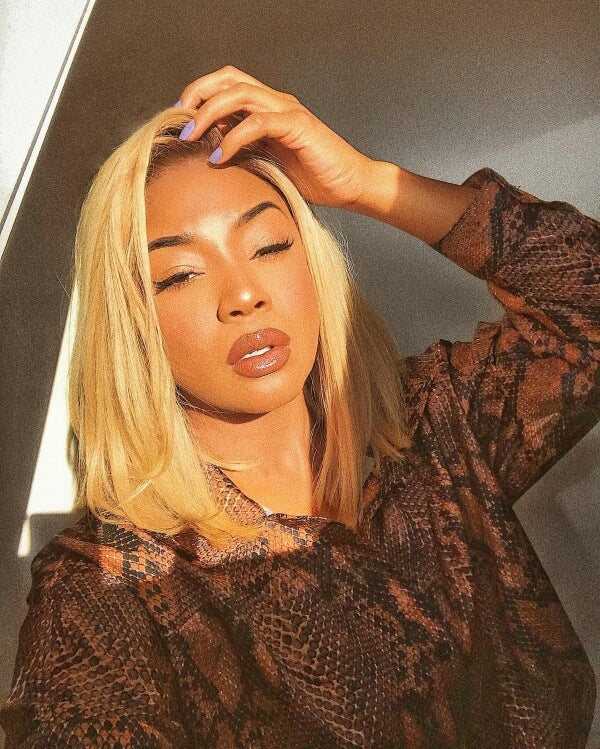 Also featuring dark brown roots for a convincing appeal, the bone golden bob is simple, yet sassy. Unlike most bobs, this look is free from curls, allowing it to showcase the bright beautiful hue of your look. With bone straight, golden blonde shoulder length tresses, your new hairdo will command all the attention a salon look brings with a fraction of the prep work!
3. Loose Curl Pony Waterfall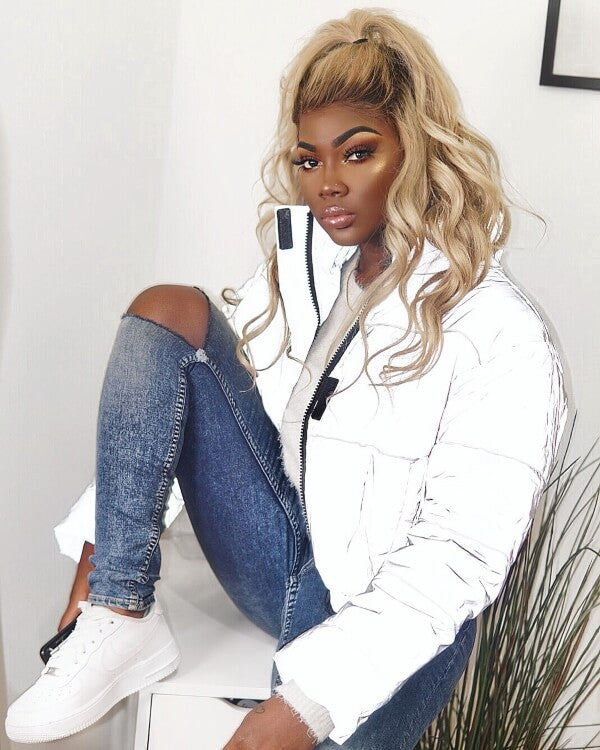 If you are going after a look that is sporty and trendy with a fun girlish charm, try a curly pony paired with loose curls cascading below. Deep roots are paired with sandy blonde loose curls for a believable finish. Perfect for the woman on the go, the pony will keep your tresses out of your face while loose tresses show off your length in the back.
4. Platinum Bombshell Bob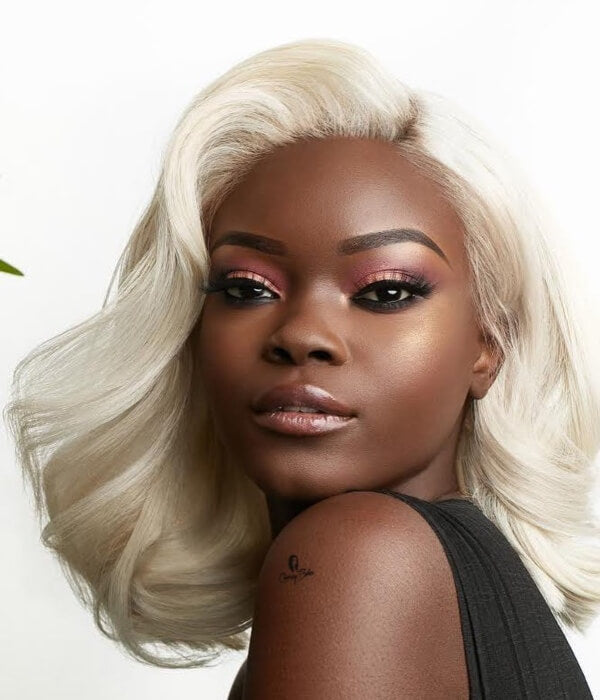 If you want to channel your inner daring, foxy celebrity, the platinum bombshell bob gives serious Marilyn Monroe vibes! Perfect for any time of year, this look is short and fiesty enough for wet, wild pool parties, yet icy enough to slay at winter functions. Wow the crew with bouncy curls all over, or loosely flip the bottom of your tresses.
5. Sandy Blonde Beach Waves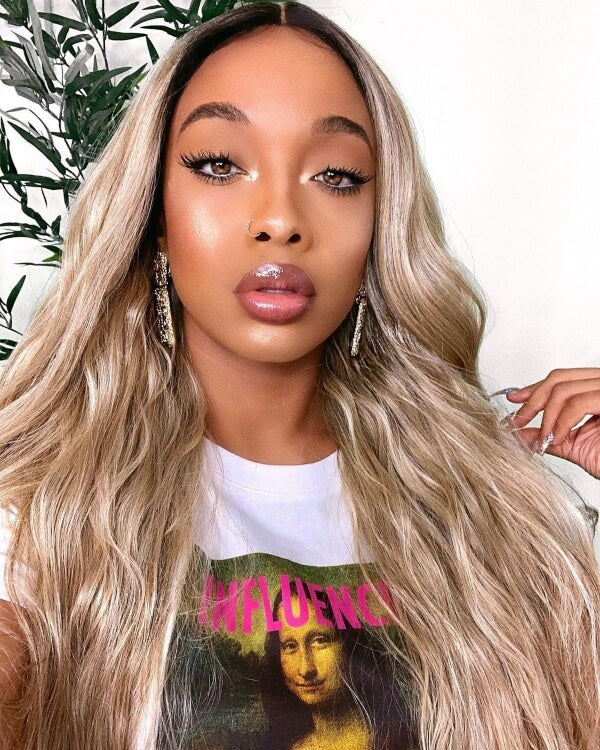 Tired of tight coils? Sick of straight tresses? The next best option? Loose waves, of course! This natural-looking, low maintenance finish gives fresh from the salon appeal and can be achieved in a number of ways. You could use a hot styling tool or allow curls that you already have to fall. You can even apply tight braids before bed and loosen them in the morning.
6. Platinum Queen - Long 'n' Bone Straight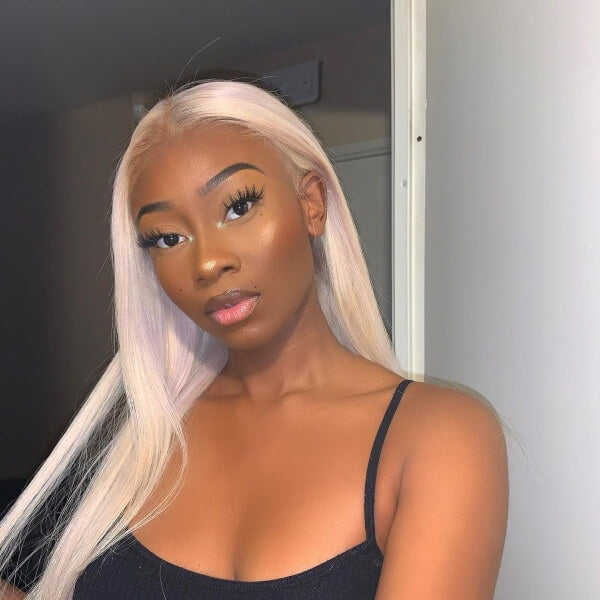 Finally ready to go full blonde? No need to play around with dark roots - jump into the deep end of the bombshell pool! With lustrous, ash hued locks, showing off your 18+ inch long tresses will be a fun switch up for you! Simply decide on a middle or side part, style your edges however you see fit, and press your hair into a silky smooth finish.
7. Honey Blonde 'n' Brown Bun w/ Waves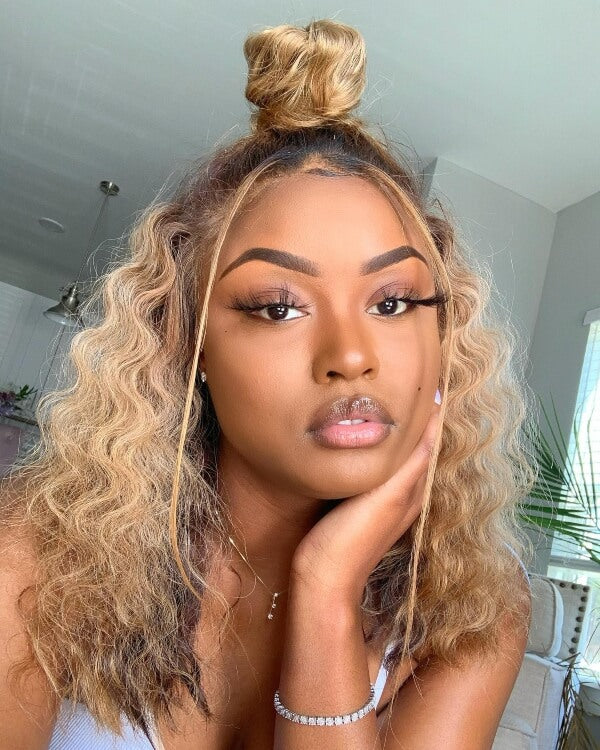 Sometimes, you want the fun fair of blonde without making it the star of the show. If you want to gradually get your feet wet in the pond of blonde, try pairing dark brown hair with honey blonde. The light golden highlights drizzled throughout the look deliver chic sass. Place a small bun on top for a quick, flirty switchup.
8. Honey Banged Ombre Wave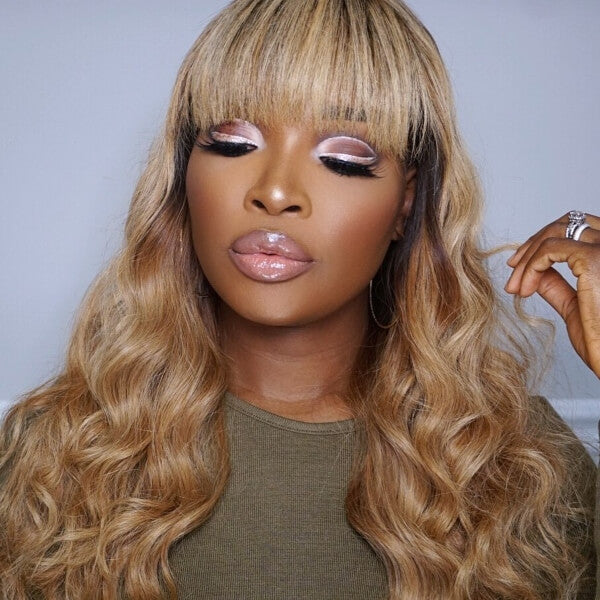 Not only do they draw more attention to your stunning facial features, bangs are also great for adding volume to your look. Instead of a full head of blonde or your typical golden highlight, try rocking bouncy honey blonde tresses with traces of brown near the root for a sassy peek-a-boo ombre. These loose ringlets will frame your jawline perfectly.
9. Braided Sunset Blonde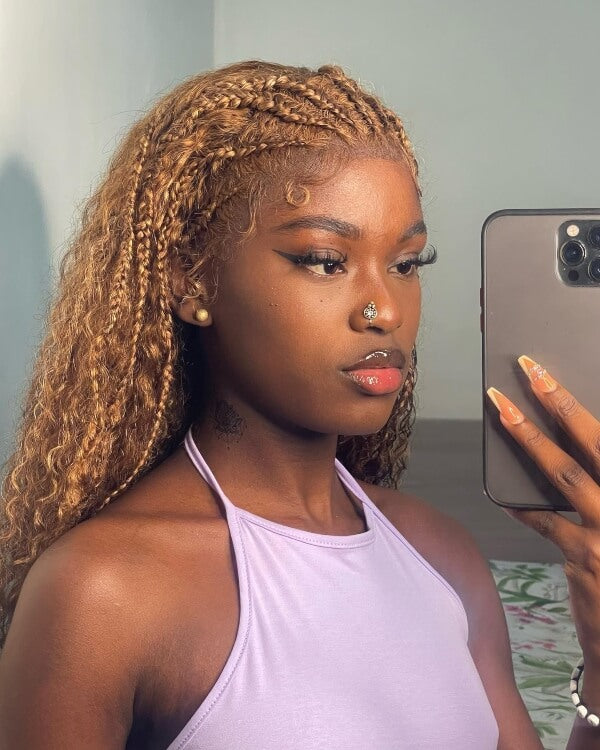 Who says that blonde has to be ash, honey, or platinum tinted? Turns out that bright tresses kissed by darker vibrant hues like burnt orange are just as lavish if not moreso! Instead of loose curls, try tiny, deep crinkles for a flawless, daring finish. Add 8 to 10 small, free flowing braids to the front of your crown and you're all set!
10. Honey Blonde Highlight Wave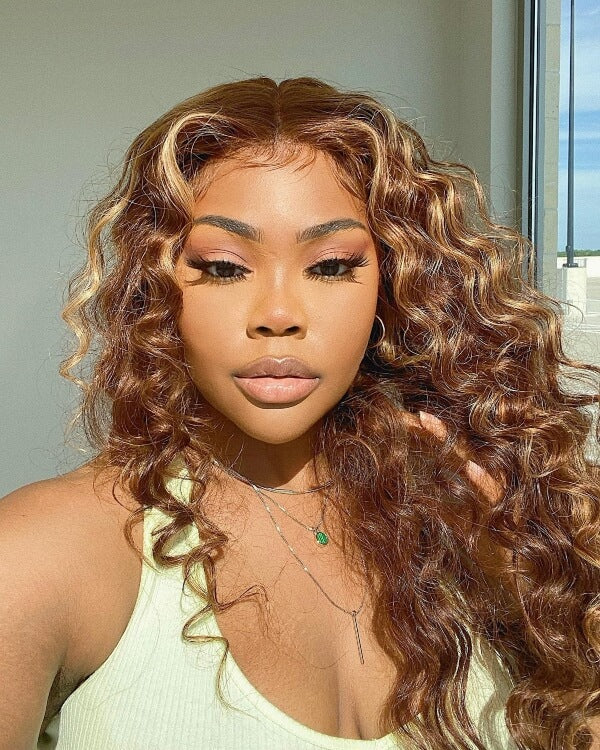 The beauty of blonde is that it draws attention even when used with a subtle flair. Instead of a drastic change, spruce up your dark raven or chestnut-hued locks with stunning honey blonde highlights. Complete with gorgeous loose waves and a flattering middle part, this look is natural enough to slay any situation, yet spicy enough to elevate your fashion.
11. Blonde Chic Frizz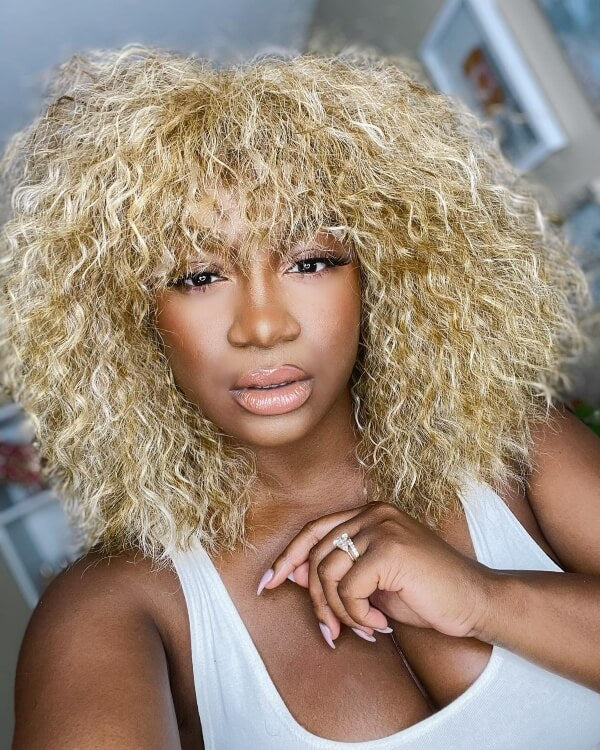 The best hairstyles are known for turning heads and this hot look is no different! Short and sassy with spunk for days, this bright blonde frizzy bob is a true attention magnet. You can rock this banged beauty with a classic solid blonde hue or channel your inner rockstar with an electrifying mix of honey and platinum tresses.
12. Blonde Loose Curl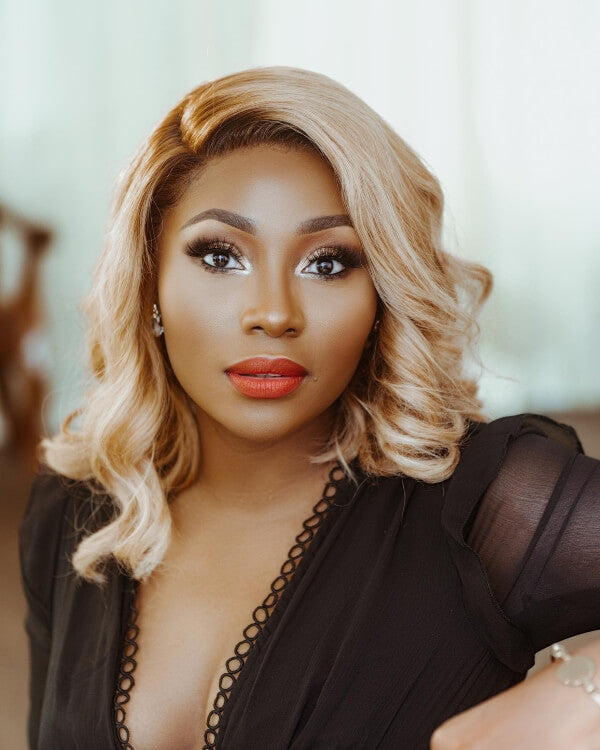 If you want to exude elegance with your new style, try a soft and supple, face fitting blonde loose curled look. This beautiful hairstyle is perfect for formal gatherings and weekend brunch. Keep your look natural by opting for dark brown roots, allowing your voluminous shoulder length blonde tresses to rest on your shoulder in loose ringlets.
13. Ash Blonde "Bed Head"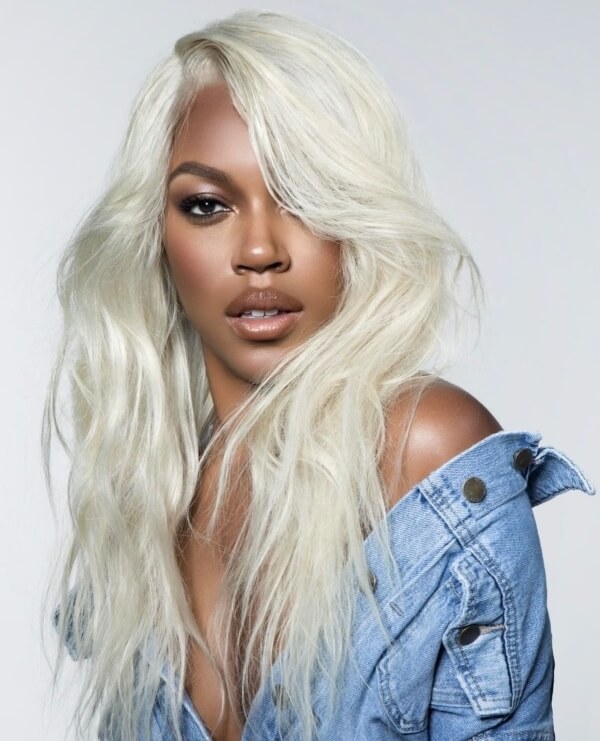 When worn correctly, loose, "messy" styles have an edgy appeal. With a bold ash blonde in beautiful contrast with your cocoa-kissed skin, why not up the ante by adding subtle waves to your mane? Pair long, slightly frizzy tresses with denim for an unmatched casual slay. Who knew couture could be so low maintenance?
14. Golden Blonde Ombre Half Halo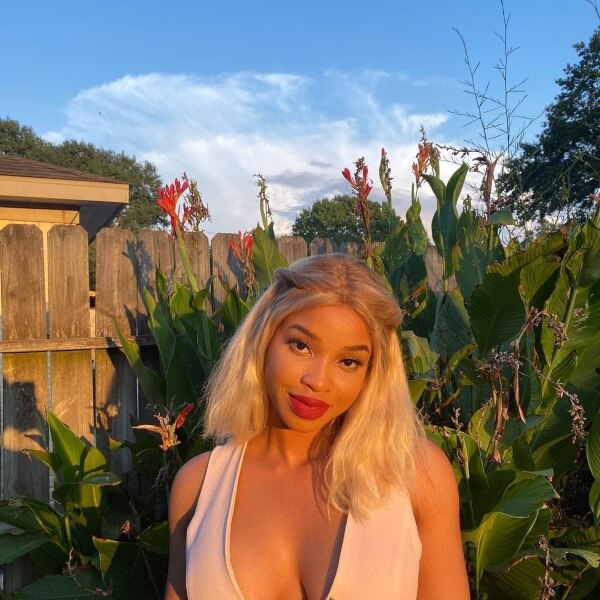 The halo braid has true staying power! A staple within hair fashion since the days of ancient Greece, this classic style serves as a cute makeshift crown of sorts. Pair a blonde bob with soft waves and ash brown roots for a subtle, yet noticeable ombre. Complete your look with a middle part and half halo braid.
15. Wavy Honey Blonde Highlight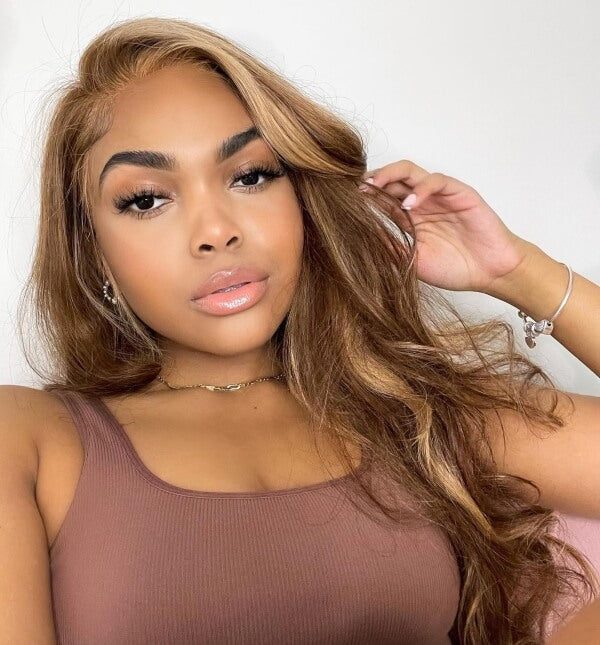 Fallen, tousled curls are gorgeous! They have the unique ability to create a style within a style without much effort. Instead of wearing golden tresses in a typical fashion, try mixing honey blonde highlights with an almond brown mane. One your curls have lost their tight spring, simply wear your flowy tresses in a messy, loose fashion.
16. Headband Highlight Tight Curls
Have you ever been running late for work and found yourself in serious need of a quick hair fix? Are you simply a fan of low maintenance styles that can be pulled off quickly? Since a headful of trendy, blonde highlighted tight curls is already as gorgeous as it gets, try pairing your tresses with a plain or patterned headband depending on the occasion.
17. Golden Blonde Body Wave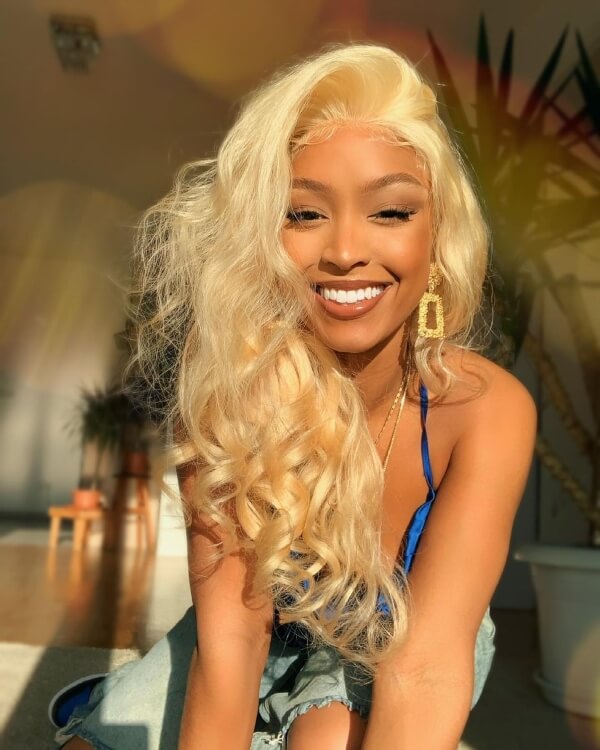 Is platinum blonde too light for your liking? Is dirty blonde too dark for your bombshell craving? Try meeting right in the middle with shimmering golden blonde tresses. This lustrous mane is breathtaking when paired with lavish body wave and a fitting side part. Simply style your baby hairs as you see fit and prepare to stop traffic!
18. Messy 613 Blonde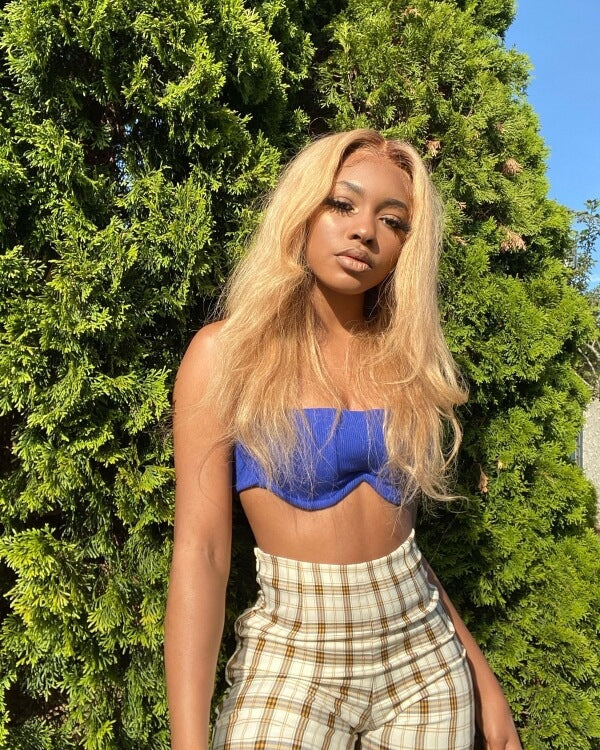 There can be beauty in chaos, and this slightly disheveled hairdo proves such a statement to be true! Created with light, easy flips through bright blonde tresses, this trendy style provides a fun switchup for your typical curls and waves. Natural, dark hued roots along with a convincing middle part give this look a believable finish.
19. Ginger Blonde Deep Wave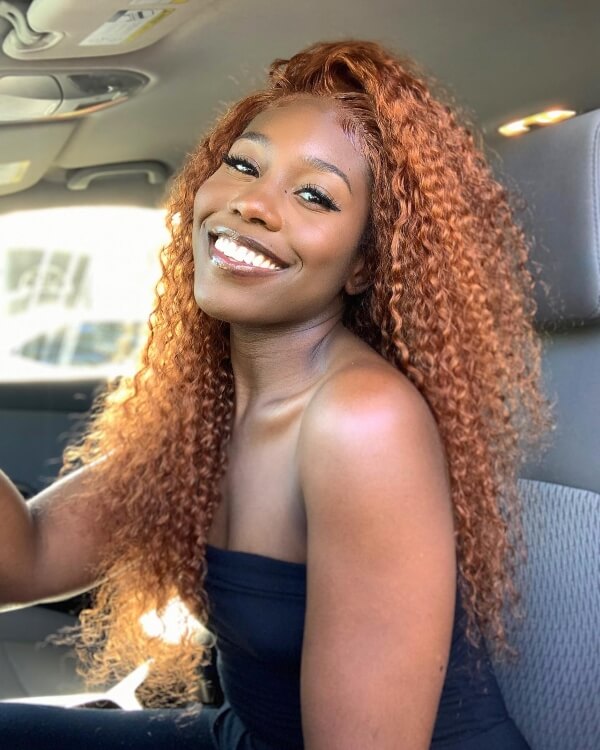 Certain colors blend beautifully with blonde to create magic. For example, both soft and dark pink hues dance perfectly in tandem with blonde for a yummy strawberry shortcake look. Try a different spin on your tresses with a ginger blonde hue. The orange-ish tint pairs perfectly with long, flirty deep waves for an unforgettable finish.
20. Messy Sunset Blonde Highlight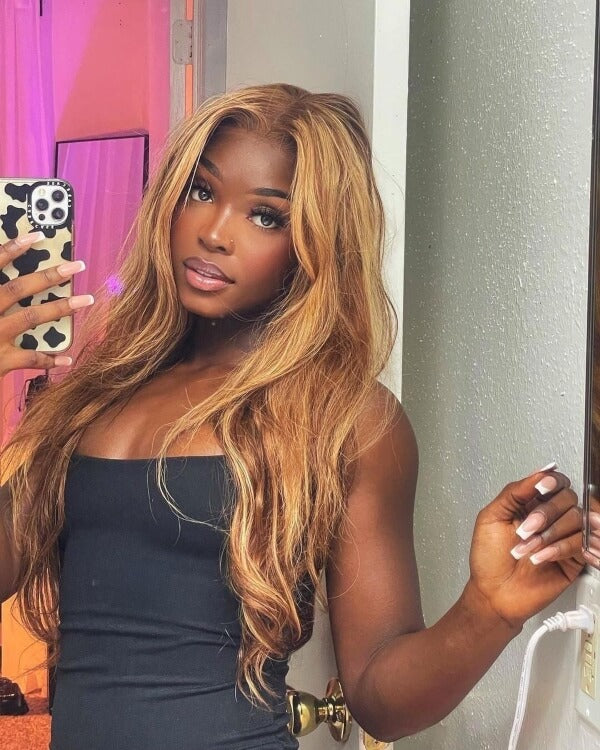 If you absolutely adore sunset blonde tresses, but are a bit apprehensive about wearing such a bright color all over on your first attempt, try pairing dark brown hair with highlights of this unmistakable hue. Keep your new look low maintenance, yet trendy with a slight frizzled finish and a simple middle part.
21. Rose Gold Loose Wave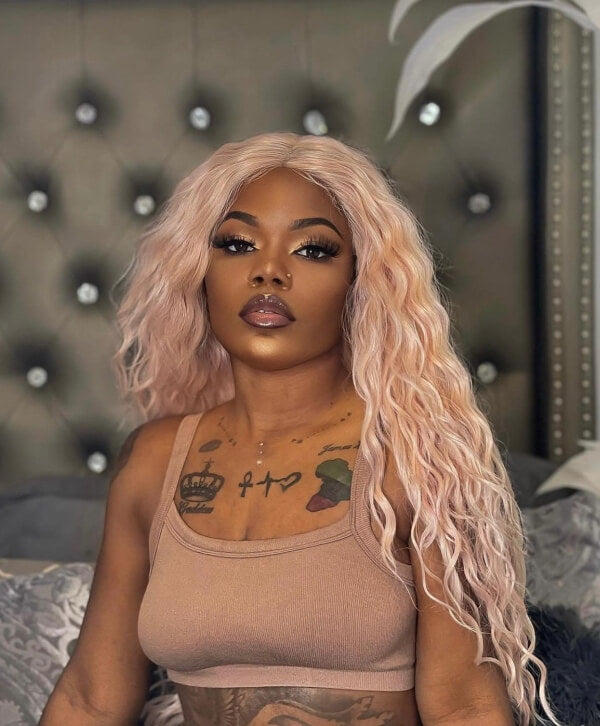 Especially since the last few years, we continue to see a refreshing color explosion in the hair care industry. With rose gold hailing as one of the most popular colors for millennial women, seeing it bring its noteworthy flair to a head of hair is almost too good to be true. Try pairing your platinum blonde with a girlish pinkish tint and a head full of fiesty waves.
22. The Platinum Half Halo Loose Wave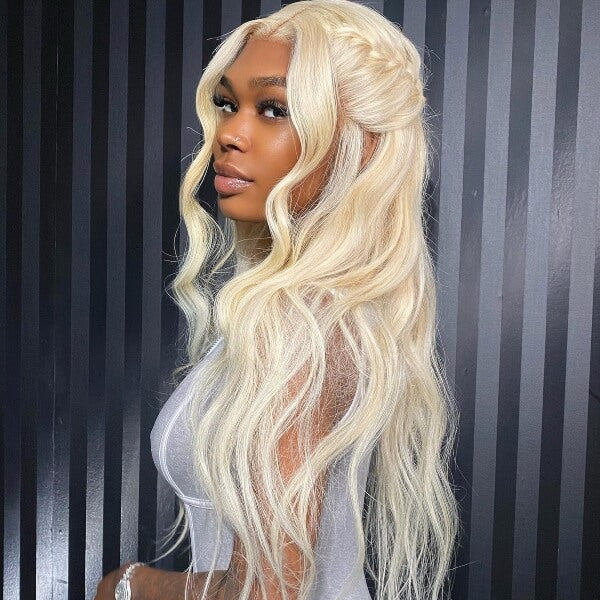 It's no secret that your platinum hued locks will draw more than enough attention on their own. Instead of creating more fuss with big bouncy curls or a serious, bone straight style, try adding loose waves to your light tresses for a soft, yet fashionable look. Add a daring half halo braid to the top of your crown to stand out from the crowd even more.
Get Your Best Blonde Hairstyles With XRS Beauty
With XRS Beauty, you'll see that blondes really do have more fun! All of our premium quality blonde wigs are created using the finest of 100% Virgin human hair. True to both length and density, with minimal shedding and easy-to-melt transparent lace, you will fall in love with your voluminous new hair unit. Choose from dozens of popular blonde human hair lace wig styles and find your perfect new look today!
---