18 Stunning Deep Wave Hairstyles to Try in 2022
While straight hair delivers a taste of class and sophistication, there's something about the 'Deep Wave' hairstyle that is simply stunning! We can't get enough of luxurious, free flowing wavy tresses that seem to effortlessly frame the face, highlighting and accentuating your best features. Here are 18 popular deep wave styles that will turn heads and let your inner diva shine.
High Bun with Half Down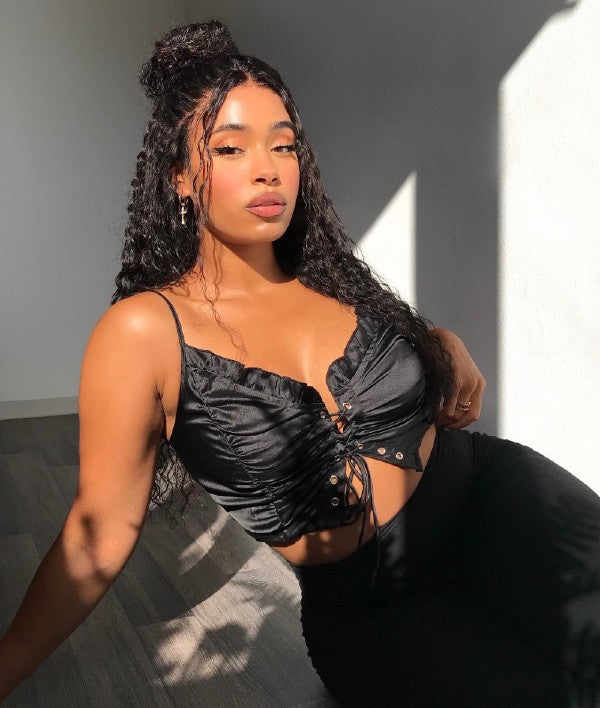 Looking to show off your pretty facial features while still showcasing your beautiful, lengthy tresses? Try wearing your deep wave lace front half up and half down. Simply part your hair horizontally in the middle, put one half of your hair up in a bun, and leave the rest blowing in the wind.
Half Up, Half Down Ponytail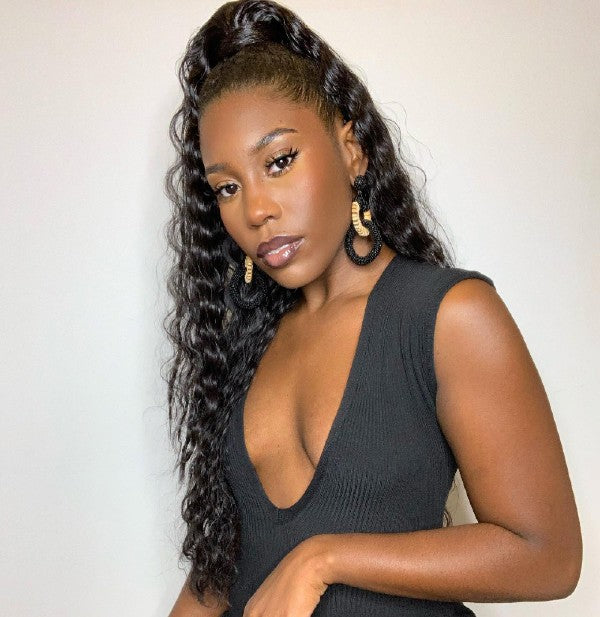 A sleek variation of the previous look, with the half up, half down ponytail, your face remains the star of the show while you show off your lustrous, full deep wave tresses. Styled the same way as the half up, half down look, instead of putting the top half in a bun, put it in a back or side ponytail.
Partial Front Crown Braid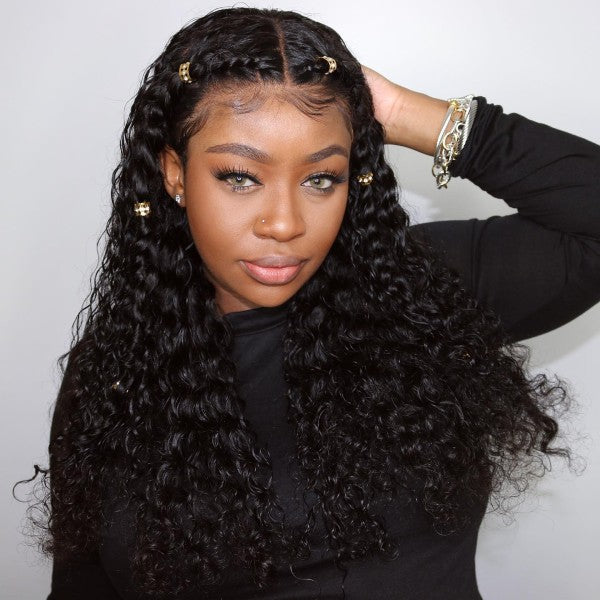 By styling your deep wave tresses with a braid across the top of your crown, you'll have your hair out of the way while still looking cute with a classic favorite. Simply part your hair in the front of your head and braid a small section towards the left or right, leaving the rest of your tresses free.
Space Buns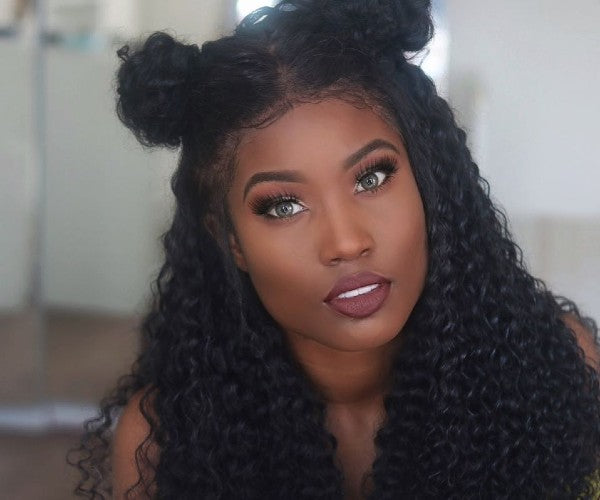 Looking for a creative, quirky look that will turn you into the life of the party? You'll certainly be the center of attention with two trendy space buns - just part your hair into 2 sections down the middle, pull the first section at a 90 degree angle, and wrap your hair around until you create a bun. Repeat for the other side. You can gather all of your tresses neatly into the bun or leave some of them hanging freely.
Braids with Freeflow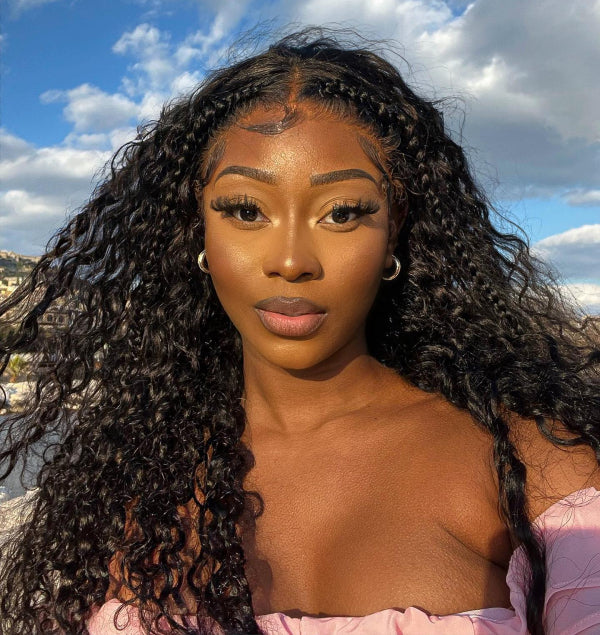 If you like the idea of braids but don't want your hair up like the last style, try simply braiding the front of your deep wave hair and letting the rest of your tresses flow. Part your hair into two sections, and braid your hair from the front of your hairline to the middle of your head, leaving the rest out.
The Deep Side Part with Jewelry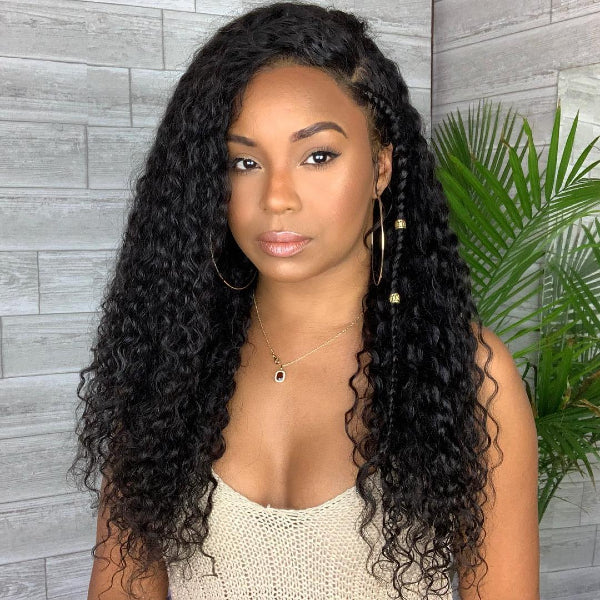 The best part about human deep wave hair is that it requires little styling to look absolutely flawless. If you want to take the "throw-n-go" approach, simply style the edges of your lace front wig and throw in a beautiful, deep side part. You'll love the way it frames your face.
The Wavy Bob
The deep wave bob is flattering, alluring and easy to maintain as an added bonus. With full, wavy texture and lustrous volume at your fingertips, you can add accessories for some extra pizazz or simply allow your bob to serve opulence on its own.
Wavy Leave Out with Twists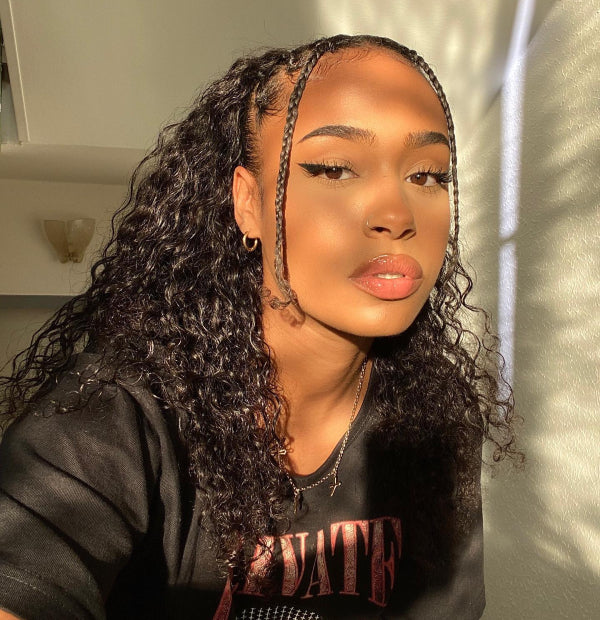 Tired of the plain, typical freeflow? Try adding two-strand twists to the front of your deep wave hair before leaving the rest hanging. You'll enjoy the classic timelessness of your long tresses with the fun, free-spirited vibe of the twists. Make a few small parts at the top of your head, braid each section about 3 to 4 inches back, then finish with rubber bands and beautifully flowing tresses all around.
Braided Front with Leave Out (Loose Deep Wave)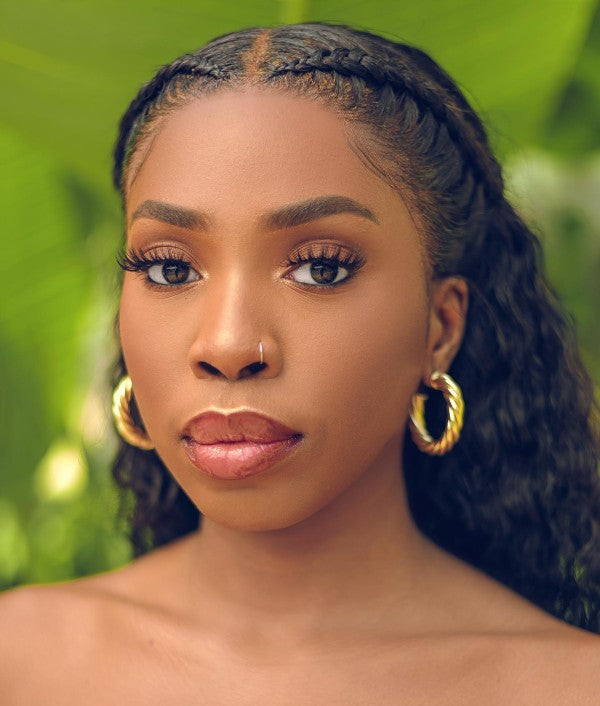 Want to summon your inner goddess as you turn heads? With a few cute braids in the front accompanied by luxurious, flowing deep wave hair, you'll remain the center of attention as you showcase a look with true staying power. Simply part your hair diagonally into 6 or 7 sections across the top of your head, style 2 small braids about 4 inches back, and secure the braids with a rubber band while the rest of your hair hangs free.
High Deep Pony & Leave Out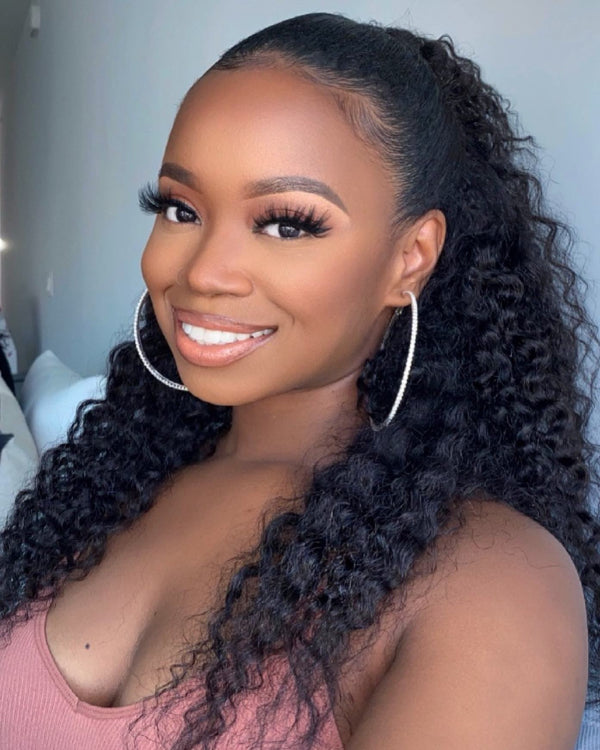 In love with the idea of the ponytail but looking to spruce it up a bit? Try sporting a high deep wave ponytail. While the height of the style will accentuate your outfit and facial features, the cascading deep wave tresses will serve as an accompanying statement piece
Low Wavy Bun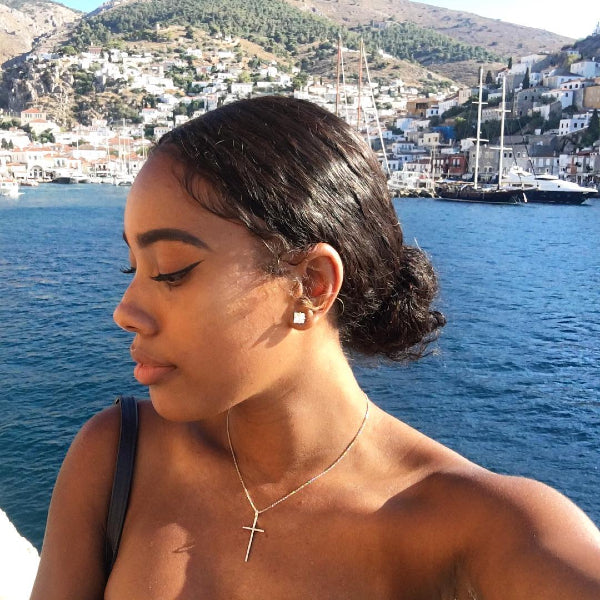 Want a look fitting for the boardroom or brunch? With a neatly styled front, a low wavy bun is the perfect accompaniment to any sophisticated wardrobe choice. Simply gather your hair, smooth down any flyaways, and style the back of your deep wave hair in a low bun.
The Original Deep Wave Low Pony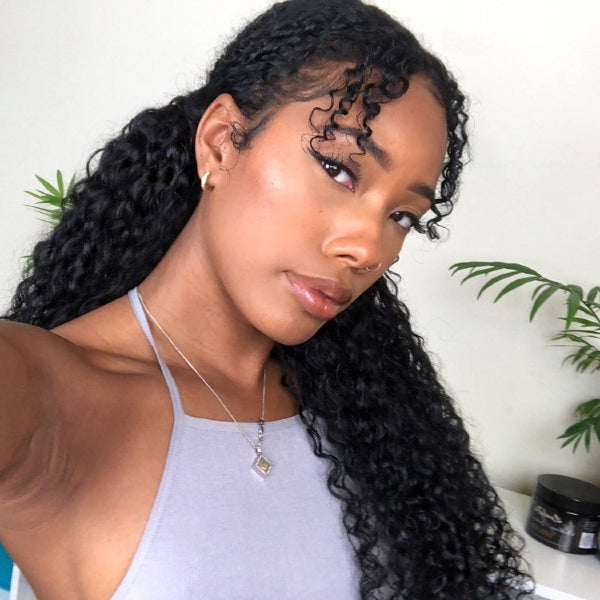 Running late for work or an outing? Need a look that can be achieved in a matter of seconds. Just style your deep wave tresses into a classic ponytail. Place it to the left or right for a fun, playful look, up high for a sassy change, or low in the back for a classic finish.
The Scrunchie High Ponytail
If you want to gather your brand new tresses with easy management and no fear of tangles, try bringing the famous scrunchie back! Celebrate with an ode to the 80's by sporting a high ponytail accompanied by a brightly colored, spring ready accessory, or keep it toned down with a cool navy blue or jet black.
Straight Back & Tossed Honey Blonde Deep Wave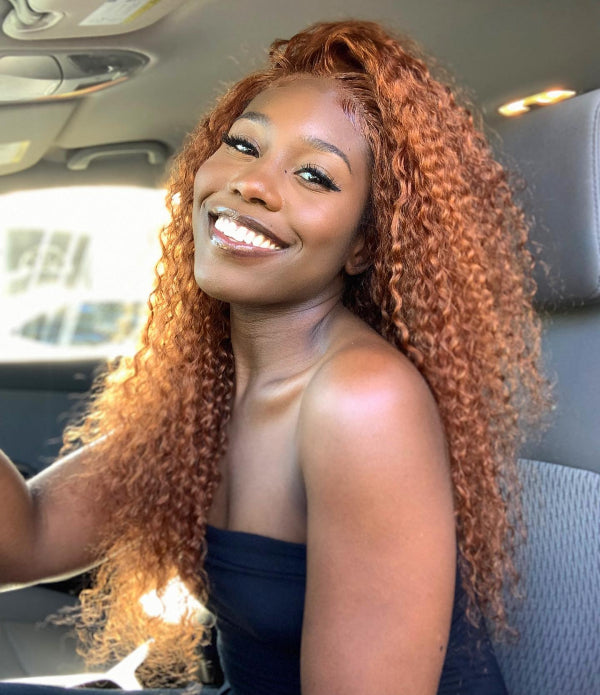 This easily achieved hairstyle is the epitome of the phrase "less is more." Instead of your typical side or middle part, simply guide your deep wave hair into a freeflow cascading down your back. Be sure to flip your front tresses backwards to create a voluminous hump that screams "daring diva."
Middel Part with Accessories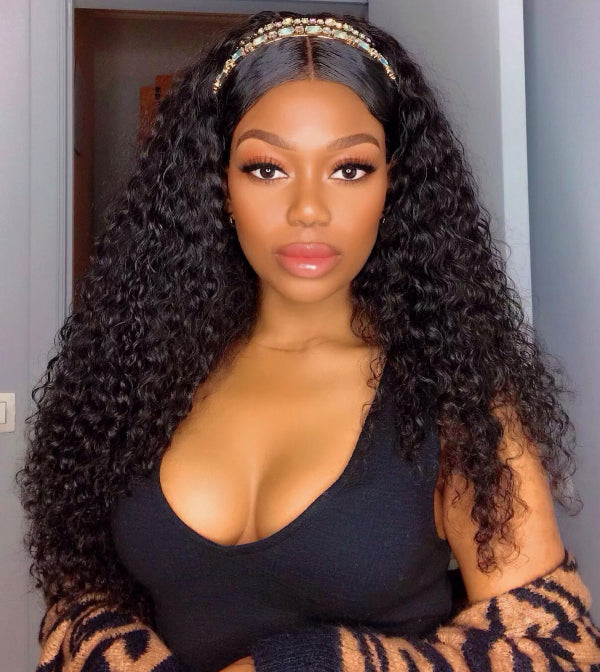 Want to keep your deep wave look original and simple while tossing in a dash of flair of your own? Try adding cute accessories to your tresses for a playful, trendy switchup. Use jeweled headbands, colorful hair ties, vibrantly patterned barrettes, single word statement clips, and decorative pins to make your look stand out.
Wet Your Wavy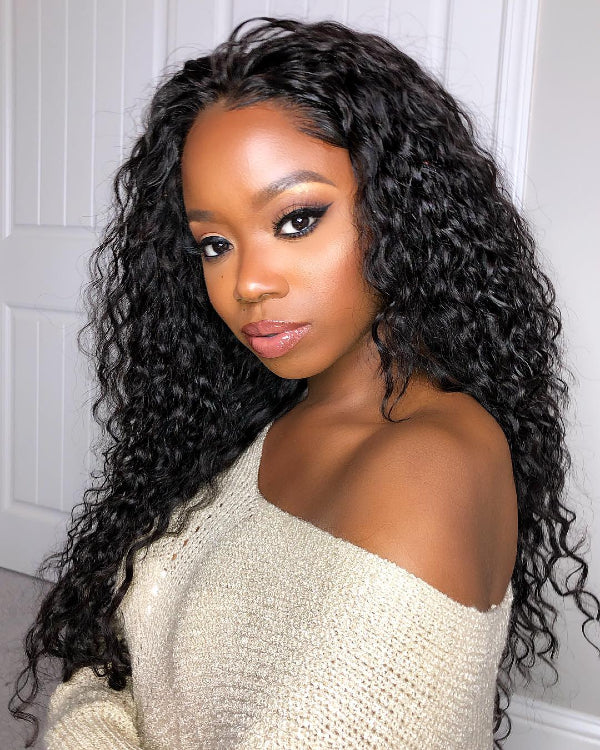 One of the best perks of sporting deep wave tresses is their unmatched versatility. Did you know that by simply adding water to your hair, you will achieve a lustrous, luminous style in a matter of seconds? Give your hair that "brand new" appeal by wetting the strands and combing through with your fingers.
Colorful Waves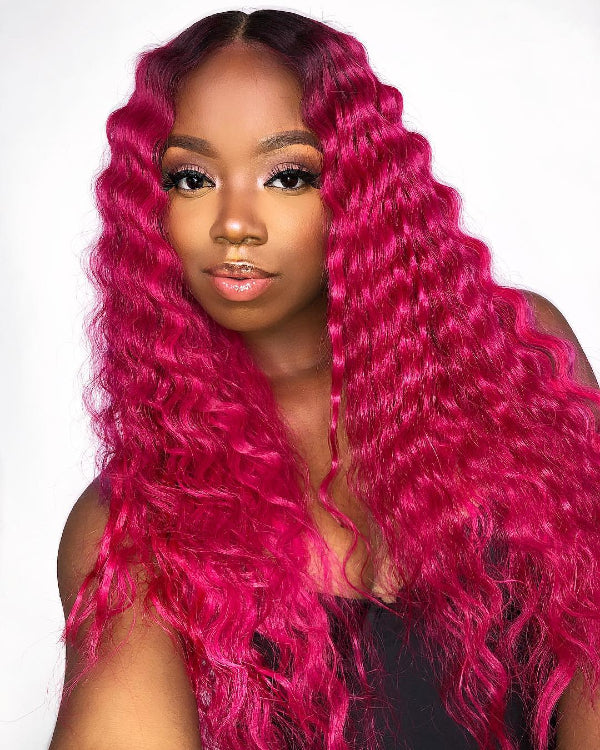 Deep wave hair looks absolutely gorgeous when colored. Whether a Nicki Minaj inspired hot pink, a beautifully bold electric blue, or a bombshell platinum blonde, colored tresses will always grab the attention of others. Choose a shade of the rainbow and add a few highlights to your hair, or wear the entire unit with a bright hue like the trendsetter you are.
The Side Low Ponytail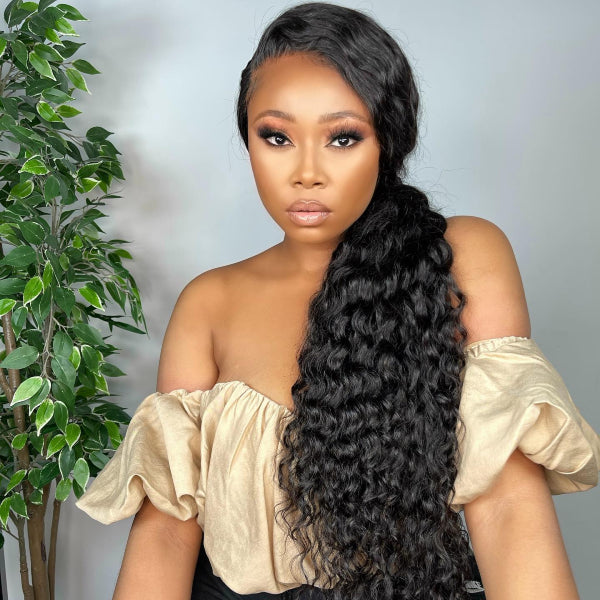 If you love showing off your makeup and your hair at the same time, the side pony is a great, timeless way to style your deep wave lace wig. You can add bangs at the front if you choose or get creative with your baby hairs. As long as your gorgeous tresses flow freely off to the side, the way you achieve such perfection is totally up to you.
Shop XRS Beauty for Your Human Hair Deep Wave Lace Front Needs
With a plethora of gorgeous, head-turning new styles to try, all you need now is the perfect deep wave lace front to help you bring your vision to life. Shop XRS Beauty now for an unmatched selection of 100% Virgin human hair Deep Wave lace fronts with premium quality lace, true length and true density delivered with every unit!
---