18 Best Bangs Hairstyles for Black Women
The right set of bangs can instantly brighten your face and transform your overall look. Still, the notion of cutting bangs keeps many from giving it a try. If you're not sure whether you should take the plunge, just keep reading. In this article, we'll give you some serious bang style inspo. Who knows? You just might find your next go-to style!
1. Curly Bangs With A Side Part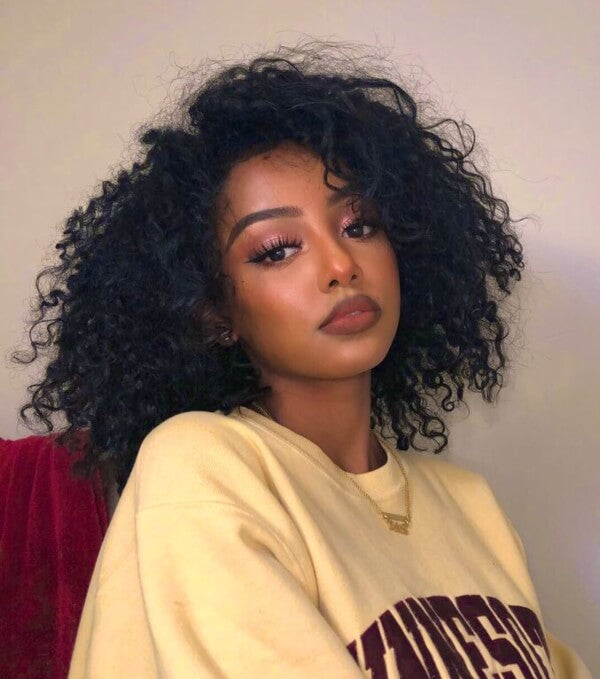 This low-maintenance 'do is ideal for anyone who wants to ease their way into bangs. The bangs are understated and swooped to each side for a flattering face-framing effect. The secret to the perfect curly bangs is a few spritzes of a good curl refreshing spray. That will keep your curls perfectly defined without weighing them down between washes.
2. Chunky Spiral Bangs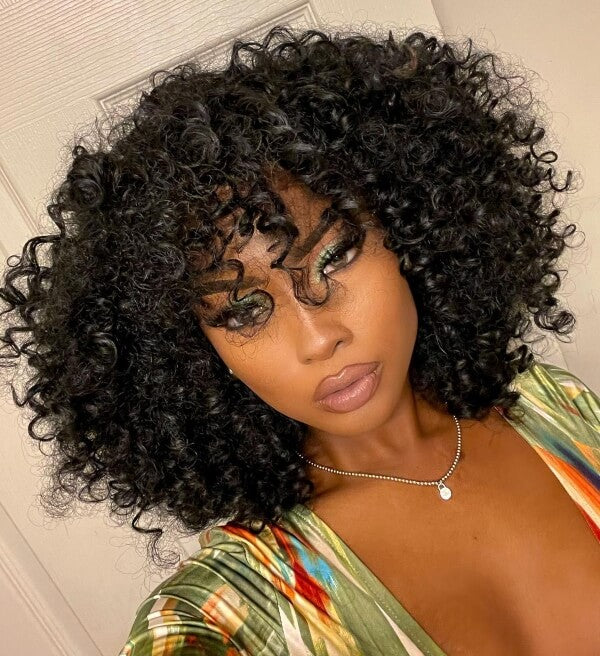 Giant, chunky spirals make these bangs ultra-striking. Curls can sometimes be unpredictable, so use a small barreled curling iron to tame your locks and define your coils. Try to work with the direction your curls naturally fall in, so they'll cascade down onto your forehead in chic layers.
3. Feathered Bangs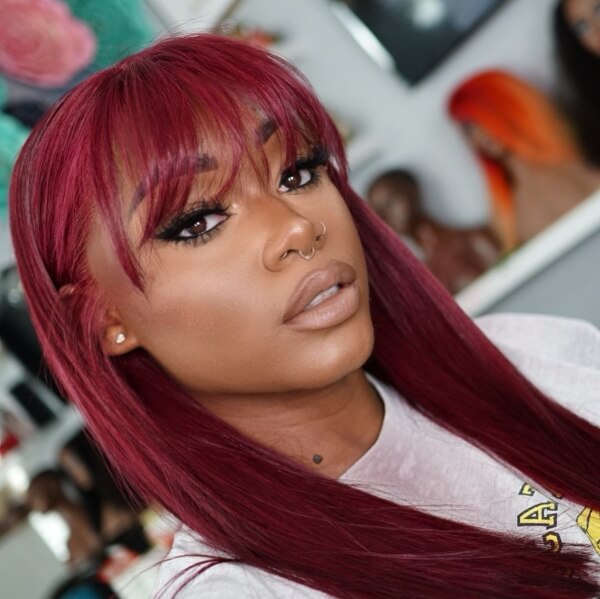 When it comes to feathered bangs, all the texture is concentrated at the ends, unlike layered bangs. Those soft, feathery ends give this look plenty of sultry glamour. Super shiny locks give this classic look some extra oomph. So, smooth a few pumps of a shine-enhancing product onto your hair to keep your bangs sleek and block out frizz.
4. Big And Curly Bangs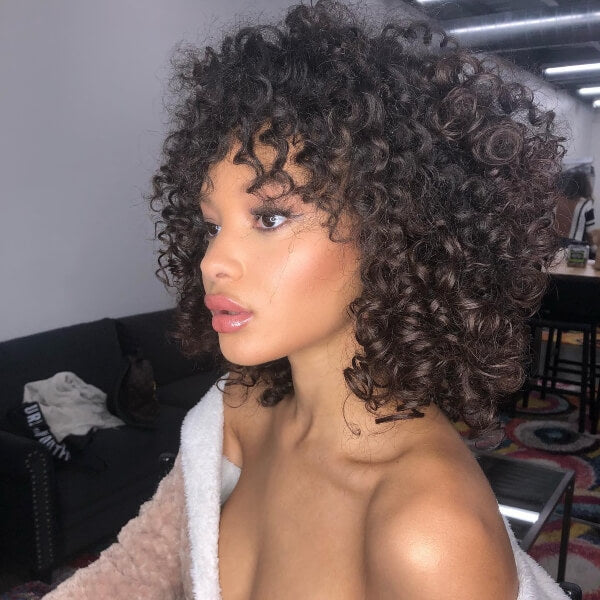 These captivating bangs have plenty of gorgeous texture and volume. As far as styling goes, the curlier, the better! If you usually wear your hair curly, make sure you get your hair cut in its natural state. Otherwise, your bangs may come out uneven or much shorter than you wanted.
5. Curly Curtain Bangs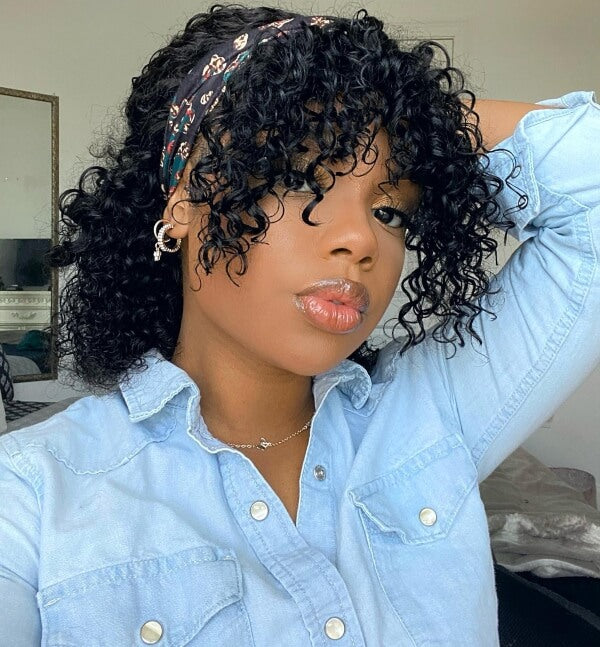 Soft, romantic curtain bangs are a universally flattering style that works well with a number of different hair textures. And they're particularly charming when paired with your natural curls! Just work a little curl-enhancing product into your damp hair and air dry. You can also use a blow dryer with a diffuser attachment to speed things up.
6. Asymmetrical Bangs Blonde Bob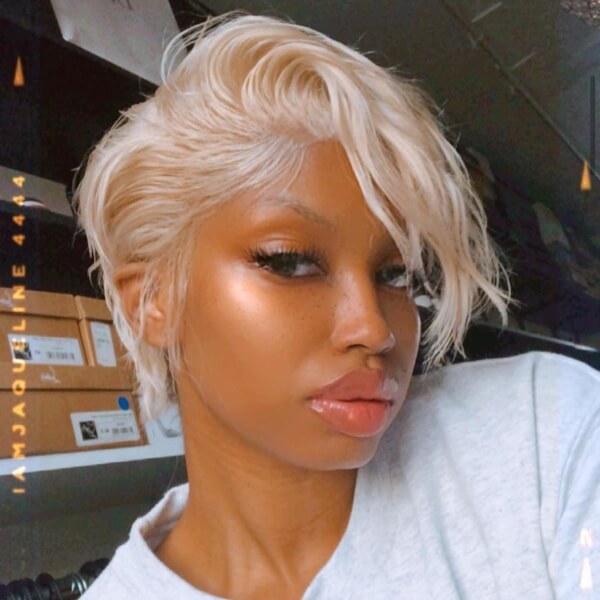 What makes these bangs unique is that your hair is cut at a sharp downwards angle rather than evenly across. Asymmetrical bangs help draw attention toward your cheekbones and can add some much-needed structure to rounder faces. You'll also have fun playing with the cheeky peekaboo effect these bangs create.
7. Wispy Center Part Bangs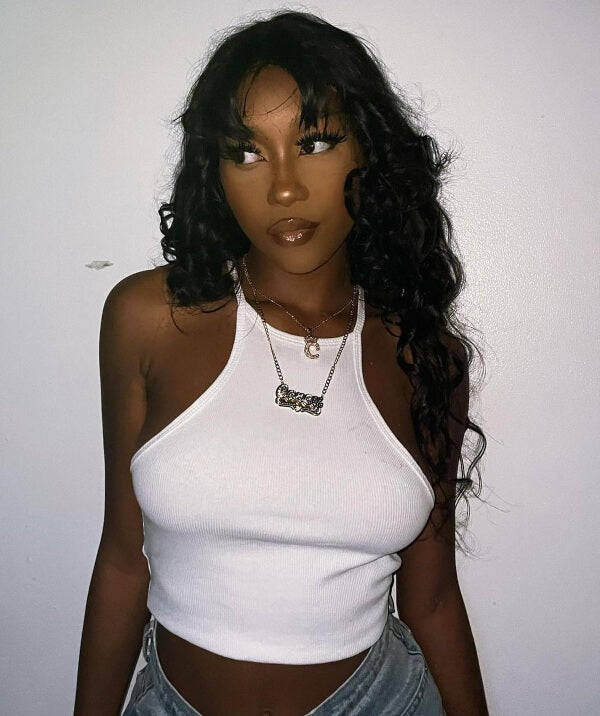 It's all about the middle parts, and it's easy to see why! Middle parts compliment your facial symmetry and can even make your hair appear fuller and longer. This look is all about shine, so make sure you smooth your bangs with a high-quality flat iron.
8. Birkin Bangs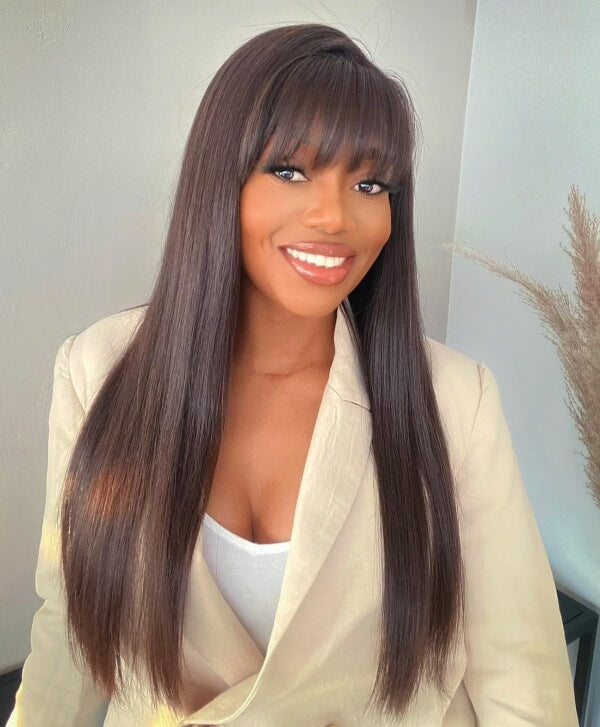 This gorgeous style is named after Jane Birkin, the inspiration behind the iconic Birkin bag. Birkin bangs are long, eyelash grazing, and have an effortlessly chic texture. The best part about these bangs is that they don't have any sharp or harsh lines. That makes them incredibly low-maintenance and super easy to grow out.
9. Tousled Wavy Bangs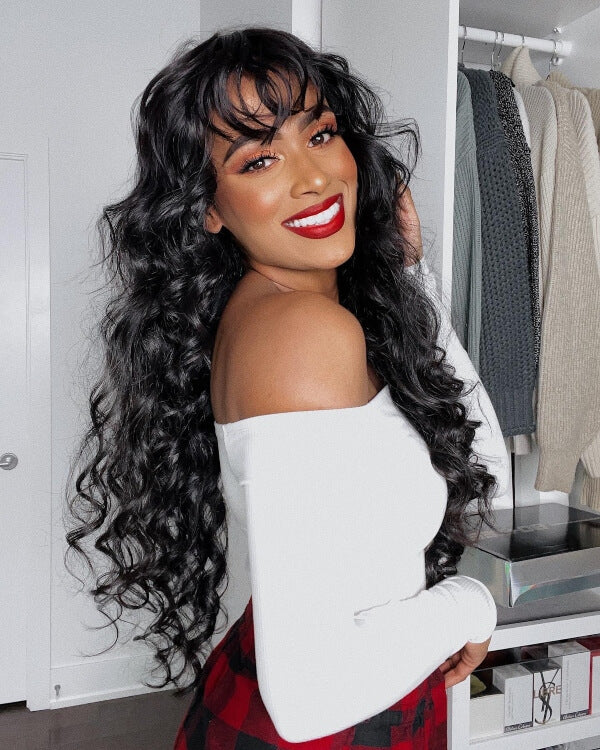 These laid back bangs are perfect for anyone who has naturally wavy hair. And they couldn't be easier to style! Simply break your waves up with your fingers and mist on some holding spray to block out frizz and keep your bangs in place.
10. Windswept Bangs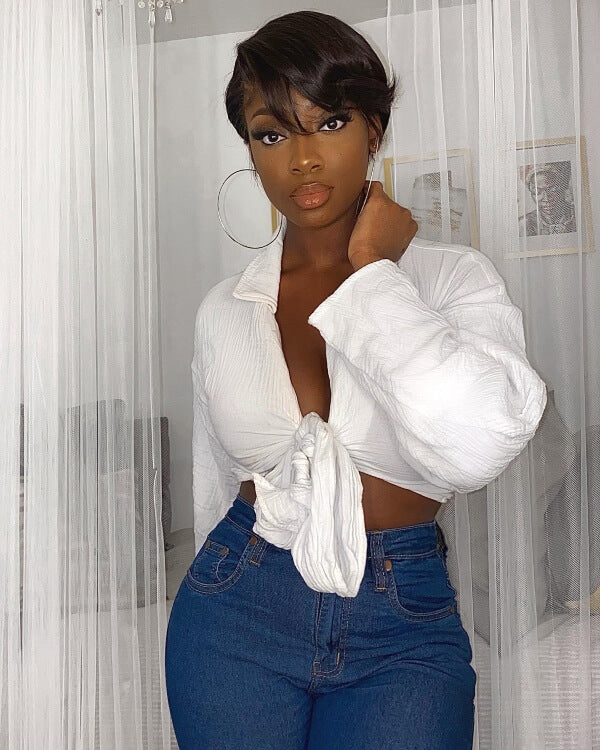 With a deep side part and an eye framing fringe, this style is best described as captivating. It's all about sleek locks, so get your strands perfectly straight with a few passes of your flat iron. Nothing ruins these bangs faster than frizz, so don't forget to apply a serum on your way out the door.
11. Arched Bangs
Named after the architectural arch in a bridge, arched bangs soften and round your facial features, making them particularly flattering for square faces. Unlike straight across bangs, arched bangs are the shortest in the center and gradually get longer as you move toward the sides.
12. Wavy Baby Bangs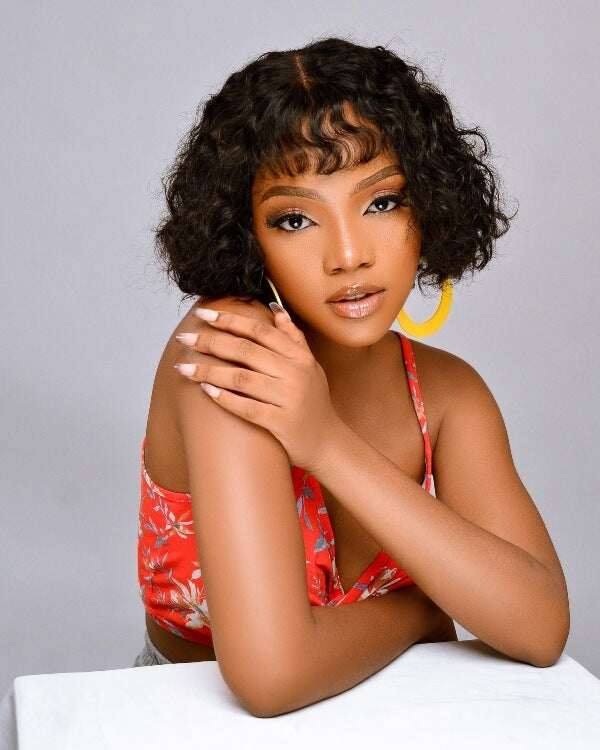 Equal parts chic and punk, these tiny bangs are a real statement style. The super short length highlights your eyes and draws attention toward your face. Keep in mind that baby bangs can lengthen your features. While baby bangs are hugely flattering for round or heart-shaped faces, stay away from them if you have longer features.
13. Blunt And Piecey Bangs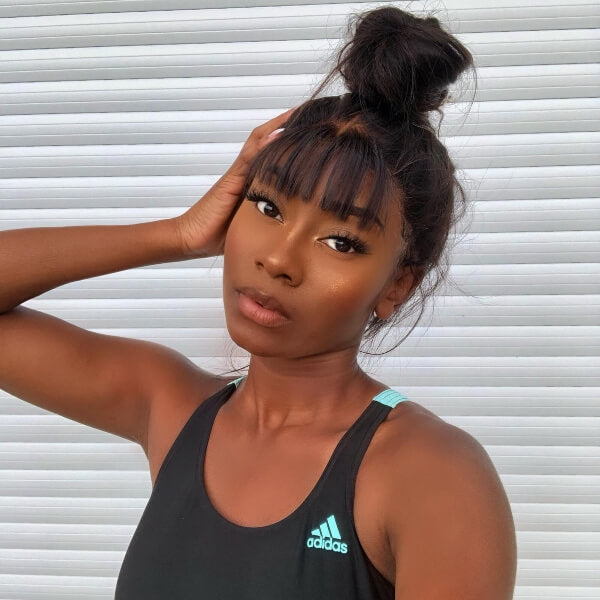 Blunt bangs are probably the first style you think of when you picture bangs. Like all blunt bangs, these bangs are cut evenly across, making for a classically beautiful look. Want to try it out? Apply a small amount of defining pomade to your fingers and gently smooth them down your fringe to create texture.
14. Sideswept Loc Bangs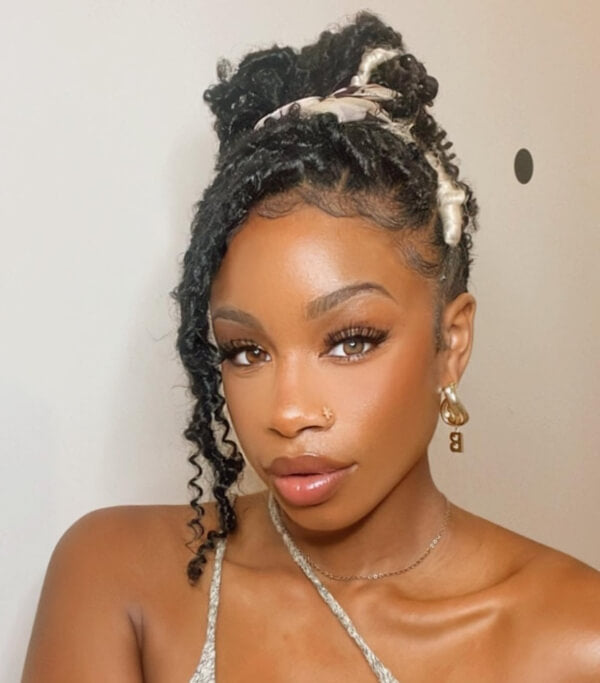 Who said you couldn't have bangs with locs? This softly alluring style is perfect for anyone who wants to add a little interest to their look. To make this look your own, simply make a deep part, push your bangs back and to the side, and you're done!
15. Coil Bangs
Ultra-defined coils give this adorable hairstyle a cool pop of texture. To recreate the look, spritz your bangs with water and apply a liberal amount of curl-defining gel or cream. Then wind a clump of curls around your fingers and hold it in place for a few seconds before carefully releasing it. Once they're dry, enjoy your new super cute fringe!
16. Blunt And Blonde Bangs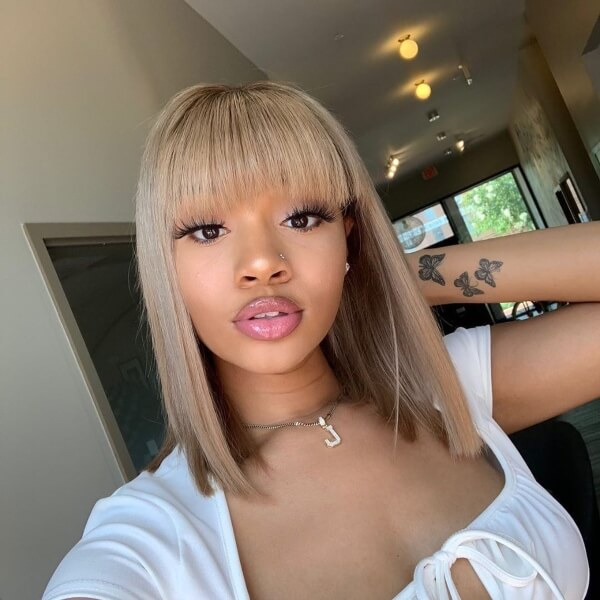 What a look! The soft, ashy blonde hue of these gorgeous bangs helps prevent the blunt cut from being too harsh on your features. Additionally, keeping your hair lighter towards the front helps brighten your face and gives you a stunning sunkissed glow.
17. Deep Side Part Afro Bangs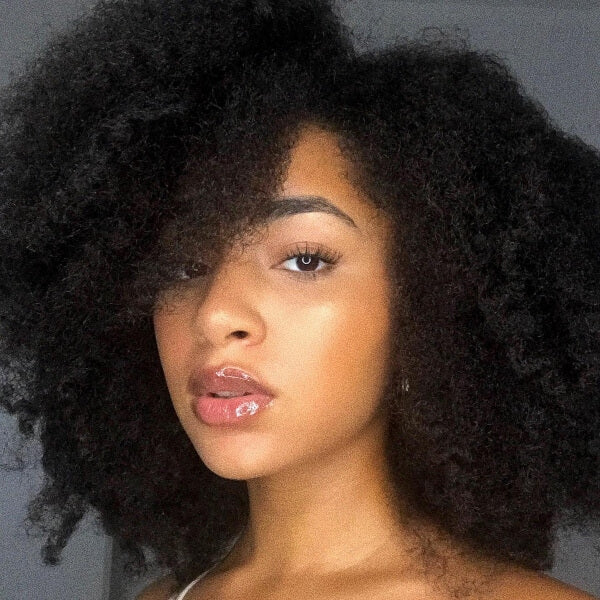 Want to know the best part about these sensual bangs? You don't even need to get your hair cut to enjoy them! Just part your hair and fluff up your roots. As your hair is pulled upwards, it gets shorter and gives the appearance of bangs.
18. Blonde Highlight Curly And Classic Bangs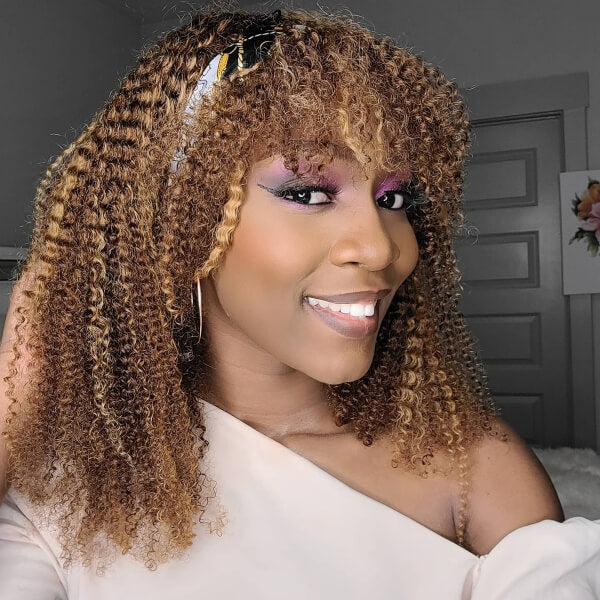 If you love voluminous curls, this is the style for you! The multidimensional color and chic scarf add depth to this effortlessly cool style. Just make sure you get your bangs cut a little on the longer side, so they won't be too short when your curls shrink.
Pros and Cons of Hairstyles with Bangs
Whether you are considering getting bangs or you already have them, it is important to know the pros and cons of this popular hairstyle. That's what we'll share in the section below:
Pros
They add interest to otherwise boring hairstyles.
They can make you appear more youthful and fresh-faced.
They can help to disguise a wide forehead.
They draw attention to your best features, such as your eyes or lips.
There's a bang type that's flattering for any face shape.
Cons
Bangs can be high-maintenance, requiring a major commitment as long as you have them. Whenever they begin to grow out, you'll need to do a trim.
Bangs can be difficult to style if you don't have the right products or tools.
Bangs can make your face look rounder or wider than it actually is, depending on the bang type chosen.
If you have fine or thin hair, bangs can make your hair look even thinner.
The process of growing bangs out can be lengthy and frustrating.
For most people, bangs hairstyle pros far outweigh the cons. That's why they're loved all over the world.
If you do decide to try a bang hairstyle, we hope that one of the bangs hairstyles we've mentioned in this article is precisely what you were looking for! They're all so gorgeous, it's hard to go wrong with any of them. And if you don't want to cut your own hair, you can rock a wig that has bangs or buy a unit and cut it into your favorite bang style.
Just be sure to get your unit from a reputable brand, like XRS Beauty. All of our units are made with 100% virgin human hair and are constructed from the best materials on the market. That means you get a wig that looks fabulous and has great longevity! Regardless of your decision, remember to have fun with your hair!
---