22 Hottest Curly Hairstyles for Black Women
Seen sported by the girl next door and celebrities alike, from gorgeous Neo-Soul queens Jill Scott and Macy Gray, to stunning actresses Kerry Washington and Tracee Ellis Ross, curly hairstyles for Black women are the epitome of class, elegance, and power.
Want to bring your "Normani wildside" out to play this summer with a tall crown of natural ringlets? Here are 22 curly looks that are sure to bring on the heat:
Best Natural Curly Hairstyles of 2023
1. Tiny Coil Afro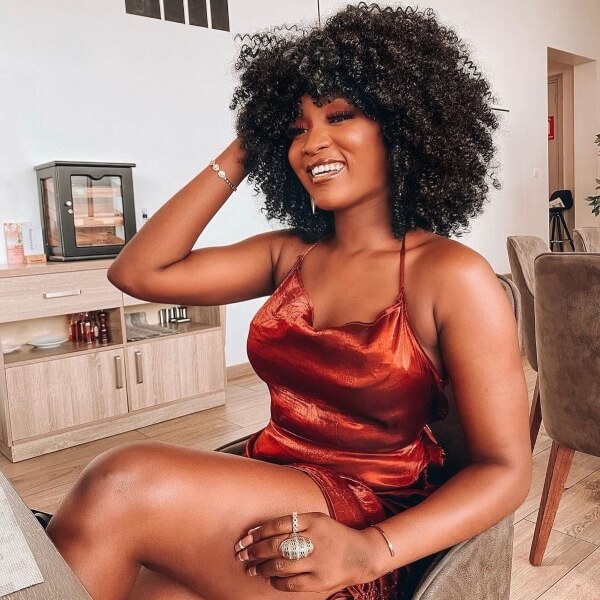 When a hairstyle frames your face while bringing out its best features, gives a moisturized, convincing natural finish, and looks good in practically any color, the triple threat makes it a sure winner! A head of tight, tiny banged coils is the perfect blend of a fun, flirty 'fro and bouncy, carefree curls. Best of all? Enjoy the superstar look with low maintenance.
2. Loose Curly Bob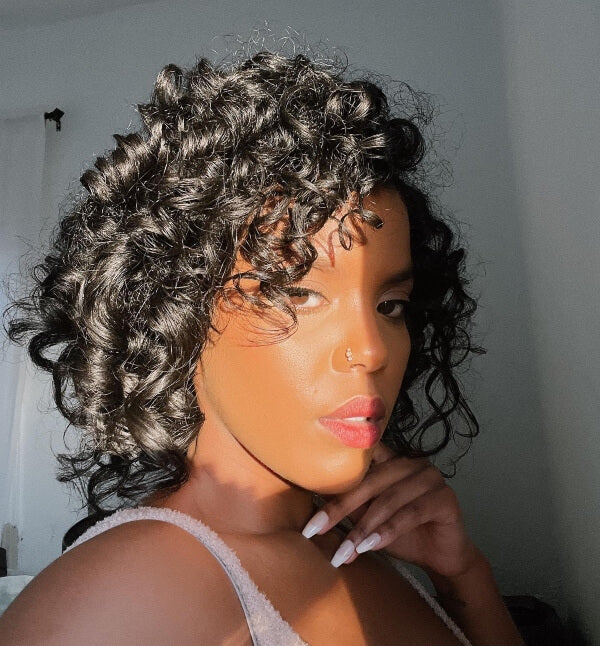 The 'Bob' is easily an all-time favorite. With its daring allure and spunky flair, this hairdo always stands out from the crowd from the office to the poolside. (Of course, if you can wear a hairstyle anywhere with anything, it is truly a godsend!) Turn the heat up a notch and wow your girls by sporting a bob with loose, flirty curls.
3. The Chaka Khan (Long, Banged Ringlets)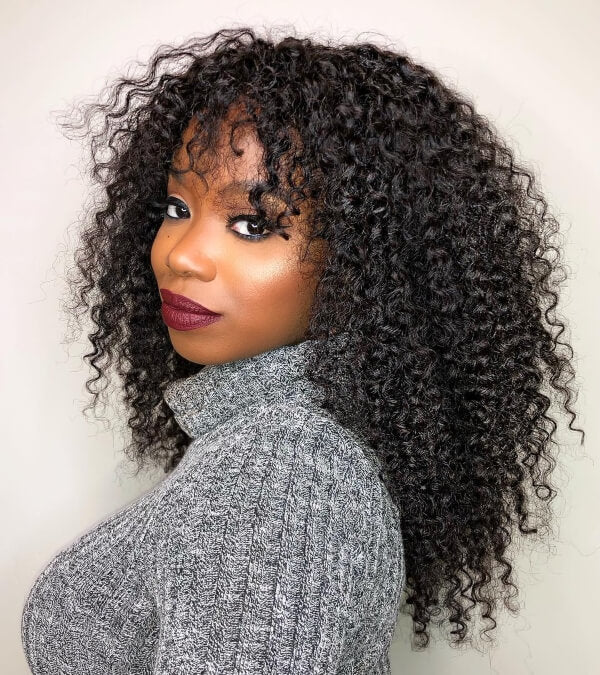 Famous for her unforgettable voice and trendsetting looks, Chaka Khan is a legendary staple in the world of R&B and soul music. She gave many of her stellar performances with a headful of long, distinctive curls and soon became known for them. What other way to command the attention of the room than with a bang of tight, moisturized curls and a flowing waterfall of unforgettably curly tresses behind?
4. The Zendaya (Banged Shoulder Coils)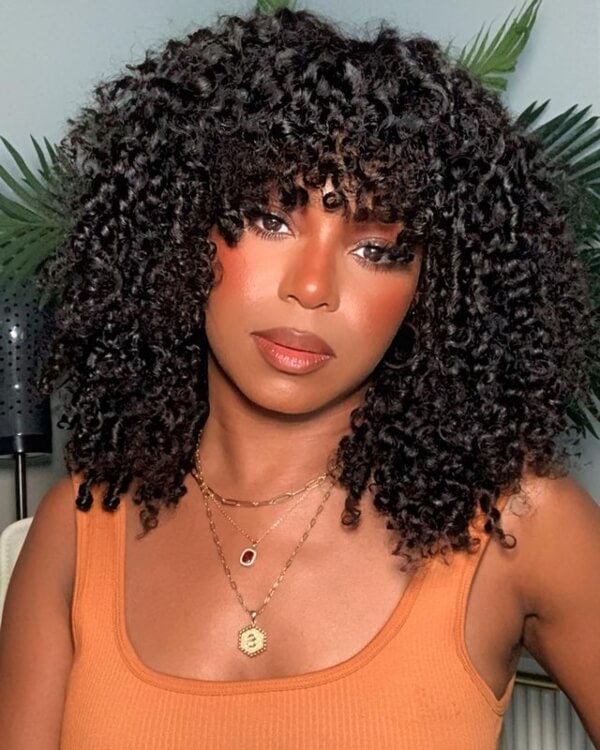 Zendaya is a flawless beauty who can be found sprinkling a bit of her "Black Girl Magic" on the Disney Channel and the big screen. Turns out her fashion sense is just as awe inspiring! She is often seen wearing this curly hairdo, donned with a trendy bang. This look is perfect for showing off your eyes and jawline. Be the belle of the ball with celebrity inspired, beautifully banged, semi-tight shoulder-length curls.
5. Loose & Lovely Highlight Curl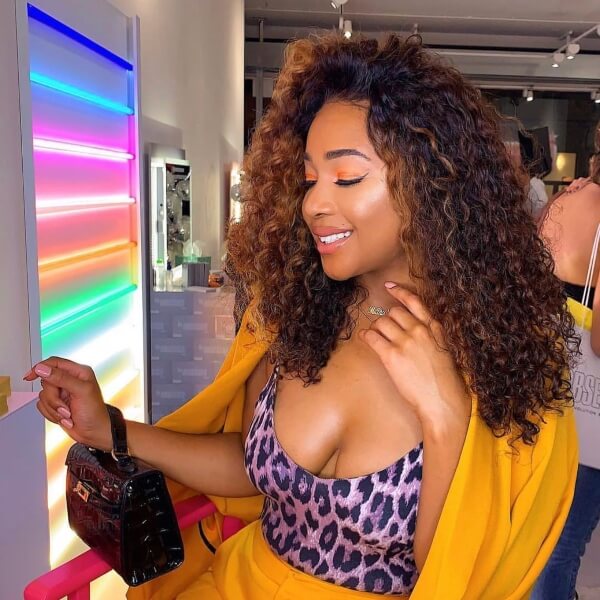 Who says small curls get to have all the fun? Loosely curled tresses that resemble waves are just as gorgeous as the classic tight curl! Up the ante by sporting honey brown, sunkissed highlights. This look is also easy to achieve if you wear long, tightly curled tresses often and aren't in the mood to freshen them up. Simply allow the curls to fall as days pass.
6. Brown Banged Afro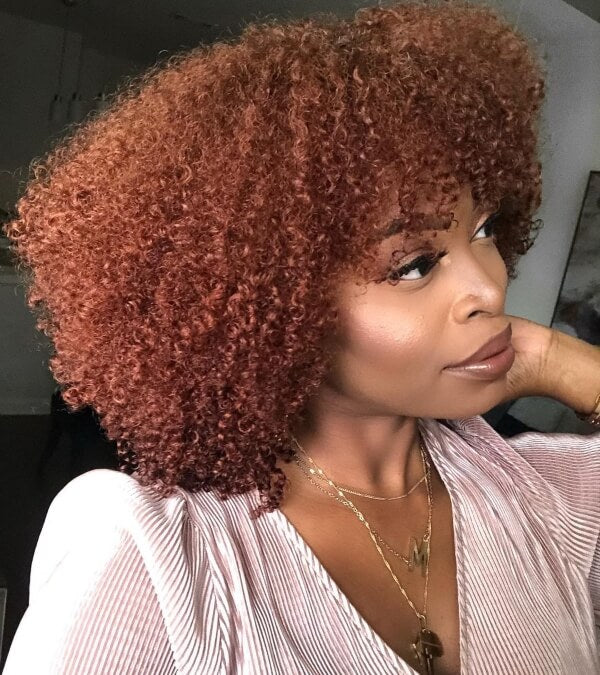 Fooling others into thinking your lace wig is your real hair can be easy to pull off if your hair looks natural. Want to serve a natural curly look with a little bit of a switch up? Why not go a few shades lighter? A banged, tightly curled 'fro kissed with honey brown highlights or a brownish-red hue puts a subtle, modern twist on a classic style.
7. Side Part Tight Curl Bob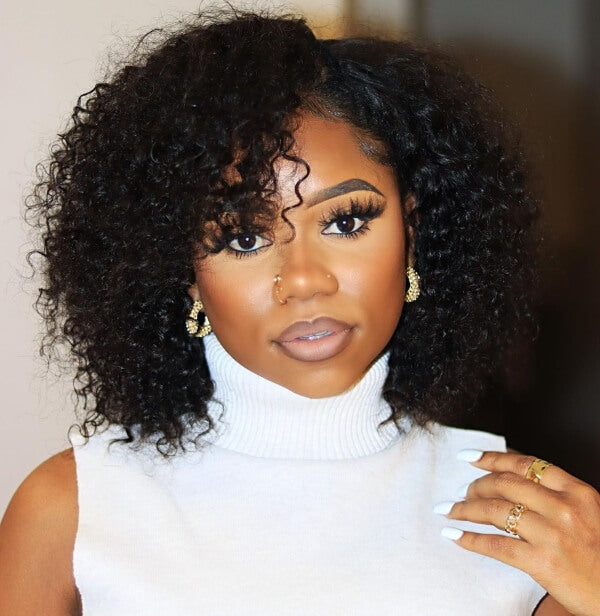 When it comes to curls, while the loose bob is flirty and fun, the tight bob delivers a hybrid of "no nonsense" with simplistic beauty. This tightly curled bob featuring a flattering side part is wonderful for active ladies who love playful curls, but want to show them off without tresses hanging too low for easy maintenance.
8. Goldilocks (Blonde Curls)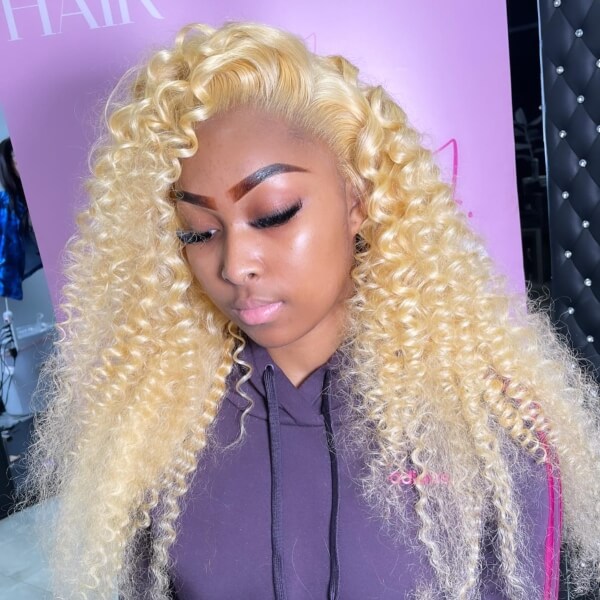 Do you love a bombshell long curly look, but want to turn it up a notch? Fierce hues of platinum, pearly, ash, golden, and nectar blonde flatter all beautiful skin tones amazingly. Try a standout style of cascading, loose blonde curls. These bright, lustrous ringlets are sure to be the star of the show. Since blondes have more fun, you should too!
9. Cinnamon & Brown Sugar Babe (Brown Kinky Curls w/ Blonde Highlights)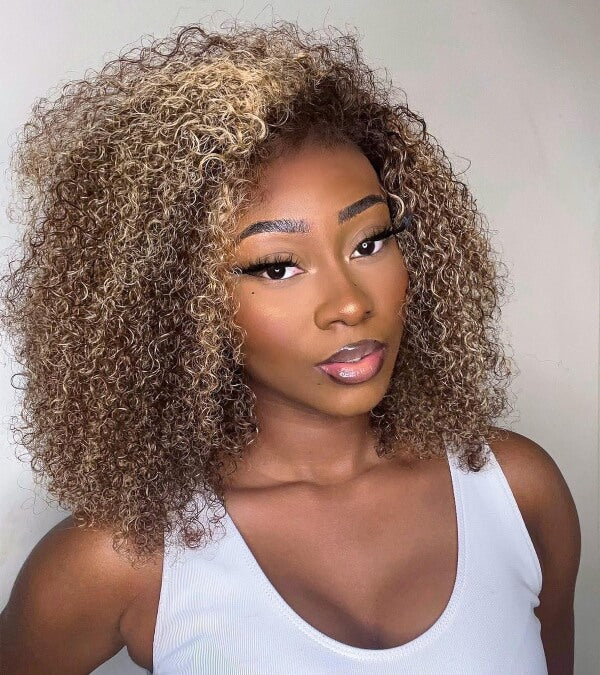 Loose, kinky curls are the natural hair lover's dream – great for both a much needed switch up or a fun, long term hairdo. Instead of your typical black or 1B finish, adding a few highlights will bring on some girlish charm. With a touch of sassy blonde highlights, you'll be amused as impressed friends ask you what salon you went to.
10. Braids 'n' Kinky Curls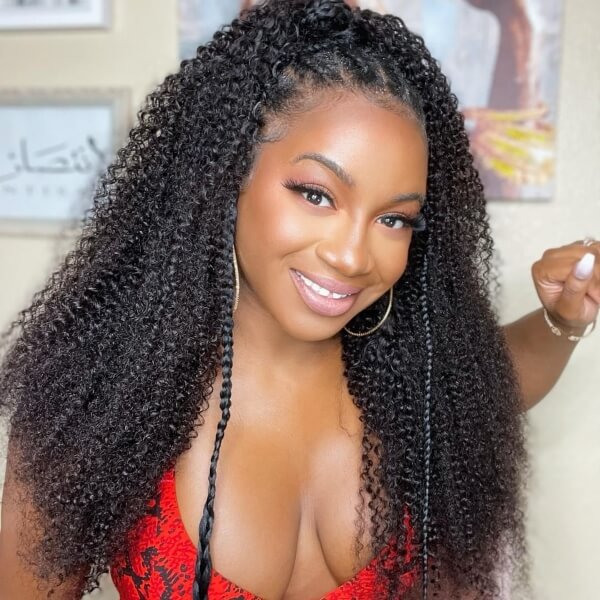 Braids and curls go together like peanut butter and jelly! How can you resist pairing a braided front with a slightly stacked braided crown and free flowing curls in the back? Of course, we love a gorgeous look that can deliver two styles perfectly united into one. When you can rock a professional quality style without the hassle, you know you've made the right decision.
11. Wavy Baby (Long Loose, Open Curls)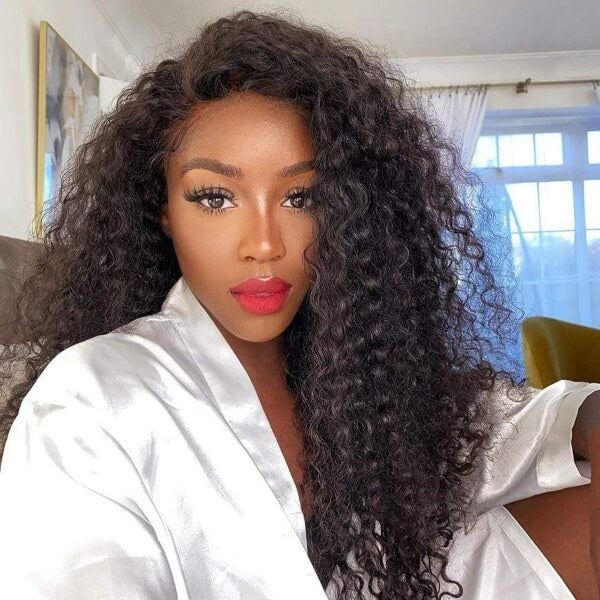 Easily one of the most recognizable and popular curly hairstyles for black women, loose, free-flowing long curls are the epitome of beauty in simplicity. Celebrities, business women, and socialites all love a luxuriously long curled hairdo. Even with a dark or natural hue, these deep waves are daring enough for the runway, yet "plain jane" enough for the stay at home mom.
12. 3C Curly 'Fro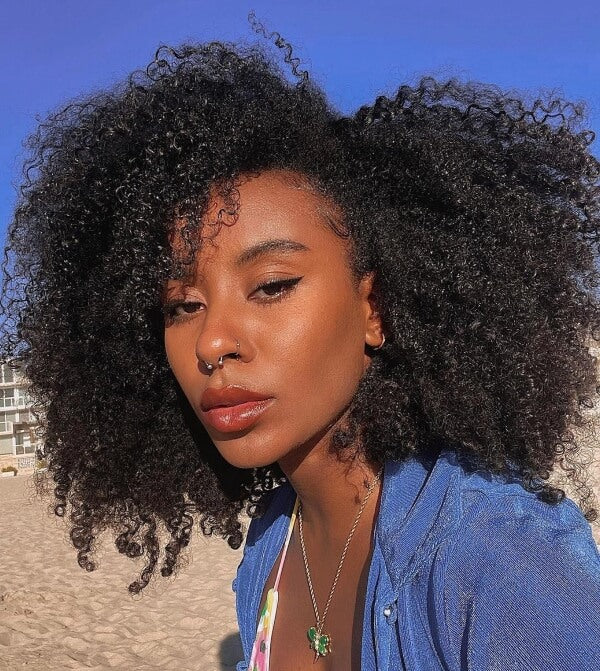 Gorgeous afros come in all shapes and textures. This powerful look has a charming Afrocentric flair and real staying power. Instead of a tightly coiled 4C afro, try a 3C blowout texture. This look is the perfect hybrid of the lovely classic afro and long, free flowing coils. These long, loosely kinky curls are definitely a crown fit for a queen!
13. Colored Curly Puff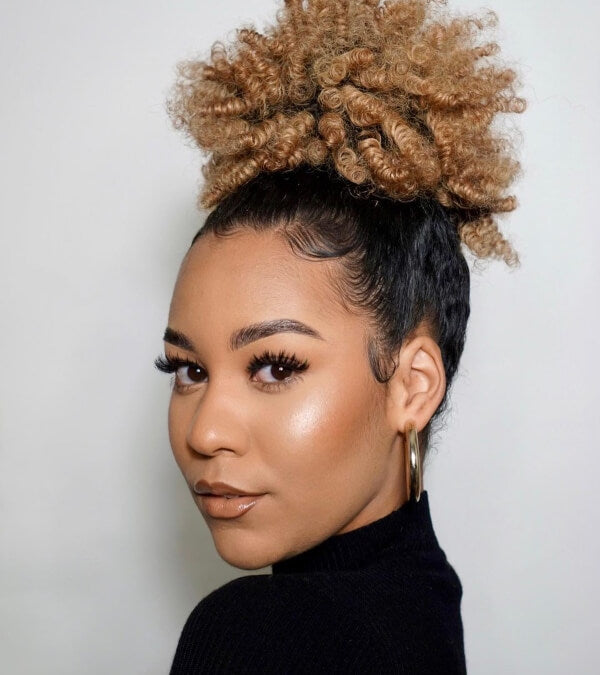 Who says you have to curl your whole head to don a head of curled tresses? Become the center of attention by making your colored curls just that! Simply secure the flyaways at the base of your head and gather them at the top of your head. Even if your hair has no color, this sporty crown of curls is downright charming.
14. Braids 'n' Loose Highlight Curls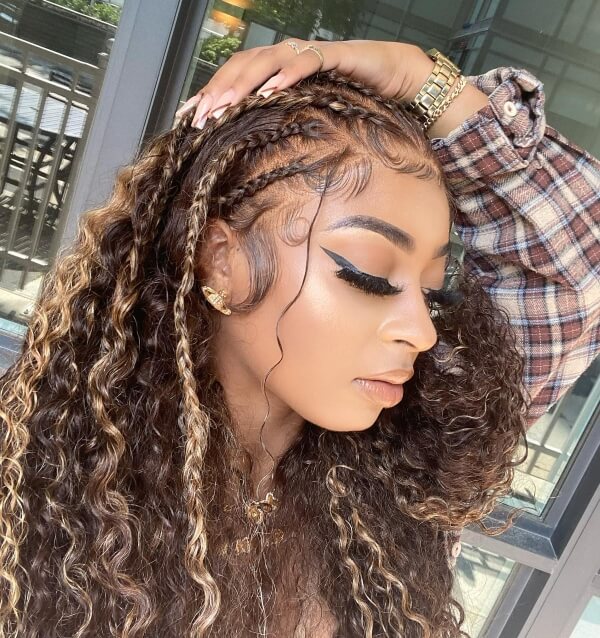 Of course, we know how well braids and curls work in tandem with each other. Rather than pairing them with a 4C textured crown, how about trying a variation of the same style? With a different texture and some added colorful pizzazz, you might just break a few necks. Add 3 or 4 free braids to the front of your scalp and leave your 3C loose, blonde highlighted curls hanging.
15. FroHawk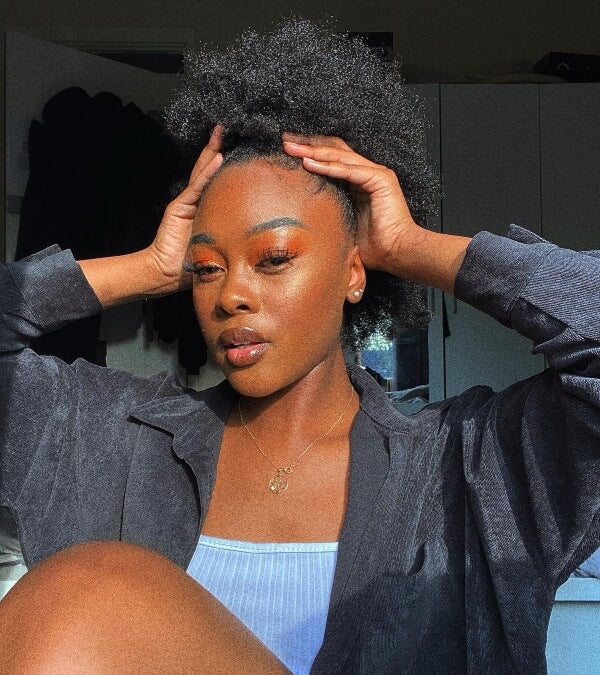 You love a stunning 'fro, but some days you just want your hair out of the way. Try slicking your hair back at the front of your head and on the sides. This spinoff of the classic mohawk is easy to create and even more fun to wear. Gather your tresses at the front and the sides, smooth them, and pin up them diagonally.
16. Curly Bun w/ Loose Strands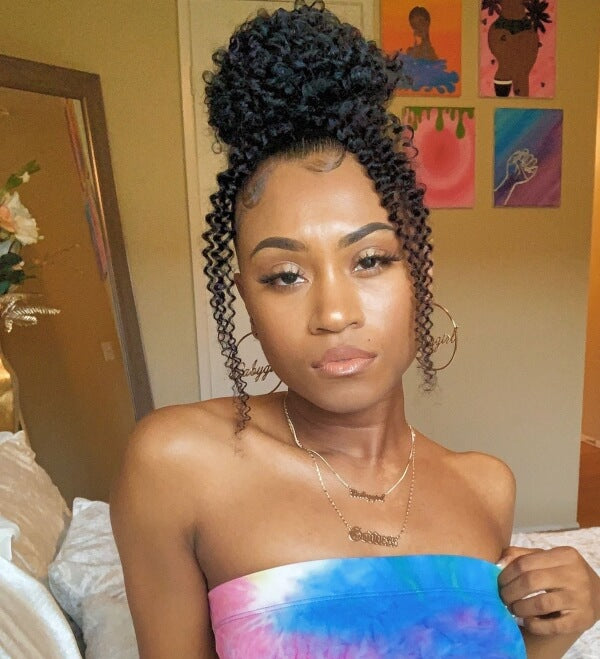 Want a way to show off the length of your long bouncy curls while keeping most of your hair up and out of the way? Curls have a way of making the all purpose bun look like a totally new hairdo. Gather all of your tresses neatly, leaving a few free strands in the front, and tuck them into a perfectly placed bun.
17. Middle Part Highlighted Shoulder Curl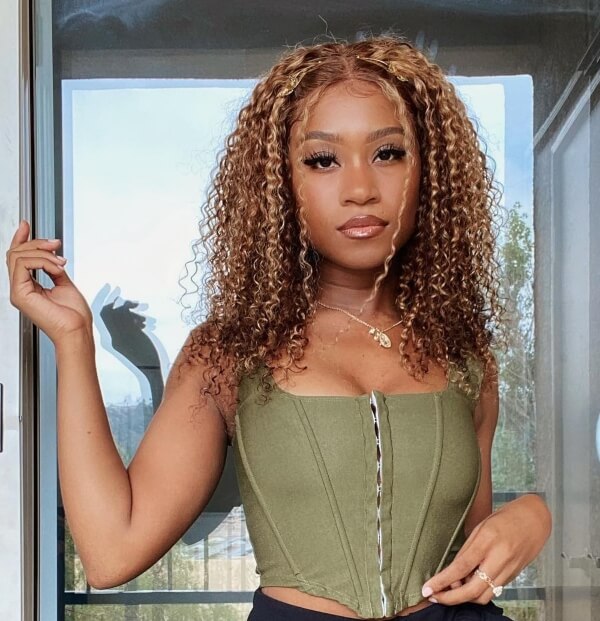 The popular side part steals all of the glory, but we can't forget about the classy middle part! For a switch up, try parting your curly hair directly down the center. Voluminous, shoulder length curls paired with a trendy middle part always get the job done. Add a few sprinkles of honey blonde for a few fun and flirty highlights.
18. Loose Shoulder Wave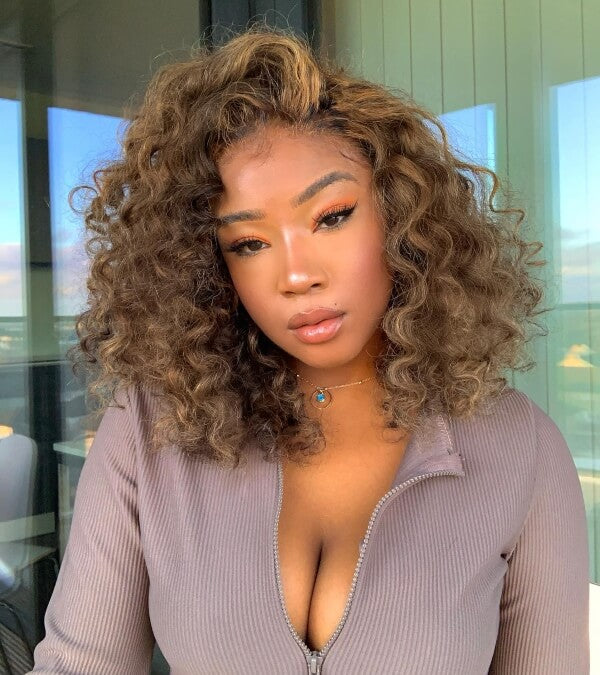 The popular side part steals all of the glory, but we can't forget about the classy middle part! For a switch up, try parting your curly hair directly down the center. Voluminous, shoulder length loose curls paired with a trendy middle part always get the job done. Add a few sprinkles of honey blonde for a few fun and flirty highlights.
19. Headband Shoulder Coil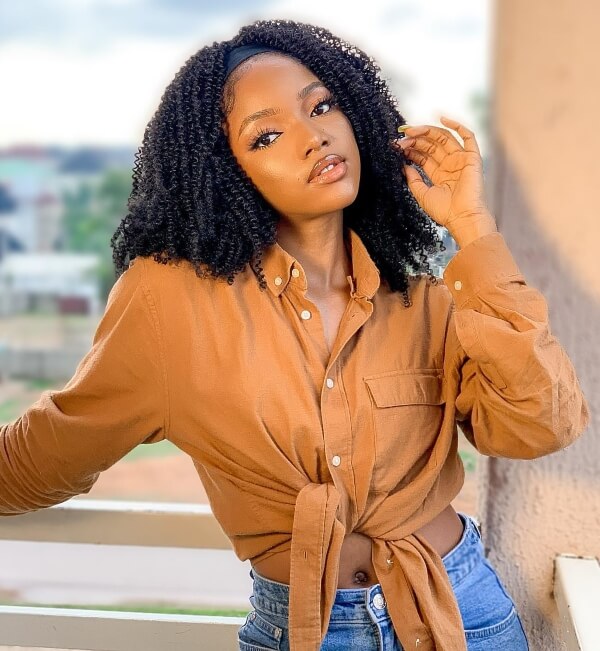 Let's face it - some days we just like to roll out of bed and go! On those low maintenance mornings, having a few cute headbands in your haircare arsenal is crucial. Pair a bedazzled or floral decorative headband to brush back those tight, kinky coils. Stick with a black headband for a plain jane variation.
20. Highlighted Wave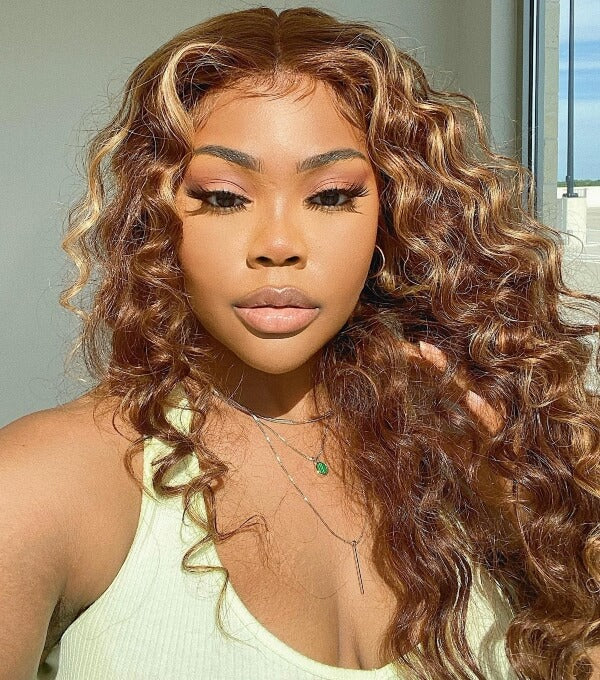 When your curls have completely transformed into loose ringlets, it's time to ride those waves! Extend the longevity of your curly look by letting your long, loose curls hang freely. Pair them with an unexpected middle part for some extra spink. You can even throw in a few edgy blonde highlights to completely elevate the look.
21. Curly Scarf
A true fashionista knows that the right accessories can turn any outfit into a jaw dropping work of art. Want to go for low maintenance while still looking absolutely fabulous? If you are tired of covering the front with a headband, try tying a vibrant scarf around your curly tresses.
22. Highlighted Curly Frizz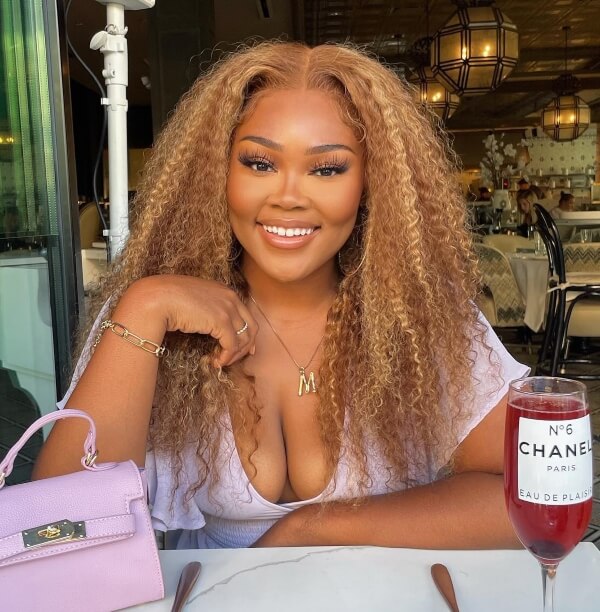 There's something about a chic frizzy look that just drives us wild! Try something different by parting wavy, kinky light brown tresses down the middle for the perfect face frame. Looking for a true switch up? Highlighted deep waves will leave you feeling like a new woman!
Shop XRS Beauty for the Best Curly Hairstyles
With XRS Beauty, each premium quality hair unit is made with 100% Virgin human hair. All wigs are true to length and density, paired with professional quality lace for a meltdown you will adore. With hundreds of beautiful styles to choose from, your search for the perfect curly wig stops right here at XRS Beauty.
---