Top 8 Natural Looking Short Wigs for 2022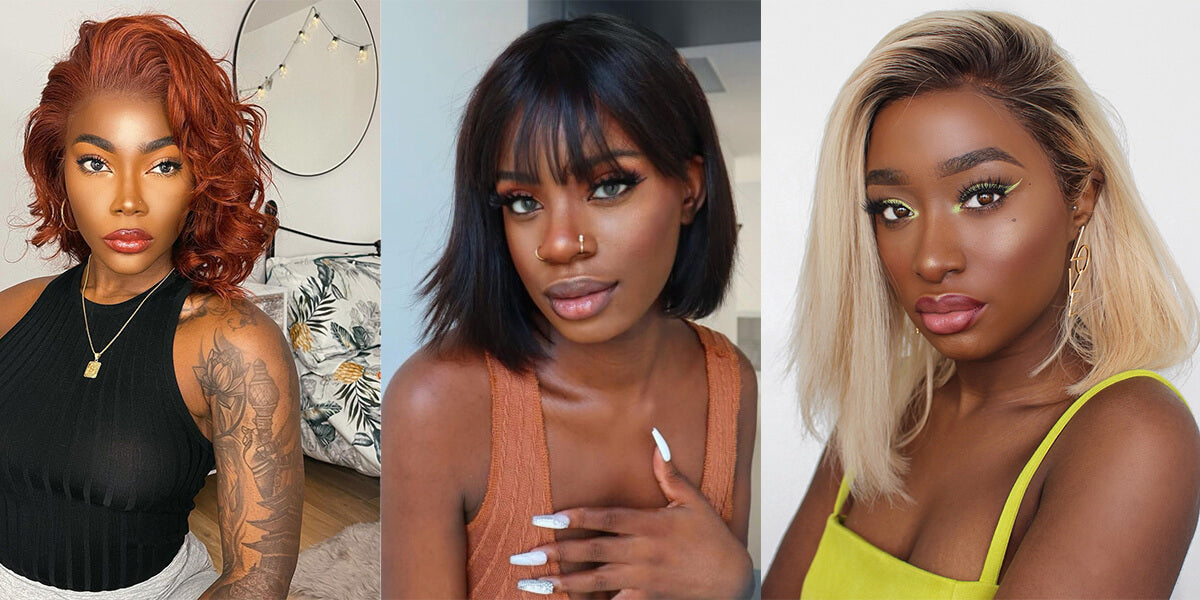 The season will be changing again soon - what better time than the present to give natural-looking short wigs a try? When going for a new, sassy hairdo, you can never go wrong with a timeless bob. Short hair is literally perfect for any occasion you can think of!
Not only are bob wigs the perfect way to try the big chop without the commitment, they are very easy to care for and even easier to wear. Take a look at a few reasons why you should give short lace front wigs a try. Also, browse our top 8 natural-looking short wigs that leave others fooled and amazed with each flawless install.
Top 8 Short Wigs That Look Natural
1. The Side Part Asymmetrical Human Hair Bob Wig
(The Customer Favorite)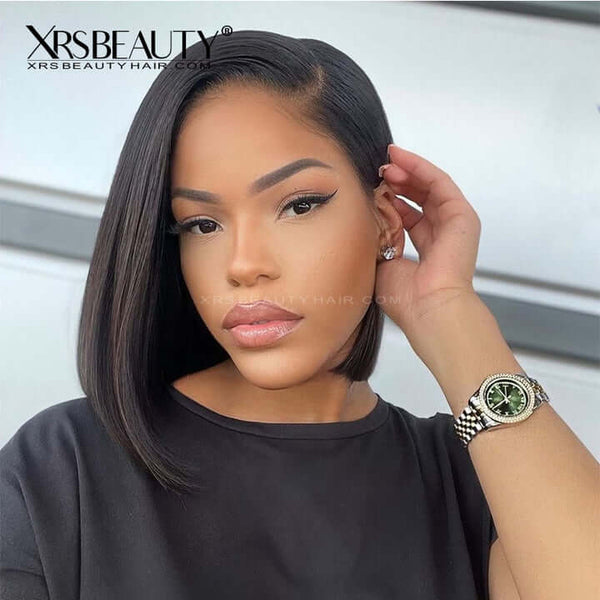 As you search for the perfect natural short look, you want to be sure you choose an option that is trendy and delivers on quality. With 100+ positive, glowing remarks from our real customers, the XRS Beauty Side Part Asymmetrical Bob Wig will transform your look effortlessly.
Unlike your typical bob, this trendy bob wig showcases a gorgeous asymmetrical cut. This simply means that hair on one side of the unit is slightly longer than the other side, lifting your face for a flattering fit with its angular flow. Prepare to wow onlookers with this silky, luxuriously fierce cut.
Featuring 100% Virgin human tresses that have never been chemically processed, you will absolutely love how soft and lustrous each strand of hair is. Not only will this wig's shine surprise you, with 3 realistic density options to choose from, your new style will impress others with plenty of volume.
The density is believable throughout the hair unit as well. You'll be thrilled as your new natural looking short wig arrives with a pre-plucked hairline, saving you tons of time from the hassle of tediously pulling strands from the edge of your wig. Paired with high quality lace, your flawless meltdown will have your friends asking if you cut your hair!
The XRS Beauty Asymmetrical Bob is true to length as well. Whether you prefer your bob as close to your ears as it can get, or with a little length for definition, this beautiful lace wig ranges from 8-14 inches with 4 options to suit your preference.
Styling is also a piece of cake. With a 13x4 lace frontal, you can part your hair anyway you want. Wear it straight from the packaging, throw in a few curls, or even dye it! The options are limitless - create your own hair masterpiece however you see it. You'll be wondering why you didn't order this tangle and smell-free wig sooner!
2. The Wet and Wavy Bob Human Hair Lace Front Wig
(The Versatile Option)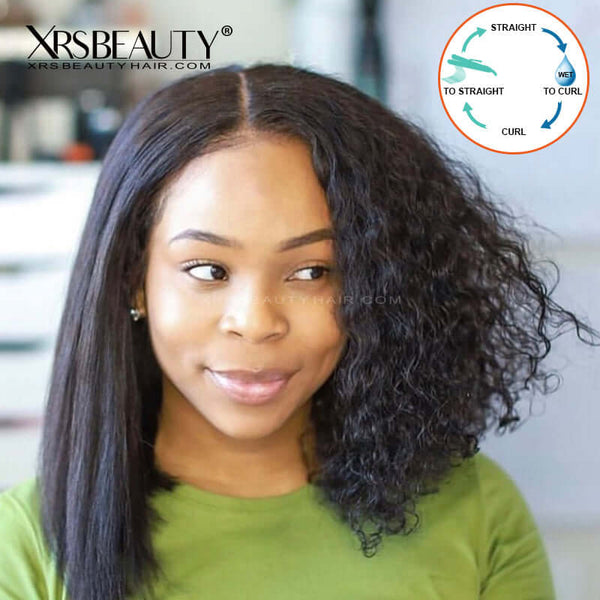 Need a short look that you can change up throughout the week with little effort? The XRS Beauty Wet and Wavy Bob gives you several different alluring styling options all on its own!
This unit is perfect for creating a look that no one will ever suspect isn't your own hair. First, you'll see that this short bob wig comes with undetectable Clear Lace and 'Layered Edges' for that "growing from the scalp" finish you need. This wig also has natural-hued, 100% Virgin human hair, voluminous and full of luster. The hair mimics the texture of a blow-out, which also makes it truly convincing.
Enjoy quick, easy to manage two-way styles as you show off your new tresses. Wear it straight and rock the classic bob for a few days, or completely transform your look into a cute curly style. With a few sprays of water, you'll enjoy soft, defined waves in a couple of minutes! Featuring a glueless cap with adjustable straps, the install will be quick and painless. This is perfect if you are often short on time but still want to leave the house looking like you spent hours on hair prep!
True to density with 3 fitting options, choose between 150%-250% for the thickness that's right for your lifestyle. Also true to length, you can keep it short and sassy with 10 inches, opt for shoulder waves with 16 inches, or select from 2 other options in between. No matter your preference, this bob wig delivers!
3. Pixie Cut Short Wave Human Hair Lace Front Wig
(The Short & Sassy Option)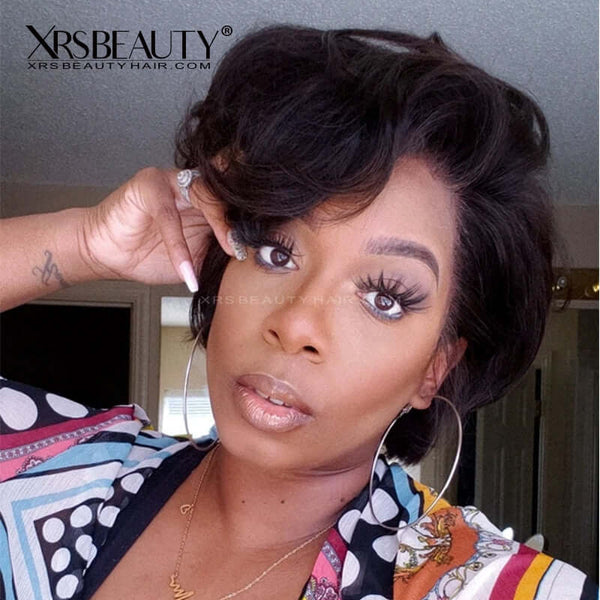 Let's face it - the Pixie has been turning heads for decades. Why would this year be any different? With the XRS Beauty Pixie Cut Lace Front Wig, you'll be showing off this classic, edgy style to family and friends in no time!
Made using 100% Virgin human hair, you'll enjoy having the ability to style your tresses however you see fit. Throw in a few curls to show off its soft, lustrous texture. This natural-looking short lace front wig showcases plenty of volume, available in both 150%-200% density. You'll be pleased when this hair unit arrives true to density, lush and thick with no shedding. Enjoy silky softness to match.
With top-notch 13x4 frontal lace, you can part your new Pixie Cut wig however you want. Also presenting a flawless hairline, prepare for a seamless meltdown and edges that leave you with a look that others will never suspect isn't your own.
This style is perfect for the active, on-the-go woman who doesn't want her gorgeous look to be hindered by her lifestyle. Giving 8 inches of length and adjustable straps on a convenient clueless cap, this Pixie Cut lace front will have you channeling your inner Audrey Hepburn with little maintenance!
Silky Straight Bob Human Hair Lace Front Wig
(The Long Bob [Lob])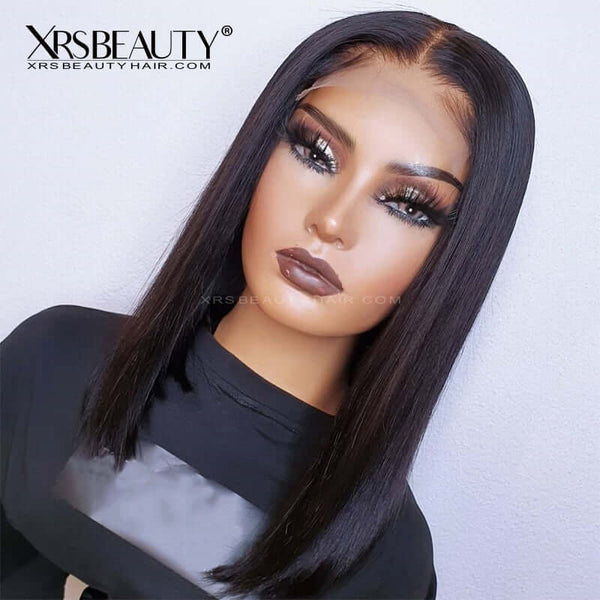 If you've been dying to try out a new short style, but still want to hold on to your inches, the "lob" hairstyle is the perfect way to meet in the middle. Basically a long bob, this hairdo gives layers for days and versatility you'll grow to love. With the XRS Beauty Silky Straight Bob Lace Front Wig, you'll stand out effortlessly as you adorn a style that is perfect year round.
This natural layered-edge wig also has a realistic hairline, which you'll appreciate. Your friends will be fooled as you show off your new undetectable meltdown! You also don't have to worry about your hair becoming tangled as you style it. With premium quality, natural-hued, 100% Virgin human tresses, each strand of hair is soft to touch giving a convincing look.
With 3 thickness options ranging from 150%-250%, you can expect your lace front wig to arrive true to density for a full and realistic look throughout the entire unit. Opt for a shorter lob with 12 inches, a true lob with 16 inches, or right in the middle at 14 inches. One day with one of these short wigs that look natural and you'll ask yourself what took you so long to try a long bob!
Burgundy Bob (99J) Human Hair Lace Front Wig
(The Extra Flair Option)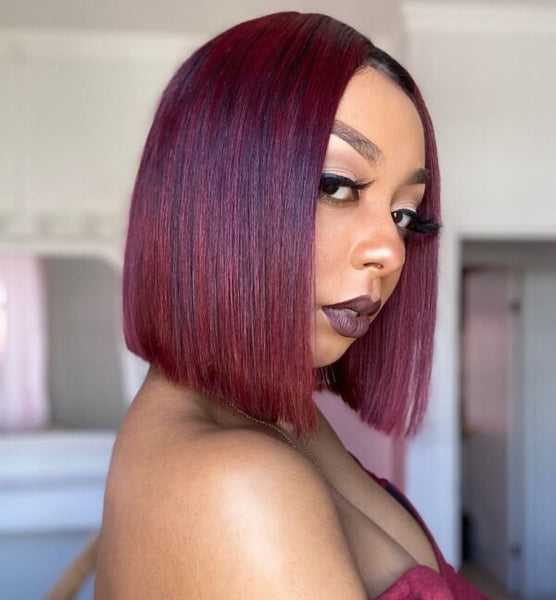 So you want to try a short style that adds a hint of pizzazz with color and still has a natural look? Try the XRS Beauty Burgundy Bob lace front, and you'll be thrilled as your friends ask "when did you dye your hair?"
The realistic look begins at the top of this hair unit, its high-end quality lace providing a clear, transparent look so that no one will notice you are wearing a wig. This short lace wig showcases 14 inches of sultry crimson, 100% Virgin human hair for a silky, soft texture that will leave your fingertips singing with each touch. There are two options for thickness - 150% and 180% - both of which always arrive true to density. You'll love the natural flow of your shiny, full, dark maroon-hued Brazilian tresses!
Ombre Brown Bob (1B/#30) Human Hair Lace Front Wig
(The Standout Colored Option)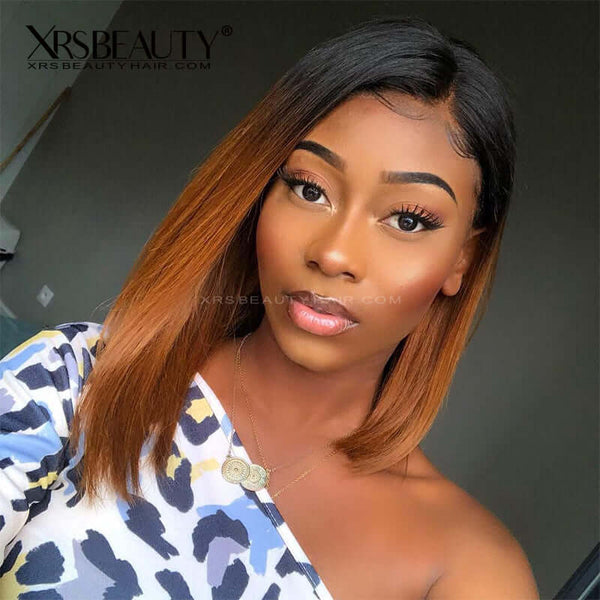 In need of a short wig that will set you apart from the crowd while still giving a natural finish? Look no further - the XRS Beauty Ombre Brown Bob Lace Front Wig gives the illusion of a real head of hair with dark roots flowing into vibrant brown tresses. Get ready for natural up top paired with "party at the bottom!"
If you don't know the first thing about plucking your wig's hairline, you're in luck. This hair unit features a pre-plucked hairline for a realistic finish and your convenience. Paired with premium lace, your salon quality meltdown after install will leave you speechless as you admire your undetectable hairline.
This wig features 100% Virgin human hair that is tangle-free, scentless, and true to density for a look that doesn't lack in volume or luster. Its silky straight, ombre-hued tresses are available with 2 thickness options - 150% or 180%. With either selection, people will swear you changed your own hair! As soon as your lace front wig arrives, you'll fall in love with all 14 inches of your new silky smooth, perfectly blended ombre hair!
Clip-In Highlight Straight Bob Human Hair Lace Front Wig
(The Versatile Colored Option)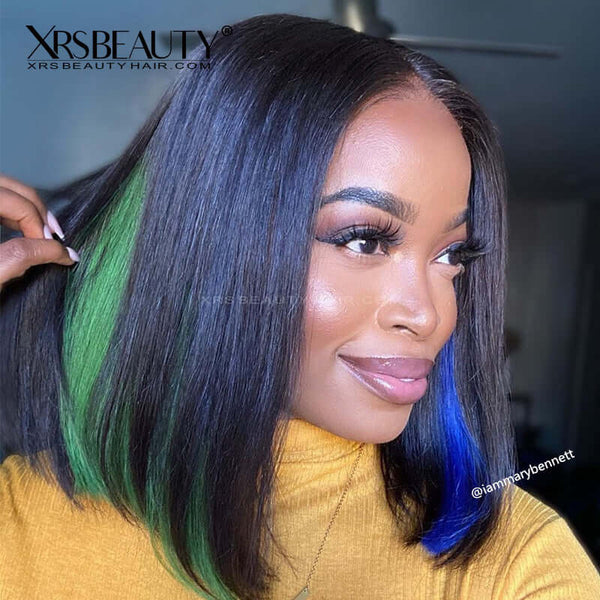 Want to try a daring new look on the weekends with a dash of vibrance, but return to a professional natural finish during the work week without having to totally change your wig? The XRS Beauty Clip-In Highlight Bob Lace Front Wig is just what you've been waiting for.
Presenting naturally layered edges, the realistic look of this hair unit starts right at the hairline. This gorgeous wig comes equipped with 4 vibrant color clip-ins. Leave the beautiful color highlights as you head to the office, then clip in a pop of color as you head out for a night on the town. This short lace front has 100% Virgin human hair with bone straight, soft, scentless tresses. With a glueless cap and adjustable straps, you'll be on the go in a matter of minutes. True to density and length, whether 12 or 14 inches, you'll be happy you decided to try out this stylish short bob wig.
8. Straight Bob with Bangs Human Hair Lace Front Wig
(The Banged Option)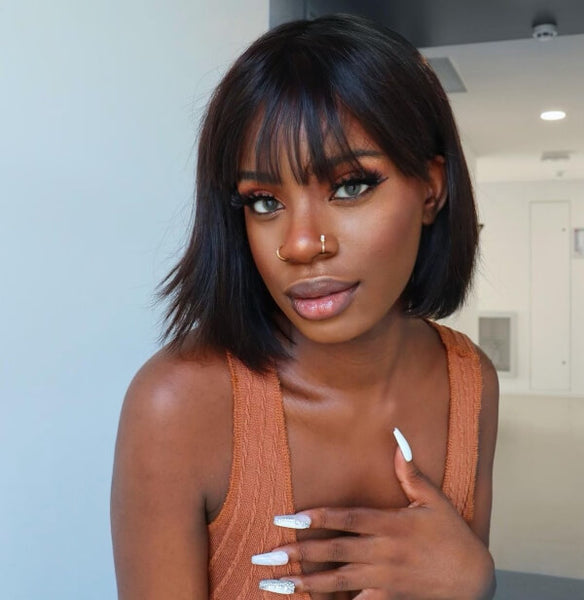 Bangs are the official "cheat code" when it comes to hair styling. They accentuate any face shape beautifully and add volume to any hairstyle they accompany. Banged hairstyles even make you look younger, shaving years off your appearance as they frame your face. For a short style that looks so real that it will have others wondering if you cut your own bangs, the XRS Beauty Straight Banged Bob Lace Front Wig gets the job done.
Because of the trendy fierce bang and glueless cap with adjustable straps, this wig is perfect for beginners. You won't have to worry about plucking the hairline to make the density at the edge believable or melting down your edges. Made with 100% Virgin human hair with 3 density options - 150%, 200%, and 250% - you'll love the lush thickness of your new banged bob wig.
This believable short look has naturally black-hued tresses available from 8-14 inches for a length that goes along with your vision of styling perfection. Get ready to drop jaws as you debut your slimmer face and newfound confidence!
5 Reasons Why You Should Try Short Wigs
Short Wigs are Affordable
Not only will you spend less money cutting back on trips to the salon and the purchase of tons of hair care products, short wigs cost less than long hair units. Short wigs also last longer than their longer counterparts. This means with the proper maintenance, you can enjoy the same beautiful hairdo for months. (Even years if you really know what you're doing!)
Short Wigs are Low Maintenance
Speaking of proper maintenance, did we mention how easy short wigs are to care for?  Hair units with long hair require braiding, hair rollers, or tucking at the end of the evening to ensure they maintain their style. Short wigs are more "throw and go." Styling also takes less time and effort because the tresses are short. You'll love saving yourself time in the mornings.
Short Wigs are Long Lasting
Because the strands of hair are not hanging low, this wig type does not easily snag or get in the way during activities. This is one of the many reasons why short wigs tend to last longer than long wigs. With the proper washing and storage routine, you'll be good to go for months on end.
Short Wigs Give a "Sneak Peek" of the Big Chop.
Thinking about cutting your hair but afraid of the aftermath? "What if I don't like it?" you ask yourself. As you should - after all if it doesn't go well you have to wait for your natural hair to grow back. Short wigs give you a chance to see how your face looks with short hair. If you don't like it, simply taking off your wig is much easier than waiting for hair to grow!
Short Wigs Will Forever Be In Style.
Think Halle Berry. Jamie Lee Curtis. Even Rihanna! Short hair has been a global phenomenon since the 1920s. Each timeless short cut has paved the way for the next. No matter which short look you choose, as long as your lace wig looks natural, you'll be spot on with current trends.
Shop with XRS Beauty for the Best Bob Wigs Available
Of course, short wigs tend to cost a little less. Still, making sure that you have the best selection of top quality, long-lasting human hair wigs at your disposal is the most important aspect of wig shopping. At XRS Beauty, our wigs are always created using premium quality, 100% Virgin human hair that is provided by human donors. No unknown sources with us, ever.
With high grade materials - such as our top quality Swiss lace, free of plucking - XRS Beauty maintains a commitment to expert craftsmanship. You'll always receive shiny, thick tresses with each hair unit with affordable pricing. Style and dye your hair however you please and place your order with us again for your next unit. Our short lace front wigs are waiting for you - have a look at a selection of some of the best human hair bob wigs currently available!
---
2 comments
---
---