Wig Store Near Me - Find the Best Local Wig Shops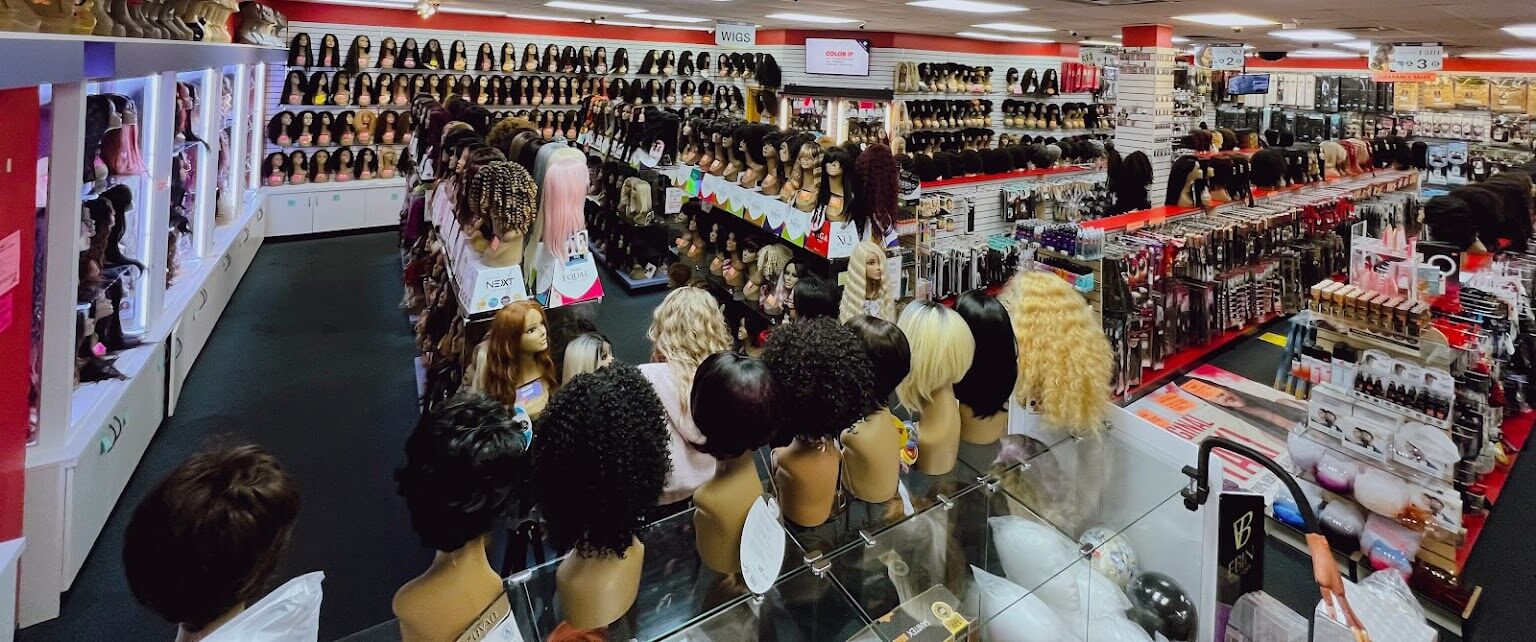 Are you tired of Googling "Wig store near me" and getting less-than-helpful results? You're not alone. Finding a good wig store around you can be quite a hassle, especially if you don't have the right technology to assist you. Without the right help, you could end up spending a great deal of time visiting store after store without finding what you need. No one needs that frustration.
That's why we have created our Wig Store Locator - to help you find wig shops near you effortlessly. With our wigs near me locator, you will no longer have to sweat over finding the best local or online wig store. You will be able to access hand-selected top-reviewed wig stores near your location and helpful information associated with them.
Wig Store Near Me Locator

How Does the Wig Store Near Me Locator Work

The wig store near me locator helps you find wig shops near you by utilizing the latest geo-location technology. It's free to use and can save you a ton of time as you're trying to find the right store to buy wigs and related products you need. The app is based on the same technology used by Google Maps, so you can rest assured that the tool is both useful and reliable.
The locator is extremely easy to use, with all the information you need right at your fingertips. From getting directions to viewing customer reviews to comparing shops, the Wig Store Near Me Locator is all you need.
Wig Stores Near Me Results in Your Location
Now that you know what the wigs near me locator app can do for you, let's get into how you can use it.
Wig Shops Near Me Automatically
After opening the locator, you will automatically see a selection of wig stores in your area. You don't have to do anything to make the stores come up. You can browse the ones that appear and make a selection as to which one you'd like to visit.
Enter City Name or Zip Code
But if you want to narrow your search down, you can manually enter your city's zip code or city name in the search bar and choose a radius to show more targeted results. Your results will show up in a list as well as markers on a map.
Click the Marker
Click the marker or the wig store name to see pertinent information about each wig store, including the business phone number, address, and customer reviews.
Once you've chosen your store, look at the Navigation window in the corner of the screen to see what to do next. You have a couple of options:
Get Directions - If you're using a mobile phone, the app will automatically detect your geographical location and give you directions to the store from your current location. But it doesn't work the same way on a computer. To get directions on a computer, you've got to enter the full address of your current location first. If you'd rather walk or bike to the store, you can select either of those options on the map as well. To learn more, visit Google Support.
View Large Map - To view a large map, all you've got to do is click the "View Large Map" button. It will allow you to see all you need to know about a specific store. You get to see the business hours of operation, photos of the store, contact information, and more. You can also get directions to the wig store by clicking on the appropriate button, saving the location for later, or sending it to a friend. To learn more, visit the Google Maps Complete Guide.
How the Locator can Helps You?
The wigs near me locator helps you locate wig stores in your location. Not only does it do that, but the locator will also give you additional information on the stores, to help you to choose the one best for you.
It lists their full addresses, contact information, and their stipulated hours of operation. You will agree that it is very frustrating to leave your house and jump into traffic only to find out that the store you are visiting is closed. By listing their stipulated hours of operation, the wig store locator takes away that inconvenience.
There are so many ways that our Locator can help you, and we'll go into each of the reasons in the below list:
Find the Nearest Wig Store
Sometimes, you need to find a wig or wig product fast, and when that's the case, you need to find the wig shops nearest to you. Our locator will tell you in an instant which wig stores are closest to you. All you'll need to do then is go to the store!
Find the Best Wig Store Nearby
There are times when the store closest to you isn't the right option. Perhaps the store gets bad reviews from customers, doesn't provide good customer service, or doesn't have a good selection of products. That's when our selection of the best wig stores nearby comes in handy.
Find a Wig Store When Traveling
When you're on the go, the Locator can help you find the best stores in the area in which you currently reside. You don't have to be in your usual location. The Locator is helpful no matter where you are.
Turn by Turn Navigation
Another great thing about the Locator is its turn-by-turn navigation. There's no way you'll get lost when you're being fed directions on a turn-by-turn basis. And if you happen to take a wrong turn, the directions will update to get you back on track towards your destination.
Save Your Favorite Wig shops
If you go to a wig shop and love their selection of products, staff, and location, chances are you're going to want to go there again. The Locator allows you to save your favorite wig shops so you can easily access information about them at a later date.
See Store Images without Going to the Store
Using the locator, you can see the store pictures that have been uploaded by customers or the owner, as well as the 360-degree street view, so you can decide if the store is worth visiting.
How to Choose the Best Wig Shops Near Me

Choose the Nearest Wig Shops
When the wig store locator shows you the various options available to you, you can make your decision based on the distance. It is generally best to choose the store that is closest to you. But that is not set in stone, you might sometimes have to go further to find the products you are looking for. The wig store locator approximates the distance of every wig store to you, allowing you to make an informed decision based on how far you are willing to go.
The wig store locator does not just show you the wig store around, it also allows you to find the reviews left by previous customers. Read those reviews, to get an idea of what each store offers. You will be better informed and in a better position to make the right choice.
Store Product Versatility
For physical stores, there are always limits to the variety of products that they keep in stock. The wig store locator shows you all of this information so that even before you leave your home, hotel or Airbnb, you know for sure whether the store you are visiting has the product you are looking for in stock.
Accessible and Flexible Hours
The wig store locator lists alongside the wig shops available in your location, their opening hours. Before you decide on what wig store to visit, check out their opening hours and narrow your options down to the ones whose hours you find comfortable.
The Services that They Offer
Just like products, physical stores are limited in terms of the variety of services that they offer. Using the wig store locator, you can find out which stores offer the exact services that you are looking for.
And finally, before you make your decision, you can call the wig stores to ask any questions that you have. Otherwise, you may have to visit them to evaluate their expertise and decide whether or not they have the capacity to provide the services that you want.
What is a Wig Store?
Haircare is a roughly 20-Billion-Dollar industry in America, and nearly half of that figure is contributed by wig stores. Wig stores are establishments that specialize in the production and sale of wigs, hair extensions, and sundry hair products.
What You Can Expect from a Wig Store
Not only do wig shops sell wigs, but they also nearly always field an array of in-house professionals to fit them correctly on customers and to offer customized services where necessary. Wig stores usually boast wide variations of human or synthetic hair wigs of different styles, and closures,  lace fronts, and similar products for hair installation.
When you visit a wig store, you are presented with all of these choices to choose from. And when you have made your pick, you are further presented with the choice of having the in-house professionals install the wigs. And even after that, you may still return to have them carry out maintenance services on your wigs.
Wig Store Open Hours
Wig stores are usually open during the day, anywhere from about 7 am to 7 pm or even later in some cases. Most wig stores are open on the weekends since that's when many people are available to shop for their wigs or wig products.
Are you looking for a hair supply store to buy hair care products to care for your natural hair for a wig install? Use our Hair Store Near Me Locator to find the best hair store near you.
Wig Store Near Me VS Wig Store Online
In this era of e-commerce, it has become very convenient to make purchases online and have them delivered to your doorstep. However, shopping in person at stores near you still has its benefits.
Benefits of Buying from Wig Shops in Your Location

What You See is What You Get
You get to see your options physically and you can try them out before making a final decision. Regardless of how skilled you may be at choosing the right products from pictures alone, nothing beats seeing and feeling the products in person before purchasing them. This way, you can be sure that you are getting exactly what you are paying for.
Also, shopping at wig stores near you reduces the stress associated with purchasing hair. And, when you buy from a wig store near you, you don't have to stress over what products you are forgetting when you can easily walk there whenever you need them.
The professional stall in the wig store can give you good advice. They can help you choose a wig, answer any questions you have about wigs, and even install your wig for you.
Shopping Wigs Online Gives You the Best Bang for Your Bucks
While buying from wig stores near you may have a few benefits, nothing beats shopping for your wigs online. It is the smartest choice. Amongst other benefits, buying online allows you to access a larger catalogue of products than you can not ordinarily find at any wig store near you. It also offers you the opportunity to compare prices and make the best decision financially, without compromising on quality.
Below, we outline these and many other benefits of shopping at online wig stores:
Shopping online gives you access to loads of options. You can get wigs of different materials, cap designs, textures, colors, lengths, and densities. Buying from online wig stores even gives you the choice to fully customize your wigs by handpicking every variable.This is because either they are run or backed up by a wig factory.
At physical stores, on the other hand, your options may be limited to the wigs already made and put on display.
It is much cheaper for wig store owners to run online stores than to run physical stores. They do not have to pay rent and other levies that come with operating physical businesses. Also, they tend to eliminate middlemen in the business, as online stores are usually much closer to the factories on the value chain, sometimes they are the factory. This reduces their operating cost, allowing them to sell their products at cheaper prices, helping the customers to in turn make financial savings.
Buying online allows you to explore a wider range of options, especially as regards price. Sometimes, you may find some online stores offering discounts or clearance sales. This helps you to buy the same quality for as cheap as possible.
Also, you can go through the online reviews that online stores are usually bound to have. Reading about how previous buyers feel about the products can help you make better choices.
Shopping online is very convenient. You don't have to go through the stress of dressing up and braving traffic and distance just to buy wigs. You also don't have to worry about open hours. You can simply make your purchases at any time online, from anywhere, and then have them delivered to your doorstep.
One can never quite shake off the nervousness that comes with shopping in public, in the presence of quite a few strangers. It is even worse with shopping for personal beauty items like wigs. Shopping these products online affords you privacy, and allows you to make your choices in a more comfortable environment.
With Helpful Guides, You're Never Left On Your Own
One very unique feature of online wig stores is the presence of helpful guides direct from the wig expert and factory. Every product and purchasing step is described in detailed guides that help you to make the best purchase decisions. And not only do the guides help you shop, but they also show you how to style, clean and store the wigs to bring out the maximum beauty of your wigs.
Catch Up with Trends, Faster!
The prevalence of social media nowadays has the fashion industry in a fast lane. Trends are created and relegated faster than you can say "Jack Robinson". Physical stores may struggle with keeping up with these trends. But, with online wig stores, you can always catch up with whatever wig technology and design is in vogue. 
You Can Access Local Services at Better Prices
Online wig stores do not only sell wigs, but sometimes they also partner with local stylists to offer wig installing services. These partnerships are always strategically structured to offer you these services at better prices.
Best Wig Store in the United States
State
Wig Store
Alabama
Lux Beauty Supply
Alaska

Muldoon Beauty Supply

Arizona
Sunny's Hair Extensions and Wigs
Arkansas
Supreme Hair and Beauty
California
The Wig Fairy
Colorado
Stylesome Wigs
Connecticut
BSW Hairs

Delaware

Rash's Beauty Supply

Florida

Silky Beauty Supply

Georgia

American Wigs & Fashion Boutique

Idaho
sWIGs
Illinois
BUW Human Hair Factory Store
Indiana

M & M Beauty Supply & Wigs

Iowa

Celebrity"s Beauty Supply Wigs & Accessories

Kansas

Star Beauty
Kentucky
Nadia Beauty Supply
Louisiana
Hair Kingdom Beauty Supercenter
Maine
Mariama's Beauty Supply
Maryland

Seat Pleasant Wigs

Massachusetts

Missing

Franklin International Beauty Store

Michigan
Evolution Hair Company
Minnesota
7 Mile Beauty Supply

Mississippi

Epitome Cheveux

Missouri

Prince Beauty Supply

Montana

Big Sky Beauty Supply

Nevada

Beauty Supply Warehouse

New Hampshire

AJ's Wigs

New Jersey

Zohair USA

New Mexico

Trendz Beauty Supply

New York

Alipearl NYC Shop

North Carolina

Wigs & More

North Dakota

A&E Beauty Supply & Antoinett Hair Salon

Ohio

Hair Depot Plus

Oklahoma

Cee Cee Wigs

Oregon

Wigland

Pennsylvania

Strouds Beauty And Hair Supplies
Rhode Island

Two Brothers Unique Beauty Supply

South Carolina
Natural Wigs Store
South Dakota
G & M BEAUTY PLUS
Tennessee
Mosaic Wig Boutique
Texas

LC WIGS & HAIR

Utah
I'm Your Wig Chick

Vermont

Hair R Us

Virginia

Mega Beauty Supply And Wigs

Washington

Princess Hair Extensions and Wigs

West Virginia

Beauty Plus

Wisconsin

Intrigue Fashions & Beauty Supply
Suggest a Wig Store in Your Location?
We are all about improving our Wigs Near Me Locator for the best possible user experience. That means we're always open to expanding our wig store directory. Would you like to suggest a new wig store in your location? Let us know by leaving your comments below.
Find the Best Local Wig Stores
Use our Wigs Near Me Locator to find the nearest local wig store without the stress and frustration of finding one yourself. It's a free, quick, and easy way to get familiar with the stores in your area and determine which one is best for you.
With its advanced capabilities, you can see a comprehensive list of nearby wig shops, their store hours, helpful customer reviews, and so much more in an instant. After selecting your desired shop, hop in your car and go!
---
4 comments
---
---